Why Businesses should Embrace Corporate Wellbeing
Article
5 mins
Learning & Wisdom
I believe that corporate wellbeing is one of the main issues of our time. Increasingly, employees rightfully demand that the companies have corporate wellbeing plans on their offer, instead of simple health plans or medical insurance.
The average person spends 90,000 hours — i.e. most of their adult life — working; a statistic that is further fueled by the corporate culture we live in, as it equates hard work with self-worth. Our culture incentivizes hard work by promising rewards (promotions, pay raises, etc.) to exceptional employees. But at what point does it become too much? At what point does professional motivation subsume personal fulfilment in the workplace? At what point does chasing after validation replace authentic ambition?
Our current corporate culture does not leave enough room for personal wellbeing or personal happiness. I am determined to change that.
Wellbeing is a state of health and contentment which allows individuals, communities and the planet to thrive. This requires lifestyle choices which are balanced, meaningful and life-affirming — so that one's life becomes a journey of wellbeing.
While employee wellbeing is a priority in its own right, another argument in favour of greater corporate wellbeing is that it affects the company's performance. Poor employee wellbeing can seriously harm productivity and, by extension, a company's competitiveness. The cost of stress and poor health to business, particularly in terms of absenteeism and low productivity, should not be understated. A report by the Government's Health and Safety Executive found that in 2018/2019, 12.8 million working days were lost due to work-related stress, depression and anxiety. Moreover, companies that invest in employee experience largely outperform those that don't, with the average profit and profit per employee being as much as 4.2% and 4% higher, respectively.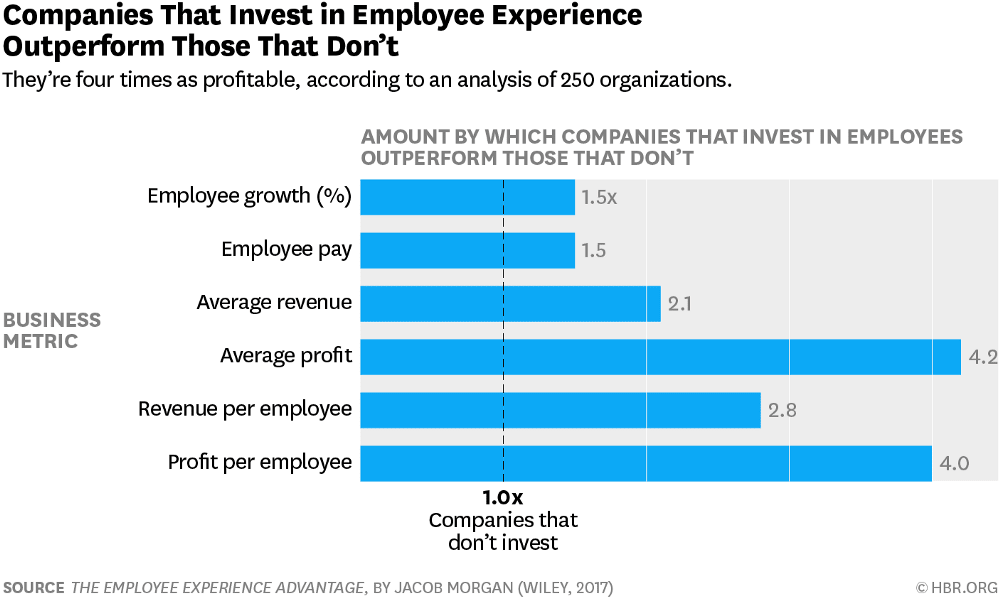 My approach to corporate wellbeing is founded on ideals of holistic health, incorporating financial wellbeing, emotional wellbeing, financial wellbeing, professional wellbeing, social wellbeing, community wellbeing and planetary wellbeing. This allows a person to feel centred and whole; hence why I have termed my approach w-holistic wellbeing.
How does one promote w-holistic wellbeing at work? Start with individual employee wellbeing, and corporate wellbeing will follow.
Promote a positive work environment
Make sure that your office is set up in an employee-friendly manner, encouraging social interaction and creativity while maintaining privacy. New employees should be welcomed and made to feel like they belong. To ensure your workspace promotes employee wellbeing, observe how your employees move around during the day. If they are stuck in their cubicles, try to encourage team meetings, or at least team lunches.
Provide employees with opportunities for social engagement
In order to promote social engagement, provide your employees with ample opportunities to get to know each other. Bonds between colleagues will positively impact employee wellbeing and the overall mood of a workplace. You could try having a lunch meeting every Wednesday where employees take turns bringing in their favorite healthy breakfast dishes; organise after-work outings at least once a month; even have a company picnic or host an outdoor activity to bring everyone together in a green environment (the positive effects of nature on mental health have been extensively documented). Another way of engaging your employees socially would be to offer them volunteering opportunities.
Offer employees appropriate resources
A corporate wellness plan should replace whatever health plan your office currently has in place, as these tend to focus exclusively on physical health and ignore mental wellbeing, stress management, or spiritual NOUN. Offer employees classes in financial management, anxiety management and time management; maybe even in meditation, or cooking. Employees should also have access to any resources they may need for therapy or counseling, for themselves and their families (as an individual's mental health has a ripple effect on the people closest to them). Knowing resources are available with employer support will ensure a healthy culture and bring about positive lifestyle changes for employees.
Recent developments
The corporate wellness market is set to generate staggering revenues by 2026, with companies such as ComPsych, CXA Group, SOL Wellness, and Optum positioning themselves as major players (source: The Courier). A report produced by The RAND Corporation found that over 80% of companies in the US with more than fifty employees offered some kind of corporate wellness benefit; although the UK is slower to catch onto the trend, with only 45% of companies currently offering workplace wellness schemes, those numbers are on the rise (source: Forbes). Finally, a report from Harvard Business School showed that, for American-based companies, medical expenses fell by $3.27 for every dollar spent on wellness programs, and that employee absenteeism expenses fell by $2.73 (ibid).
Success story
If statistics don't paint a clear enough picture, a corporate wellbeing success story will. Somewhat ahead of the curve, Central Michigan University (CMU) has been committed to employee wellbeing for the past twenty years already. What started as a solution to reducing healthcare costs has changed overtime into a veritable culture of corporate wellbeing, where holistic health is prioritized above all else.
"We are very much committed to building a culture in which health and wellbeing are part of employees' daily lives," said Tammy Griffin, Manager of Employee Health and Wellness at CMU. "Our staff population is ageing, and it's important that we do everything we can to manage healthcare costs."
The university's investment in wellbeing has paid off. Despite the national trend of rising healthcare costs and a mature workforce, CMU healthcare costs have stayed relatively flat over the last three years. In 2014, CMU partnered with Virgin Pulse, an employee health solution focused on long-term wellbeing and strong workforce culture which it enables with daily engagement tools, personalized micro-learning and targeted communications.
Roundglass and corporate wellbeing
At Roundglass, we are committed to making a difference in corporate culture. Our w-holistic wellbeing ethos, which has been successfully applied in a corporate context, engages all the channels through which we may better ourselves, offering classes in meditation, yoga and physical exercise. Achieving w-holistic wellbeing is like getting a degree in life. It's about learning how to Live with a capital L.
I believe that supporting the w-holistic wellbeing of employees is not only essential, but easily accessible. I speak from personal experience as the head of Edifecs, my previous company before RoundGlass, where I introduced employee wellbeing programmes to huge success. Remember that no matter how good the captain is, the ship is nothing without its crew. A company is only ever as good as its employees and employees are only ever as good as they feel.