Lazzat-E-Taam Ground Spice Mix
Prep Time:
2 min
Cook Time:
8 min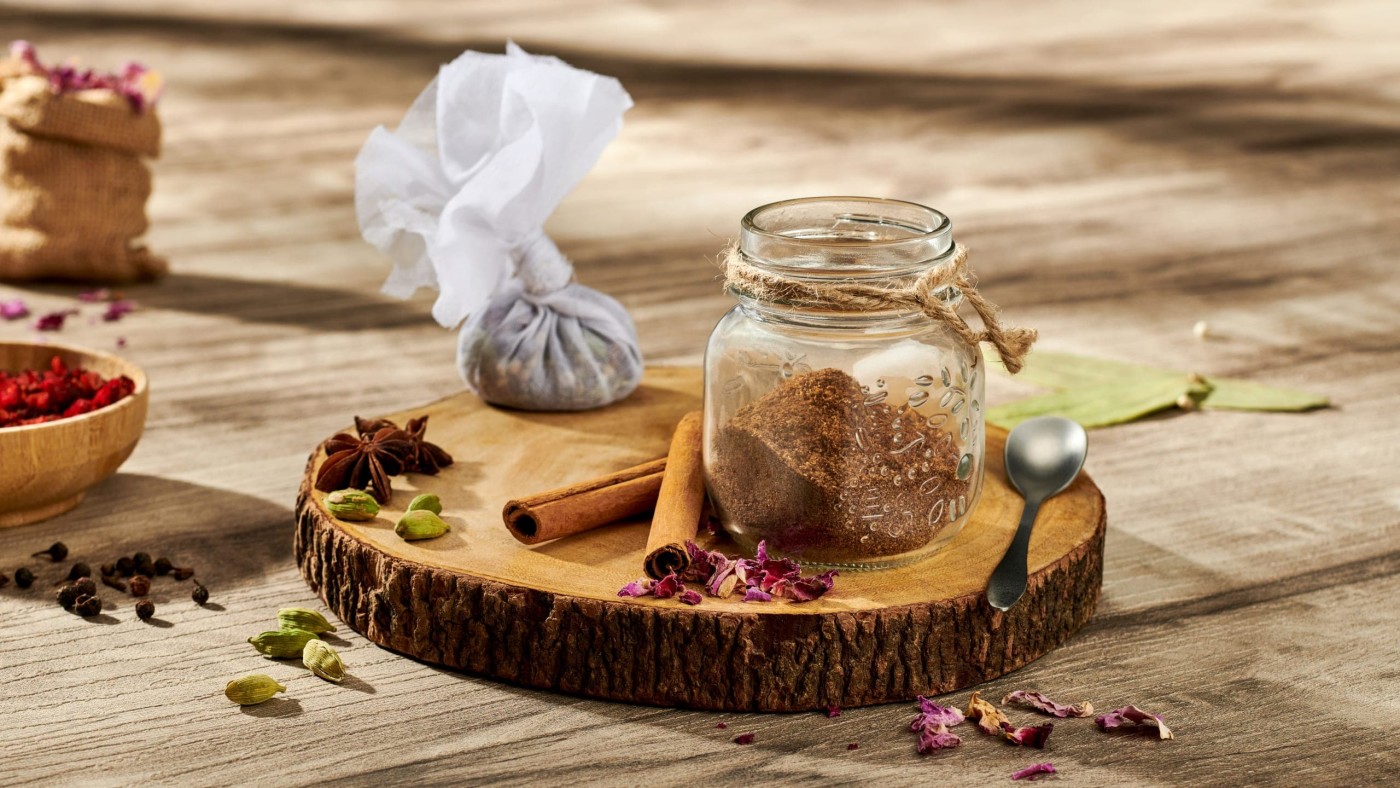 Lazzat-E-Taam Ground Spice Mix
Prep Time:
2 min
Cook Time:
8 min
About This Recipe
Traditionally used as a potli, or bouquet garni, the powdered version of this Awadhi specialty masala is now a popular spice blend in masala shops of Lucknow. It's more convenient to store and use. The recipe uses the contents of the potli masala and a handful more. Dry coconut chips and makhana, or foxnuts, are added to the blend for volume and to help mellow the intensity of the ground spices. Use a teaspoon in pilafs, pulaos, lamb, or roast chicken. It also works wonderfully sprinkled on top of roasted vegetables or in a salad dressing.
The Benefits
Spices are tiny parcels that pack big flavors, nutrients, and essential oils. A rich source of antibacterial and anti-inflammatory agents, spices can aid digestion and metabolism, improve insulin sensitivity, and boost overall immunity. This recipe harnesses several specific benefits: The eugenol in cloves numbs pain. Soothing green cardamom is a traditional remedy for nausea. Black pepper, cumin, cubeb, and dried lemongrass are great digestive aids, and rich in immunity-boosting antioxidants. Anti-inflammatory nutmeg may alleviate the symptoms of depression, according to studies. Mineral-rich coriander seeds have cardiovascular benefits, and caraway seeds contain iron and copper. Cinnamon improves insulin sensitivity, while sandalwood has soothing and mood-lifting properties. Rose petals, with antioxidant gallic acid and anthocyanins, benefit eye health, memory, and mood. And barberry is a source of the antioxidant berberine, as well as vitamin C and iron, which in combination can help prevent anemia.
Ingredients
Heaping ½ cup (5g) unflavored fox nuts
10-15 dried coconut chips or 2 tsp dried coconut powder
1 tsp cloves
1 tsp coriander seeds
6 to 7 green cardamom pods
1 tsp black pepper
1-2 bay leaves
1 tsp baobeer (barberry)
1 tsp cumin
1 tsp white pepper
1 tsp fennel seeds
1 tsp poppy seeds
1 tsp caraway seeds
1 tsp kababchini (cubeb)
2-inch-long cinnamon stick
1 tsp rose petals
2-3 star anise
1 mace
1 tsp dry fennel leaves
½ whole nutmeg, lightly crushed in a mortar
½ tsp sandalwood powder
1-inch-long paan ki jadd (galangal), lightly crushed in a mortar pestle
5 g khus ki jadd (vetiver roots)
1 blade jarakhush (dried lemongrass)
1/2 tsp kewra (pandan flower extract)
1/2 tsp meetha attar (an edible essential oil)
Directions
Step 1

Lightly toast the foxnuts on a pan over medium heat for 4 to 5 minutes until crisp. Reduce the heat and add the rest of the dry ingredients (everything except the kewra and meetha attar). Toast on the lowest flame or heat setting for 2 minutes until aromatic. Take the pan off the heat and allow to cool.

Step 2

Process this herb and spice mix in a spice grinder or coffee mill to a fine powder. Depending on the size of your jar, you may have to do this in batches.

Step 3

Using a sieve or a tea strainer, sieve the ground spice blend to eliminate any chunky bits. Sprinkle the kewda water and meetha attar on the spice blend, mix with a spoon and bottle this goodness in an airtight jar.