Vegetarian Dhansak
Prep Time:
15 min
Cook Time:
40 min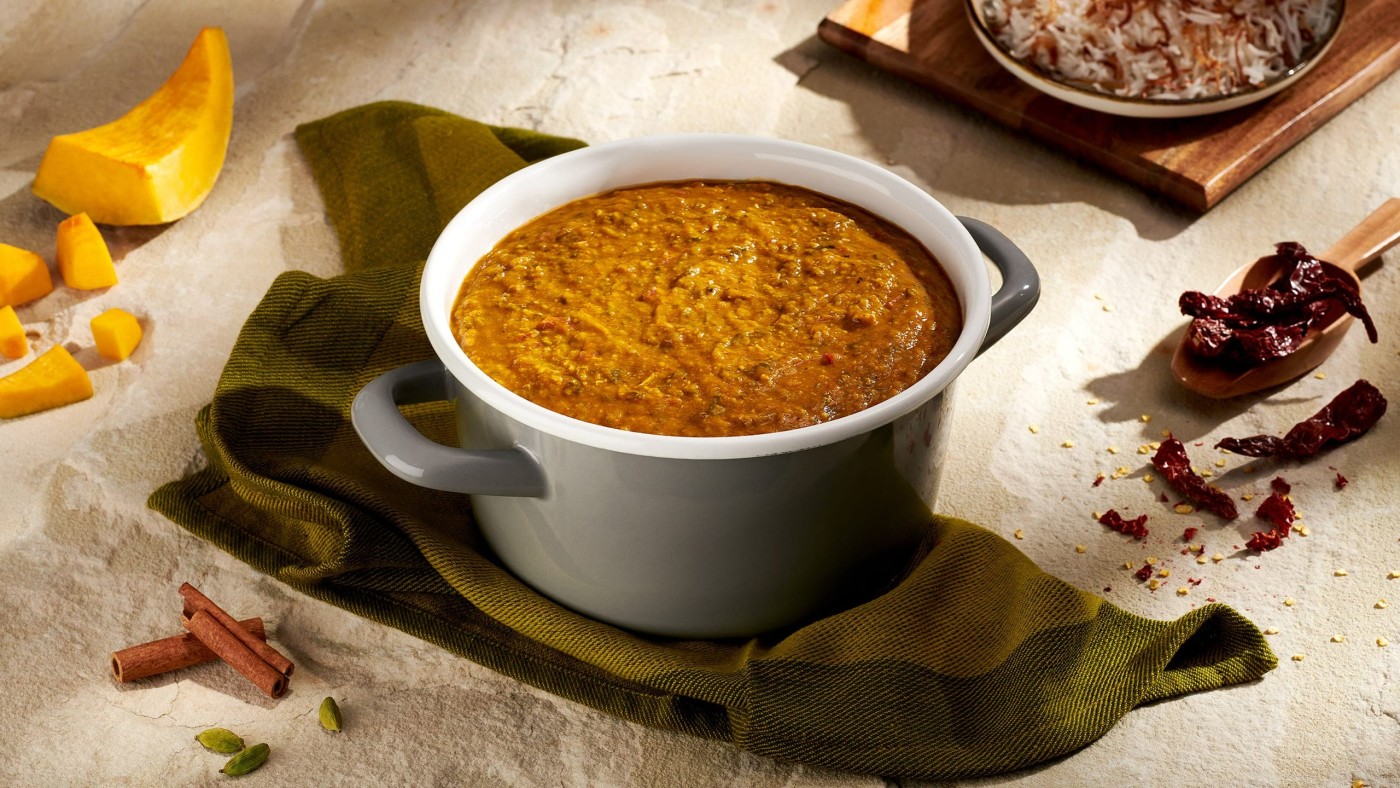 Vegetarian Dhansak
Prep Time:
15 min
Cook Time:
40 min
About This Recipe
In many cultures, food is an important part of mourning rituals. Cooking the favorite foods of the departed is a way for family and friends to remember the person and honor their memory. Many end-of-life conversations happen over food. While growing up in Bombay, I discovered dhansak as a part of the mourning rituals of Parsis, a small but prominent community of western India, with roots in Iran. During the bereavement period, dhansak with mutton is a must at the ceremonial table. Here's my vegetarian version of this incredibly flavorful dish, rich with the warmth of mixed lentils, vegetables, and special aromatic masalas.
The Benefits
Lentils are an excellent source of plant-based protein and contain compounds called polyphenols that are good for the heart and may help reduce blood sugar. With high antioxidant activity, and as a source of prebiotic fiber, lentils are also good for the gut. Vegetables such as pumpkin and eggplant boost the vitamin A content in this dish, along with potassium and dietary fiber. This dish is a balanced, antioxidant, anti-inflammatory, immunity-boosting mix of essential amino acids.

Ingredients
1/3 cup (70 g) tur dal (yellow split pigeon peas) soaked for 20 minutes
2/3 cup (140 g) masoor dal (split red lentils) soaked for 20 minutes
3 ½ cups (400 g) yellow pumpkin, cut into cubes
2 (150 g) small eggplants, cut into quarters
2 cups (100 g) methi leaves (fenugreek greens), finely chopped
1 cup (100 g) spring onions, bulbs discarded, and stalks finely chopped
5 cups (1.2 L) of water for pressure cooking
½ tsp turmeric powder
1 Tbsp salt
1 to 2 Tbsp ghee
1½-inch-long piece of ginger, minced or grated
6 garlic cloves, minced or grated
2 (120 g) medium onions, sliced thin
4 (200 g) medium ripe tomatoes, roughly chopped
1/2 cup (200 ml) tomato purée
2 Tbsp dhansak masala (see Level Up)
Directions
Step 1

Drain and add the lentils to a large pot. Add pumpkin, eggplant, methi leaves, spring onions and 4 cups of water. Mix in the turmeric powder and half the salt. Cook the lentils and vegetables over medium-low heat, adding more water as needed, until softened — about 45 minutes. Alternatively, you can pressure-cook just the lentils with 3 cups of water on high heat to the first whistle, then simmer for an additional 10 minutes. Release the pressure, open the lid, and mash the lentils with a ladle. Then add the vegetables, turmeric powder and salt, top up with 1 cup of water, and cook on high heat to the first whistle. Then lower the heat and simmer for 5 more minutes before turning off the heat and allowing the pressure to release before opening the cooker.

Step 2

To make the masala: Heat the ghee in a deep, heavy-bottom kadhai or pan. Add the ginger, garlic, and onions and sauté on medium heat for 7 to 8 minutes. Once the onions turn golden, add the chopped tomatoes, the rest of the salt, and cook on high heat while stirring continuously for about 3 to 5 minutes, until the tomatoes soften. Mix in the dhansak masala powder, add the puréed tomato, and cook on medium-high heat for 3 to 4 minutes, stirring often.

Step 3

Add the tomato-onion masala to the lentils and vegetables. Using an immersion blender, purée the dhansak. Simmer over low heat for 10 minutes to marry together the flavors. Add water if needed to achieve a soupy consistency, and adjust the salt to taste. Serve hot.
Substitutions: For a vegan dhansak, replace the ghee with your choice of healthy cold pressed seed or vegetable oil.
Level up: To make a simple dhansak masala spice powder, toast 6 to 7 dried Byadgi chiles, 1 tsp cumin seeds, 1 Tbsp coriander seeds, 6 peppercorns, 2 green cardamom pods, and a 2-inch-long cinnamon stick on a pan over medium-low heat for 3 to 4 minutes. Allow the spices to cool, then grind to a fine powder. This makes about 2 tablespoons, or 30 grams, needed for this recipe.
Try it with: Parsi brown rice, or plain steamed rice and a kachumber (a Parsi-style salad of onion, tomato, and cucumber) on the side.