Betel Leaf & Pomelo Salad
Prep Time:
25 min
Cook Time:
0 min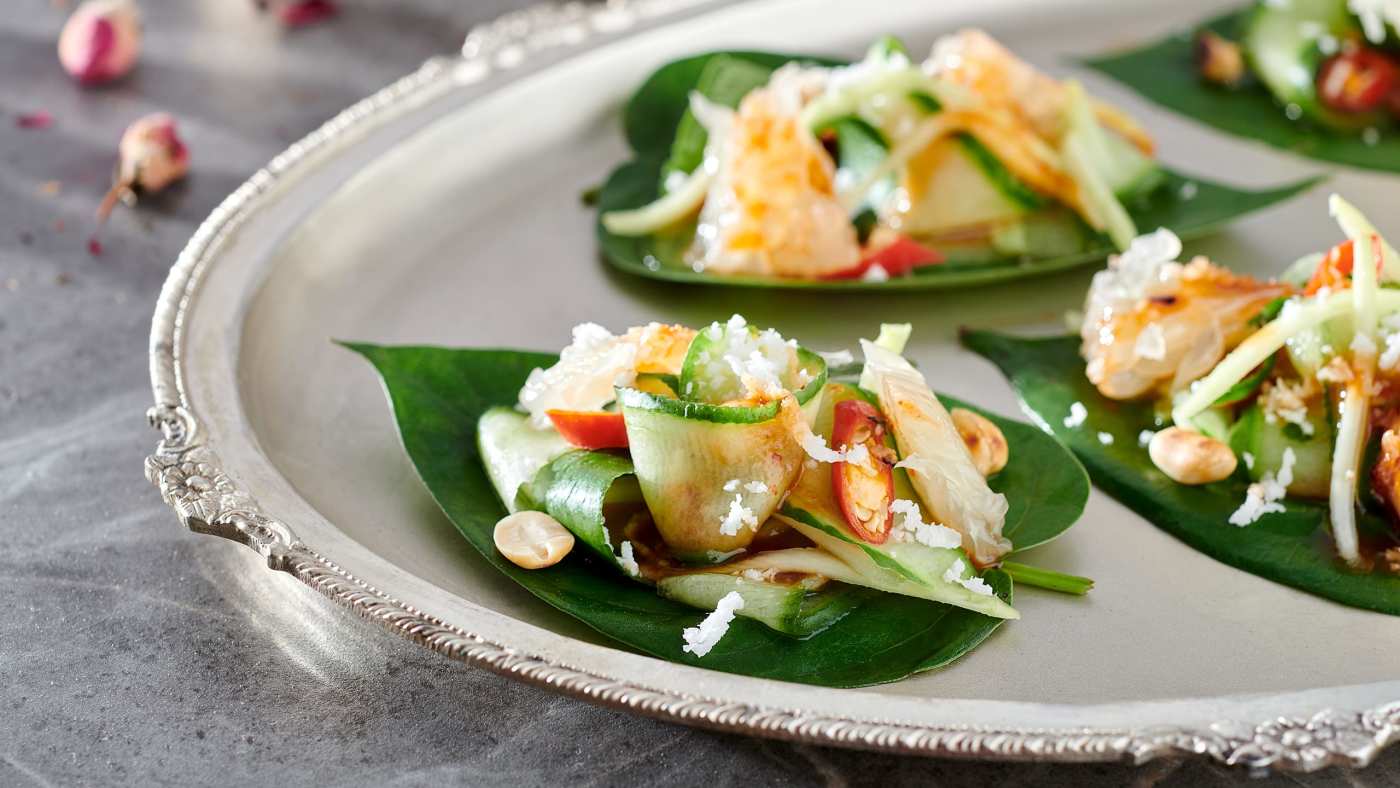 Betel Leaf & Pomelo Salad
Prep Time:
25 min
Cook Time:
0 min
About This Recipe
The practice of chewing paan or betel leaf quid or parcel is a sensual, post-meal ritual in India, with references dating back to medieval love poetry and beyond. Preparing paan for guests is a mindful, hospitable gesture with ceremonial and ritual significance. With good reason: aromatic, astringent and sweet, betel leaves stimulate digestion and freshen the breath after a heavy repast. For this cooling, fresh salad, I pair betel leaves with tart green mango, pomelo, cucumbers, grated coconut, and soothing gulkand, a rose petal jam, a prized ingredient in Ayurveda.
The Benefits
Betel leaves are rich in antioxidants that help clear free radicals from the body and improve digestion. Their woody and spicy aromatic compounds stimulate the senses and leave a lingering, calming feeling. Pomelo is high in vitamin C and fiber, while gulkand is a mouth-freshening, aromatic preserve that is cooling and hydrating in summer.
Ingredients
For the Salad
1½ cup (180 g) deseeded pomelo segments, cut into large dice
1 (100 g) cucumber
1 (75 g) unripe mango, peeled and cut into matchsticks
2 red chiles
8 to 10 fresh basil leaves
2 Tbsp (8 g) cilantro leaves
2 Tbsp (10 g) grated coconut
8 medium betel leaves
2 Tbsp (15 g) crushed roasted peanuts
4 tsp (50 g) gulkand
For the Dressing
2 Tbsp soy sauce
1 tsp white vinegar
1 Tbsp honey
1 tsp chili sauce or 1 red chile, minced
½ tsp salt
A pinch of pepper
Directions
Step 1

Slice off both ends of the pomelo. Dice into quarters and cut off the hard skin. Pick out the large seeds and remove the bitter white pith and membranes with a knife. Add only the flesh of the pomelo to the salad. Cut the tips of the cucumber and, use a vegetable peeler to peel the cucumber lengthwise into long ribbons. Discard the first piece, which will mostly be peel. Keep turning the cucumber and peeling for more ribbons until you reach the seeds. Set the seedy core aside, as the flesh with seeds is watery. Peel the mango using a peeler. Slice down lengthwise on either side of the pith for the cheeks. Place the cheeks flat-side down and cut into 2-inch-long matchsticks. Slice the red chiles at a sharp diagonal to make oblong rings.

Step 2

Add the pomelo and the cucumber ribbons to a mixing bowl along with the mango, basil leaves, red chile, cilantro, and 1 ½ tbsp of the coconut, reserving some for garnish.

Step 3

To make the dressing: In another bowl, mix the soy sauce, white vinegar, honey, chile sauce, salt, and pepper.

Step 4

Add the pomelo and the dressing, reserving a bit, to the bowl sitting with the other ingredients and gently toss them and mix well.

Step 5

To plate, arrange the betel leaves on a serving platter. Pile a heaped tablespoon of salad on each leaf. Drizzle the reserved salad dressing on each leaf and top with some crushed, roasted peanuts, the remaining ½ Tbsp grated coconut, and a dollop of gulkand. To eat, fold the betel leaf into a parcel—and enjoy! Alternately, you can cut the betel leaves into thin strips, toss them in with the rest of the ingredients, and serve the salad in a bowl.
Note: Betel leaves can be sourced from Indian specialty grocers and online.
Substitutions: Use sweet lime or orange if pomelo is not available.
Zero Waste: Finely chop the leftover cucumber, add to a bowl of yogurt, and season with salt and pepper. Voilà! You've made raita.