Amritsari Langarwali Dal
Prep Time:
12 min
Cook Time:
45 min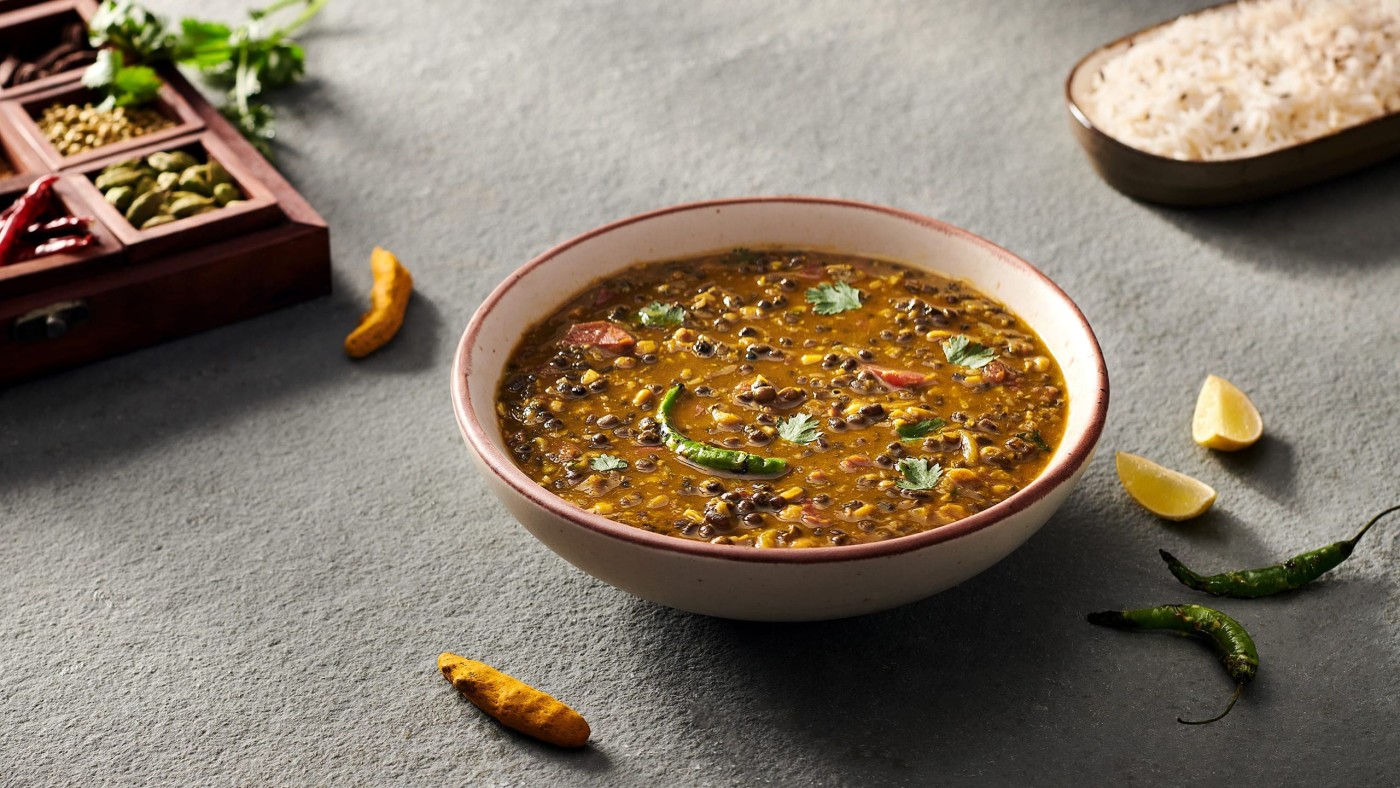 Amritsari Langarwali Dal
Prep Time:
12 min
Cook Time:
45 min
About This Recipe
If "sattva" in Sanskrit connotes positivity and good health, then offering food to those in need is a mindful extension of this ancient Indian concept. The Sikh tradition of langar is part of this tradition of service: a community meal cooked by volunteers at gurudwaras (Sikh places of worship). A nutritious langarwali dal, made with mixed lentils and simple spices, is one of the dishes served to pilgrims and visitors at Amritsar's Golden Temple and other gurudwaras. The true langar method is to combine all the ingredients in a pot and simmer until the dal is cooked. Making a version of this dish at home is my way of showing gratitude to the langar cooks at Amritsar's Golden Temple.
The Benefits
Rich in zinc, calcium, and B vitamins, black lentils make this dish energy dense. Split yellow chickpeas are high in fiber and have a low glycemic index. Ginger aids digestion and garlic boosts immunity. Nutritious and hearty, langarwali dal is high in anti-inflammatory compounds due to its blend of spices.
Note: Soaking whole lentils for at least 8 hours helps improve their digestibility and reduces cooking time. I prefer to soak them overnight.
Ingredients
¾ cup (150 g) sabut urad dal (whole black lentils), soaked for 8 hours or overnight
2 Tbsp (30gm) chana dal (spiced, split chickpeas), soaked for 8 hours or overnight
2½ cups (600 ml) water
1 tsp salt
2 Tbsp (30 ml) ghee
6 garlic cloves, finely chopped
½-inch-long piece of ginger, grated or finely chopped
2 green chiles, thinly sliced
1 large red onion, finely chopped
2-3 medium tomatoes, finely chopped
½ tsp ground turmeric
1 tsp Kashmiri red chile powder
2 Tbsp (2 g) chopped cilantro
Directions
Step 1

Drain the soaked lentils. Cook in a traditional pressure cooker with 2½ cups of water and salt on high heat. After the first whistle on full pressure, simmer for a further 12 to 15 minutes before taking it off the heat. If you don't have a traditional pressure cooker, use an Instant Pot, or slow-cook the combined lentils with enough water until they turn mushy — this may take an hour or more.

Step 2

While the dal is cooking, heat the ghee in a large kadhai or stockpot. Add grated garlic, chopped ginger, chiles, onion, and tomatoes. Cook on medium heat for 10 minutes, until the onions brown and the tomatoes soften. Add the turmeric powder and red chile powder and mix well.

Step 3

Open the cooker once its pressure has dropped. Add the dal to the kadhai and mix with the tomato-onion masala in the pan. Add about 1½ cups hot water to adjust the consistency of the dal. Simmer the dal for a further 5 to 10 minutes to combine the flavors — it should be creamy and viscous. Adjust the salt to taste and turn off the heat. Garnish with cilantro and serve hot.
Try it with: Serve with jeera (cumin) rice or rotis.