Multigrain Beet Roti
Prep Time:
20 mins, plus 15 mins to rest dough
Cook Time:
15 mins (about 2 mins per roti)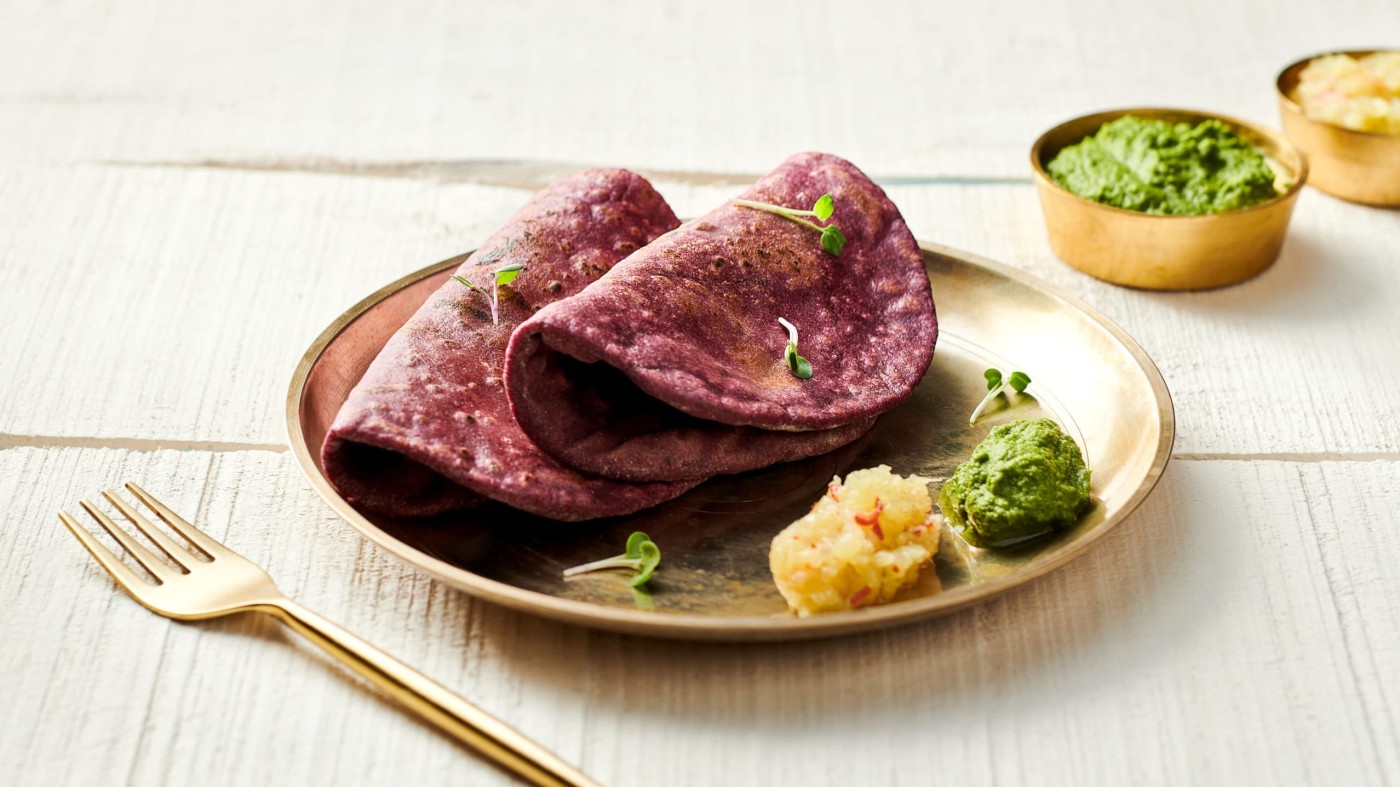 Multigrain Beet Roti
Prep Time:
20 mins, plus 15 mins to rest dough
Cook Time:
15 mins (about 2 mins per roti)
About This Recipe
In North India, a typical vegetarian lunch might include a mild yellow mung dal, a simply spiced vegetable dish and thin wheat rotis. Nothing wrong with this staple meal, but my quick twist on the rotis adds color and excitement — as well as more fiber and nutrients. Beet rotis are easy to make and really pop on the plate, which is great because eating colorful, nutritionally enriched food increases satisfaction.
If you've never made rotis before, don't worry about making them perfectly round. If you take away the pressure of perfection, the process of kneading dough and rolling them out can be very mindful. Adding color also enriches the cooking experience, involving the visual sense into a tactile activity.

The Benefits
Flour with a mix of different grains is more nutritious, more satiating, and higher in dietary fiber than regular wheat flour. Beets contain folate — needed for healthy fetal growth and development — along with manganese, iron, vitamin c, and copper, making them good for metabolism and energy production, forming connective tissues, supporting red blood cells, and healthy immune function. Beets can help generate energy by increasing mitochondrial function, improving sports performance. A source of inorganic nitrates, which the body uses to signal muscle relaxation, they're especially good for athletes or active people.
Equipment: Grater, blender or food processor; tawa or flat pan/griddle (preferably cast iron); rolling pin
Note: You can make the dough ahead of time. Coat it with a thin layer of oil, using your palms, put it in an airtight container, and keep it in your fridge for up to 2 days. When you want to use it, bring the dough to room temperature, knead again for 2 minutes, rest it for 10 minutes then roll out your rotis. And if you need to reheat roti, avoid the microwave. The best way to reheat them is on a pan or griddle, with a little sprinkle of water. The steam helps heat the roti through.

Ingredients
1 medium beet, peeled
3 Tbsp water
1 cup of multigrain flour, plus more for rolling
Salt
1 tsp neutral, cold-pressed cooking oil
1 tsp ghee, optional
Directions
Step 1

Roughly chop the beet and add to your blender or food processor. Shred it with water to make a smooth paste. It's okay if it's a little runny. If you don't have a blender you can grate the beet on the large holes of a box grater.

Step 2

Pour the beet into a large, shallow platter or plate. Add the flour and a pinch of salt. Using clean hands, start incorporating the beet and flour until well mixed, then begin kneading the dough until it is soft and smooth. Add oil and knead it into the dough. Once the dough cleanly comes off the plate into a smooth ball, it's ready. Add a bit more water or flour if the dough is too dry (cracking) or too wet (sticking).

Step 3

Drizzle a drop of oil over the ball of dough and smear it over the surface. Cover with a clean tea towel or muslin cloth and let the dough rest for 15 minutes.

Step 4

Once the dough has rested, divide it into small balls. You should get around 6 to 7 golf ball-sized pieces, about 33 grams each.

Step 5

Sprinkle more flour onto a plate or shallow bowl. Gently flatten one ball into a disc, while dipping it into the dry flour to coat on all sides. Place the disc on your clean counter or on a traditional roti-rolling chakla, and use a rolling pin to roll it into an even round, about 10-inches in diameter. Tip: To roll round rotis, hold the rolling pin loosely, allowing it to spin under your hands. The trick is to move the pin in a small, circular clockwise (or anti-clockwise) motion rather than to roll it up and down across the dough. The roti will move freely on the surface. If the chapati is sticking, dust it with a bit more flour. There are dozens of ways to roll a roti. Don't worry if you can't get it perfectly round at first.

Step 6

Repeat with the other balls, then heat tawa or pan. If you're comfortable with rolling, you can roll and cook the rotis simultaneously and get a good rhythm going. Heat the tawa on medium heat for 3 to 4 minutes. Place a roti on the hot tawa. After a few seconds, you'll see some steam and the roti puffing up or lifting. Pick it up and flip it over, carefully using your fingers or tongs. Let the roti cook evenly on the other side, about 15 seconds. Optionally smear a bit of ghee on the roti before serving. Rotis should be eaten hot.
Substitutions: Experiment with different types of grains for your flour. You may need to adjust the amount of water depending on the type of grain.
Level Up: Try different rolling techniques, or experiment with substituting a green leafy vegetable like spinach for the beet.