Pathrode
Prep Time:
15 min, plus soaking time
Cook Time:
35 min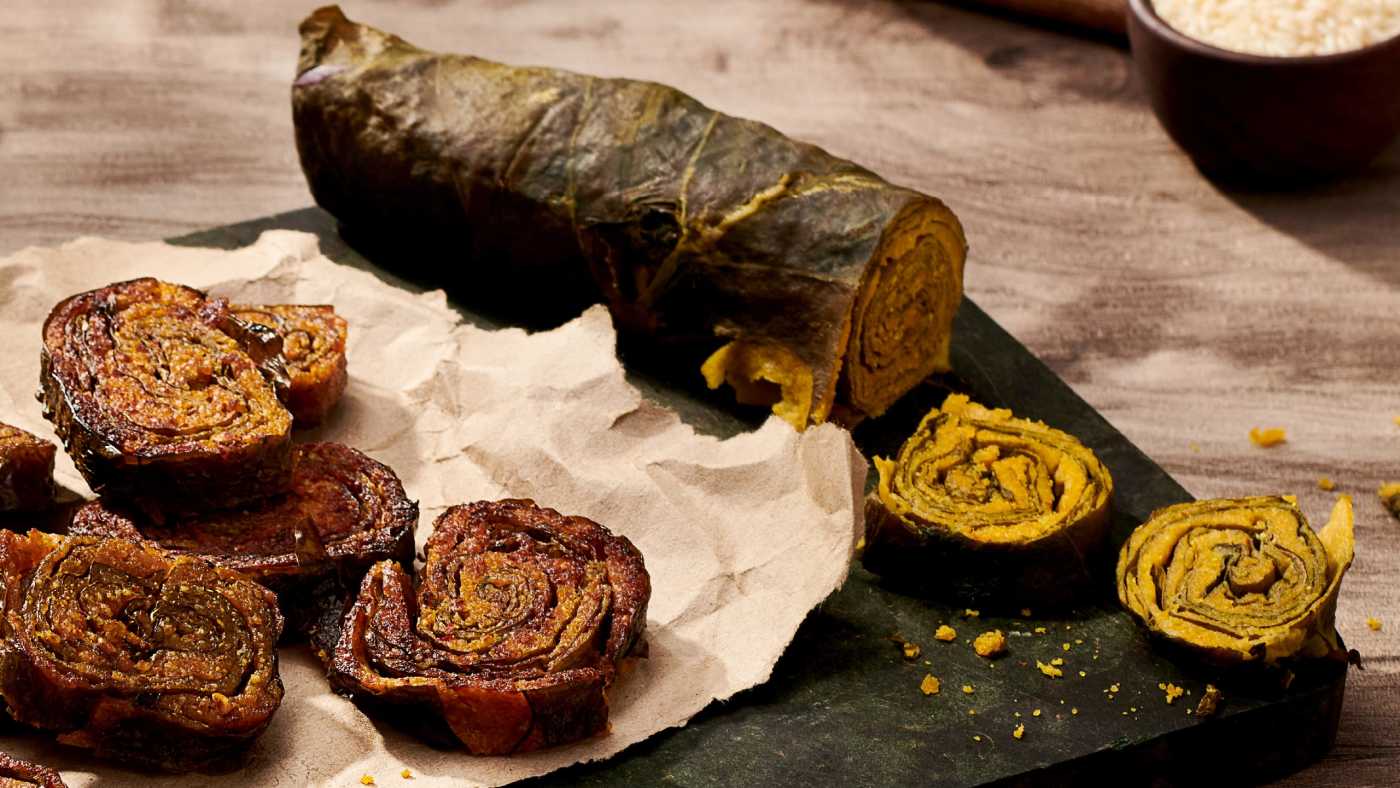 Pathrode
Prep Time:
15 min, plus soaking time
Cook Time:
35 min
About This Recipe
During the monsoon season in India, colocasia or taro grows rampantly, and every state has its own version of pathrode. This delicious snack consists of colocasia greens layered with a savory, sweet, and spicy lentil-rice batter, then rolled and steamed. Fiber-rich and nutrient-dense, these pinwheels are perfect with a cup of hot chai and the monsoon rain as a soundtrack.
The Benefits
Some reasons to eat colocasia greens: the leaves have twice as much protein as kale and are rich in folate and potassium. Paired with unpolished rice, black lentils, and freshly grated coconut, this is a snack rich in fiber, complex carbohydrates, and good fats. Together, the ingredients provide a slow release of carbs, which may help curb blood sugar spikes.
Note: Use any unpolished, short-grain rice
Equipment: A steamer or a large Dutch oven with a steamer stand/plate
Ingredients
For the Batter
1 cup (200 g) sonamasuri or idli rice, soaked for 3 hours
2 Tbsp (30 g) urad dal (white lentils), soaked for 3 hours
1 cup (110 g) fresh grated coconut
2 Tbsp (50 g) dark jaggery
2 Tbsp (40 g) tamarind pulp
1 tsp cumin
2 tsp coriander seeds
¼ tsp fenugreek seeds
½ tsp turmeric powder
5-6 dried Kashmiri red chiles
1 tsp salt
For the Pinwheels
20 colocasia leaves
1 Tbsp (15 g) ghee for searing, optional
Directions
Step 1

To make the batter: Drain the rice and dal, then grind them together in a grinder or a food processor with the rest of the batter ingredients to make a thick but smooth, spreadable paste. Pour in a little water if required, but try to add as little as possible.

Step 2

Place a steamer rack or plate in a pot, and fill it with water below the rack — up to three inches, depending on your equipment. (If using a traditional idli steamer, place only the middle plate in the pot). Cover the pot and heat.

Step 3

To prep the leaves: Gently wash and pat dry the colocasia leaves. Carefully run a sharp knife or a peeler over the central veins to trim (see video for demonstration).

Step 4

Starting with the largest leaf in your bundle, place it on the work surface, underside-up, with the narrow end towards you. Add a ladleful of batter and spread it evenly over the leaf. Place a second leaf on top of the batter, again underside-up, but this time with the wide end towards you. Coat with batter. Repeat the layering and spreading, alternating the direction of each leaf, until you run out of leaves or batter. Tuck the sides of the leaves in, in roll the stack of leaves into a log-like cylinder. Cover with leftover batter, if any.

Step 5

Place the cylinder in the steamer and steam on low to medium heat for 30 minutes, or until a toothpick inserted comes out clean. Carefully remove the pathrode and allow it to cool for 10 minutes. Cut the log into slices or pinwheels. Serve as-is, or warm ghee in a pan over medium heat and pan-sear each pinwheel — 1 minute per side, until crisp and brown. Serve warm.
Substitutions: In Mumbai, where I grew up, a popular version of this recipe, called "alu vadi," incorporates besan (chickpea flour) in the batter instead of rice flour. Try it for a denser, nuttier flavor.