Indian Fattoush
Prep Time:
15 min
Cook Time:
20 min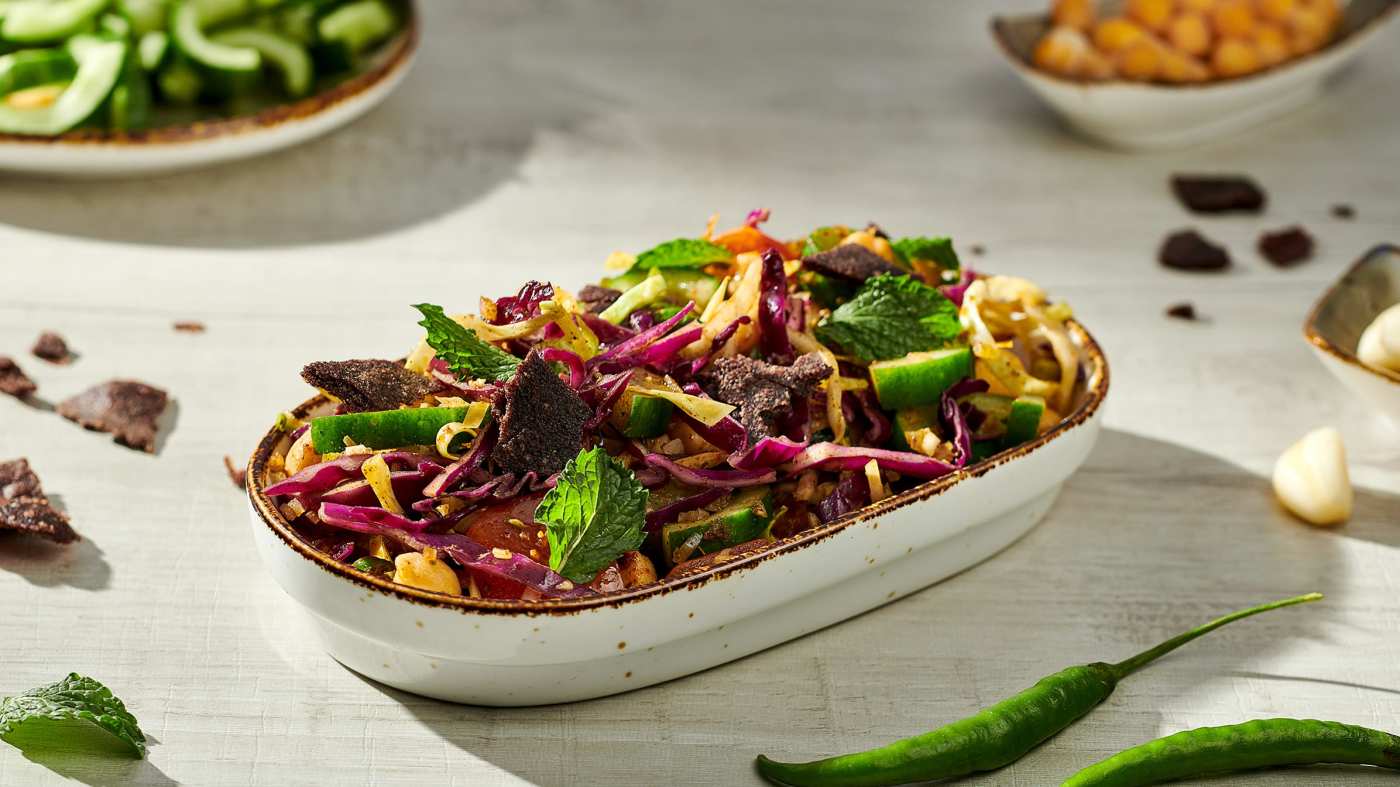 Indian Fattoush
Prep Time:
15 min
Cook Time:
20 min
About This Recipe
Being inspired by food from across the globe can help us eat a greater variety of foods and try new healthy pairings. A hearty salad with variations across the Middle East, fattoush usually includes mixed greens, crunchy vegetables, and toasted or fried pita bread. For my Indian twist, I swap the pita with leftover ragi rotis (finger millet flatbread); you can use any bread. I pick vegetables and herbs that are rich in color, protein-rich chickpeas, and mustard oil for its unique, pungent flavor.
The Benefits
Apart from being a great plant-based source of protein, chickpeas are high in soluble fiber, which helps gut flora and digestive health. The compounds in cold-pressed mustard oil help reduce inflammation and relieve joint pain. And multicolored vegetables have phytonutrients that strengthen the immune system.
Note: This recipe is especially amenable to fridge clearance ops. Add carrots, cabbage, bell peppers, spring onions, and other veggie bits; salad-making should be a fun exercise in adapting and experimenting. This salad can be refrigerated overnight for the next day's lunch.
Ingredients
For the Ragi Croutons
1-2 ragi rotis to be baked for 10 min
Olive oil to brush on the bread
For the Salad
½ cup (50 g) chickpeas, soaked for 8 hours or overnight
½ tsp salt
2 (100 g) cucumbers
2 (120 g) medium tomatoes
½ cup (50 g) thinly sliced purple cabbage
½ cup (50 g) thinly sliced white cabbage
1 (70 g) medium onion
2 small green chiles, optional
2 garlic cloves, finely chopped or grated
1/4 cup (6 g) chopped cilantro
½ cup (12 g) mint leaves, roughly chopped
1 tsp dried mint powder
2 Tbsp (30 ml) cold-pressed mustard oil
½ tsp chile powder
3 Tbsp (45 ml) lime juice
Salt
Pepper
Directions
Step 1

To make the ragi croutons: Lightly brush the ragi rotis with olive oil and place on a baking tray. Bake for 8-10 mins at 375°F (190°C). You can really use any kind of bread, but I prefer to repurpose day-old stale bread, as dry and hard bread toasts better. Once the rotis are cool enough to handle, break them into big chunks for some crisp crackers.

Step 2

To cook the chickpeas: You can use canned chickpeas in this recipe for quicker preparation. Just drain the water and rinse the chickpeas before adding them to the salad. To limit your preservative and sodium intake, however, make your own. After soaking the dried chickpeas overnight, drain them and add them to a pressure cooker. Cover the chickpeas with water, add ½ tsp salt, and seal the pressure cooker. Set the heat to high and bring to full pressure. At the first whistle, turn the heat to low. Continue to cook for 10 minutes. Turn off the heat and wait for 5 minutes to allow for its internal temperature to drop to safe levels. Lift the whistle to release any remaining pressure. Open the lid and drain the chickpeas.

Step 3

While the chickpeas are cooking, cut your veggies. I like to cut cucumbers into visually pleasing crescents. Cut the cucumbers lengthwise and scrape out the seeds with a small spoon (removing the seeds keeps the salad crunchier, as cucumbers tend to lose a lot of water after seasoning). Cut the halves into ¾-inch-thick slices. Alternatively, deseed and cut the cucumber into a large dice (about 1 to ½-inch). Halve the tomatoes, scrape the seeds out and dice them into pieces about the same size as the cucumber. Cut the cabbage into thin slices or long strips. Finely chop the onion, chiles (if using), and garlic.

Step 4

To assemble the salad: In a large bowl, combine the chickpeas and the cut vegetables. Add the chiles, garlic, cilantro, fresh mint leaves, and the dried mint powder. Pour the cold pressed mustard oil on top, sprinkle with chile powder, and add a generous squeeze of lime or lemon. Season with salt and pepper. Gently toss to mix. If you can, chill the salad in the fridge for an hour or two before serving; this allows the flavors to mingle and settle down. Before serving, garnish with the crisp ragi croutons.
Substitutions: If you can't find edible mustard oil or if you find the flavor too overpowering, use extra virgin olive oil.
Level Up: Swap chickpeas with falafel.