Stuffed Mango Kulfi
Prep Time:
20 min
Cook Time:
0 min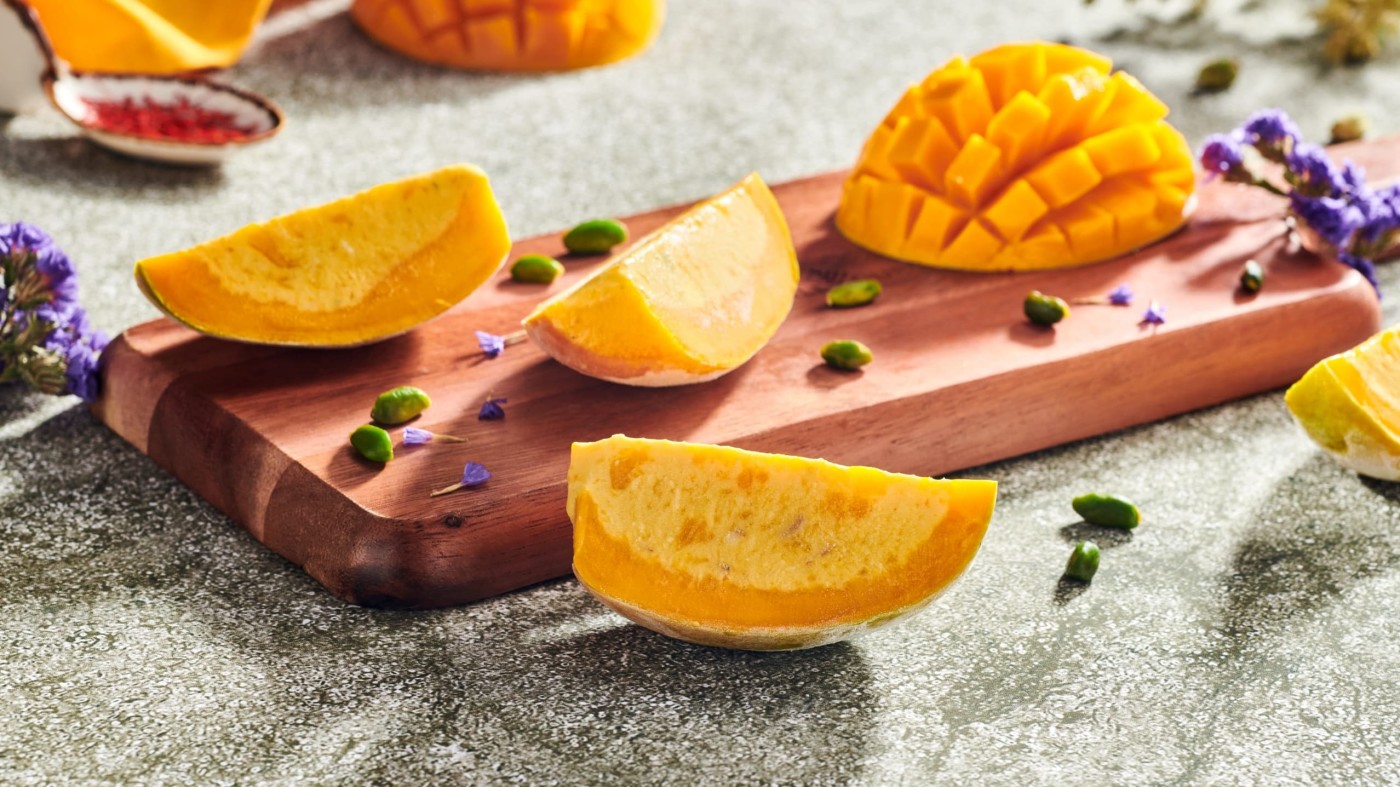 Stuffed Mango Kulfi
Prep Time:
20 min
Cook Time:
0 min
About This Recipe
I love wandering through the streets of Delhi's historic old city, visiting wholesale markets for everything from spice and salt to lentils and grains. In the summer, there's nothing more joyous than stopping off for a cold treat at one of the stalls tucked away in an alley.
These shops sell all kinds of kulfi — the Indian ice cream made of thickened, sweetened milk — but its star items are the stuffed fruit kulfis: hollowed out whole fruit, filled with creamy thickened, sweetened milk called rabdi. The pomegranates, oranges, guavas, and apples look like sweet frosty toys. But the crowning glory is the stuffed alphonso kulfi, with a hidden core of frozen creamy rabdi and chunks of candied cherry.
This recipe is a healthier, yogurt version of this inventive dessert. It's inspired by shrikhand, another Indian treat, but uses only the natural sweetness of golden alphonso mangoes. Mangoes are messy to eat, and this recipe celebrates that! If you've ever been told not to play with your food, now is the time to disregard that advice.
The Benefits
This dessert incorporates numerous beneficial ingredients, from mood-lifting saffron to vitamin-filled mangos, to probiotic curd. A gut-friendly food, yogurt helps with hydration and energy levels, particularly during hot weather. It may also reduce anxiety. Adding to this is saffron, a "sunshine spice" that contains notable antioxidants, the consumption of which may also enhance one's mood.
Note: Use thick Greek yogurt or make your own hung curd (strained yogurt). To make 6 Tbsp (100 g) hung curd for this recipe, start with 1 cup (250 g) of yogurt, preferably Homemade Dahi. Line a strainer with a muslin cloth, cheesecloth, or a light cotton tea towel. Place the strainer over a bowl. Pour the yogurt into the cloth, then gather the corners of it and twist to form a pouch. Gently press to remove as much whey as possible and leave in the strainer for 2 to 3 hours. Or tie the corners into a knot and suspend the pouch over a bowl from a peg or knob in your kitchen. As the whey drips down into the bowl, the yogurt will become thicker and more luscious.
Tools & Equipment: Tumblers, piping bag with nozzle or long-handled spoon, peeler

Ingredients
1 tsp milk
4 to 8 strands of saffron
2 medium or large, firm alphonso mangoes
6 Tbsp (100 g) thick strained yogurt, chilled
Pinch of powdered cardamom
1 Tbsp pistachio, coarsely chopped
Directions
Step 1

In a small bowl, combine the milk and saffron strands. Let the milk infuse for 10 to 15 minutes while you prep the mangoes.

Step 2

Carefully slice off the top of a mango and save this little "hat" for later. Using a paring knife or a small knife, make an insertion close to the mango pit and rotate it in a circular fashion around the seed. Using your fingers, rotate the seed to loosen it from the pulp and pull it out. The idea is to remove the seed while leaving the skin intact and as much pulp as possible inside the mango. (See video for demonstration.) Set the mango upright in an cup or tumbler so the juices don't spill out. Scrape any flesh from the seed back into the scooped-out mango. Repeat with the other mango.

Step 3

Stir the saffron milk into the yogurt along with a pinch of cardamom powder. Mix well. Spoon the yogurt into a piping bag with a nozzle, which you will use to fill the center of each mango to the brim with yogurt. Use a long-handled spoon if you don't have a piping bag.

Step 4

Now place the top slice of the mango back on top of yogurt. Freeze the mangoes in the tumblers overnight.

Step 5

When you're ready to serve, take the frozen mango out and let it sit or about 5 minutes or until it's just warm enough to handle safely. Using a peeler or a sharp knife, peel off all of the mango skin in narrow strips. Use a sharp knife to remove the top cap of the mango. You can now cut the mango into vertical wedges or round, cross-sectional slices. Half or quarter them further, as you wish. Sprinkle with pistachios and serve.