Purple Cabbage & Cauliflower Soup
Prep Time:
15 min
Cook Time:
30 min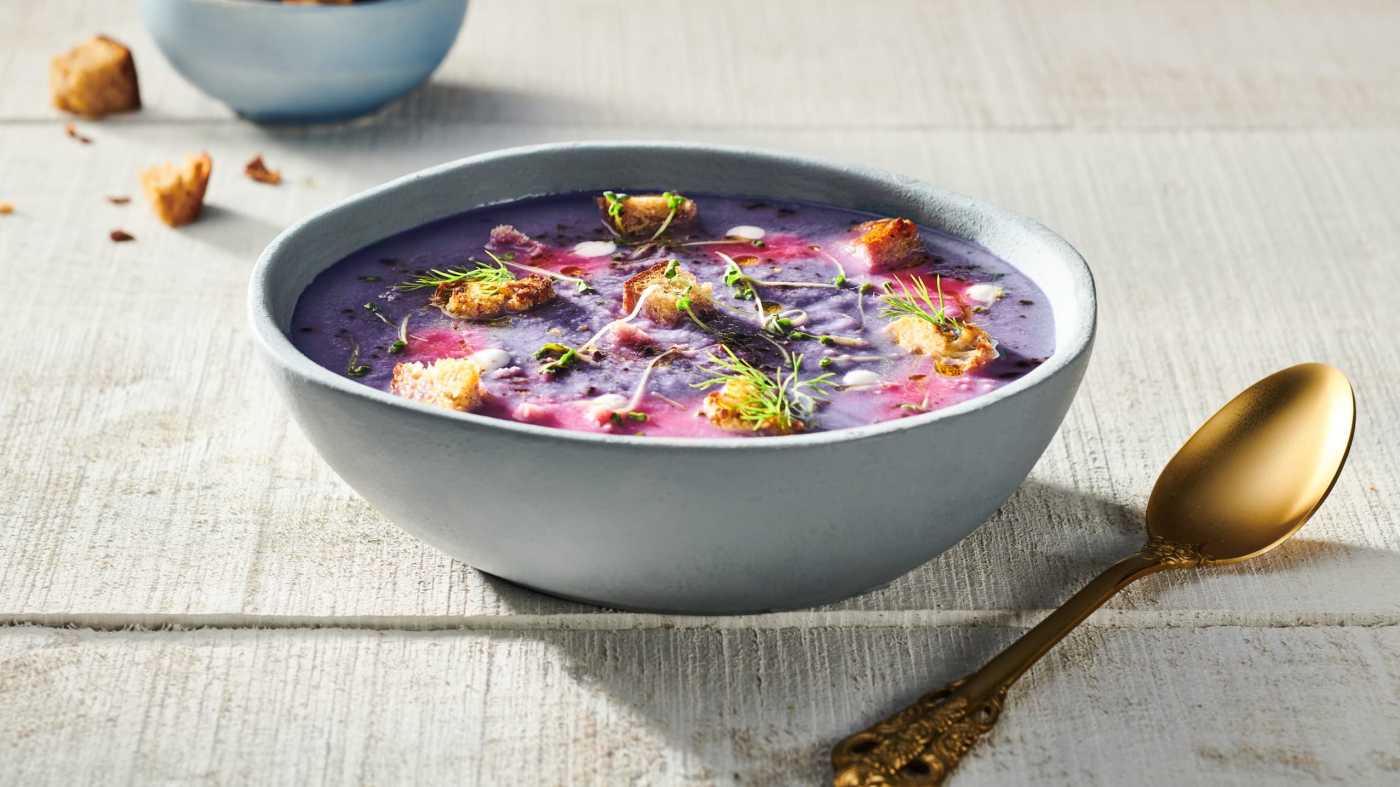 Purple Cabbage & Cauliflower Soup
Prep Time:
15 min
Cook Time:
30 min
About This Recipe
Soup is such an easy and nutritious way to make sure you eat enough vegetables. And it's really gentle on digestion as well. The glamorous color of this soup is a canvas for creativity and a conversation starter at my table — people are always surprised when I tell them what's in it! The natural purple color in food typically means that it's rich in anthocyanins, which help fight diseases of all kinds. If you can find purple cauliflower, use it instead of the regular white variety.

The Benefits
Purple cabbage and cauliflower both contain vitamin K and B vitamins. The former also has vitamin C and heart-healthy, inflammation-fighting antioxidants. The latter has potassium, choline and fiber that support gut health, prevent blood clotting, and help keep the heart and nervous system healthy. Cauliflower is also high in sulfur-containing glucosinolates and isothiocyanates, which slow the growth of cancer cells. Coconut milk can help balance gut bacteria and support immunity.
Note: Make your own Vegetable Broth for amplified health benefits.
Equipment: Immersion blender or regular blender

Ingredients
For the Soup
2 Tbsp olive oil
1 medium (70 g) onion, roughly chopped
3 to 4 (10 g) garlic cloves, roughly minced
4 cups (350 g) purple cabbage, roughly chopped
1 large (500 g) cauliflower, chopped into medium florets
2½ cups (750 ml) vegetable broth
1 tsp salt
½ tsp ground black pepper
1 cup (250 ml) coconut milk
For the Garnish
½ cup cubed or torn pieces of stale bread
1 Tbsp extra virgin olive oil plus more to drizzle
1 to 2 Tbsp coconut milk
1 to 2 Tbsp (30 ml) lime juice
½ tsp dehydrated beetroot powder, optional
2 Tbsp microgreens (optional)
1 Tbsp chopped fresh dill
Directions
Step 1

Make the soup: Heat 1 Tbsp of olive oil on low heat in a medium-large saucepan or stockpot. Before it gets too hot, add the onion and garlic. Sauté until the onion is translucent. Add the cabbage and the cauliflower. Sauté on medium heat for a minute or two. At this point you can optionally remove a couple of small cauliflower florets to use as garnish later.

Step 2

Pour in vegetable stock, stir, and cover the pot. Simmer gently for 15 to 20 minutes until the cauliflower is cooked through.

Step 3

Prepare the garnish: Preheat oven to 200°C/ 390°F. Scatter torn or chopped pieces of bread on an oven tray and drizzle with 1 Tbsp olive oil. Toss to coat. Sprinkle with salt. Toast in the oven for 7 to 10 minutes, stirring once, until crisp but not burnt.

Step 4

Use an immersion blender to blend the soup until it is smooth and creamy. (If you don't have an immersion blender, let it cool before pulverizing in a blender, then return to heat.) Add a little more vegetable stock if required to thin out. Season with salt and pepper. Add coconut milk, stir, and let the soup warm through again without coming to a boil, before removing from heat.

Step 5

Pour the hot soup into individual bowls before garnishing. Start with a few drops of coconut milk. Add a few drops of lemon juice to each bowl and watch the spots turn color. Drizzle some olive oil. Drag a toothpick or satay stick through the drops of coconut milk and lemon juice to create pretty, swirling patterns.

Step 6

Lightly sprinkle beet powder and microgreens if using, and garnish with any reserved cauliflower florets and the toasted breadcrumbs, either whole or gently crushed. Finally add a few fronds of dill to each bowl before serving.
Substitutions: Use any plant-based milk or dairy milk in the soup in place of coconut milk.