Jackfruit Cake in Teak Leaves
Prep Time:
20 min, plus resting time
Cook Time:
30 min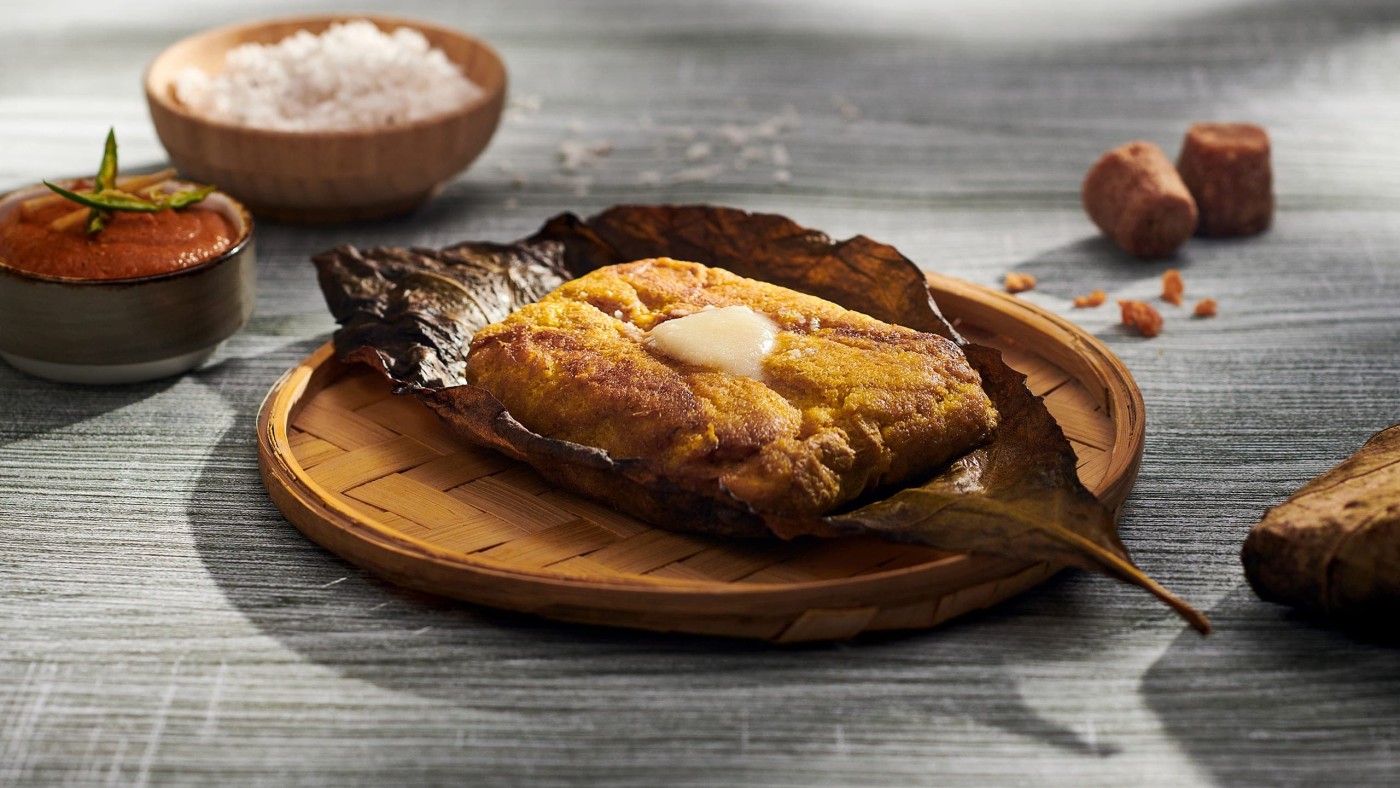 Jackfruit Cake in Teak Leaves
Prep Time:
20 min, plus resting time
Cook Time:
30 min
About This Recipe
Pelakay Da Gatti — steamed jackfruit cake in teak leaves — is one of my most cherished childhood foods. Bright yellow batter is wrapped in a lime-green leaf before going into the steamer, where it transforms into a moist cake, tinged with purple. As a child, I believed the color change was magic. The recipe calls for sweet, ripe jackfruit, but is eaten with a savory accompaniment, for example coconut or tomato chutney. I love to dunk these cakes in leftover pulimunchi, a robust chili-tamarind curry. You can also mop up your curry with these steamed cakes, swapping them for idli, dosa, or bread.
The Benefits
Ripe jackfruit is a great energy source, rich in dietary fiber and natural sugars. The fruit bulbs are rich in antioxidants, phytonutrients, and vitamins A and C, which improve immunity and may help fight cancer. In India, jackfruit purée is a popular baby food; the fruit is rich in minerals like potassium (cardiovascular benefits), magnesium and iron (which help with a good night's sleep), and calcium (for healthy bones). This delicious, energy-dense cake has added benefits from the essential oils in teak leaves, which have analgesic properties to relieve aches and pains.
Note: I steam these leaf-wrapped parcels in an idli steamer. You can use a big stockpot with a steamer plate or a rack.
Equipment: A steamer or a large Dutch oven with a steamer stand/plate
Ingredients
25 (650 g) large ripe jackfruit bulbs, seeds removed
½ cup (80 g) chopped jaggery
½ cup (50 g) fresh grated coconut or frozen, unsweetened coconut
½ tsp salt
2 cups (420 g) rice rava
8 medium fresh teak leaves
Directions
Step 1

In a blender, purée the jackfruit with the jaggery, coconut, and salt. Transfer the purée to a large mixing bowl. Add the rice rava, a little at a time, mixing well to ensure there are no lumps. Cover and let rest for 15 minutes.

Step 2

Place the steamer rack in your steamer or pot and fill the steamer with water up to 3 inches high. (If using an idli steamer, use only the second idli plate.) Cover and bring the water to a boil.

Step 3

While the water heats, place the teak leaf, smooth-side-up, on your work surface. Spoon about ½ cup of the jackfruit mix in the center. Fold each side of the leaf over the filling towards the center to make a square parcel. Repeat to make the rest of the leaf parcels.

Step 4

Arrange the leaf parcels, folded side down, on the steamer plate. It's okay if you need overlap them or stack them on top of each other. Steam for 30 minutes, or until a toothpick inserted in the center comes out clean. Remove the leaf parcels using kitchen tongs and place them on a serving tray. Serve warm, within the leaf wrapper.
Substitutions: You can use banana leaves or chandada (Macaranga peltata) leaves in place of teak leaves. They won't get the quintessential purple tint unique to teak leaves, but each leaf lends its distinctive fragrance to the cake.