Cucumber Cake in Turmeric Leaves
Prep Time:
5 min
Cook Time:
35 min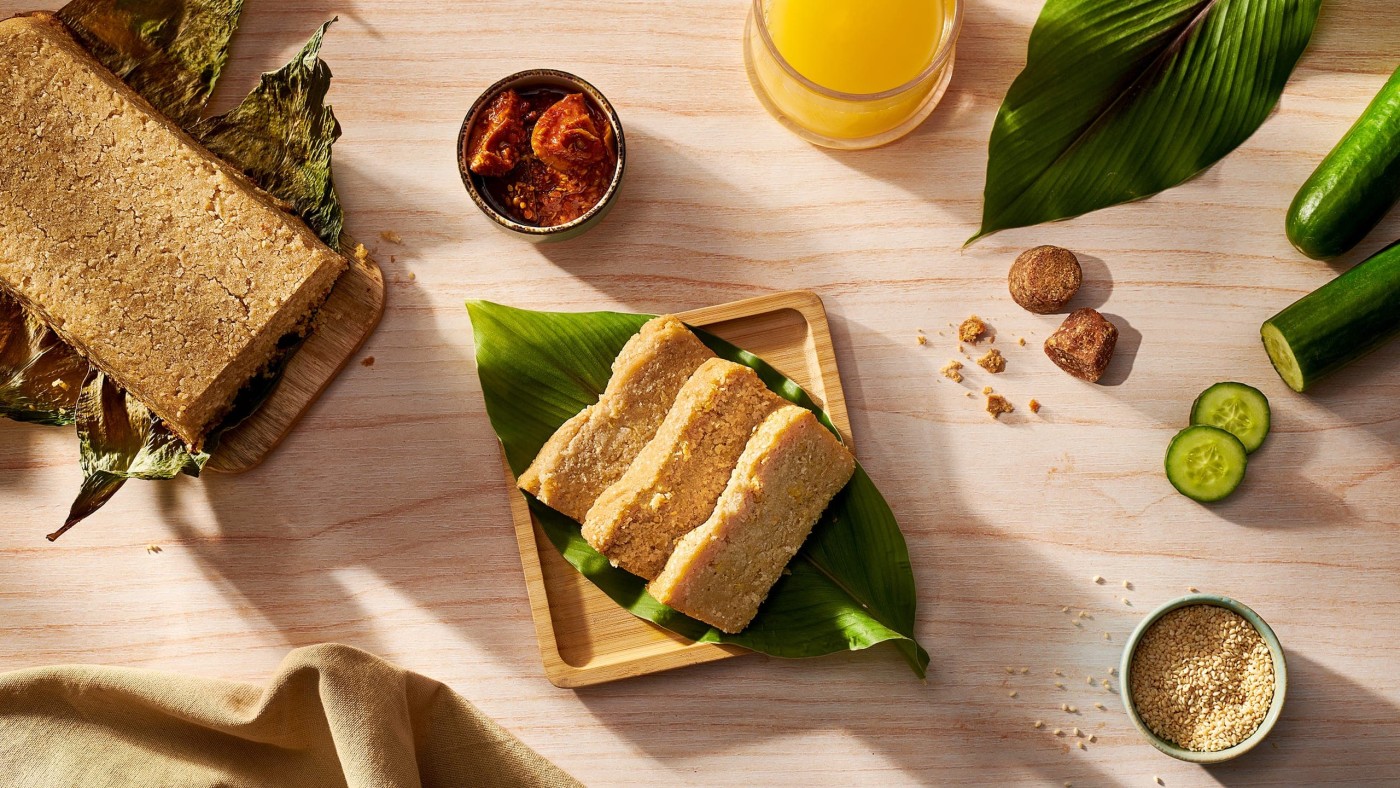 Cucumber Cake in Turmeric Leaves
Prep Time:
5 min
Cook Time:
35 min
About This Recipe
Come monsoon, when fully grown fresh turmeric leaves are in season, Mangalore homes are filled with an inviting aroma of tekkari da adde or cucumber cake. An unleavened, dense, and flavorful cake from coastal Karnataka, tekkari da adde is traditionally cooked over wood embers in a parcel of freshly harvested, fragrant turmeric leaves. For city kitchens, this baked version that substitutes eco-friendly leaves for parchment paper works out just as nicely — it packs all the flavors of the traditional cake but has a slightly crisp outer layer.
The Benefits
Besides the beautiful scent and flavor turmeric leaves impart to food, they infuse it with curcumin, a polyphenol with powerful anti-inflammatory benefits. Thanks to their high water content, cucumbers are hydrating and cooling, and are a great way to incorporate valuable vitamin K, manganese, and potassium. Rice rava, essentially ground parboiled rice, is richer in fiber, protein, and minerals such as iron and calcium than white rice flour.
Note: You can find rice rava, sometimes also labeled as idli rava, in Indian stores or online. If not, substitute with cream of rice, but not the instant kind. Reduce the amount of jaggery or date syrup if desired.
Equipment: A 6-inch loaf pan
Ingredients
2 to 3 (600 g) tekkare or any green cucumbers
1½ cups (315 g) rice rava, soaked for 20 minutes
1 cup (95 g) fresh grated coconut or frozen unsweetened coconut
1/4 cup (40 g) dark jaggery or date syrup, optional
12 turmeric leaves
2 Tbsp (18 g) white sesame seeds
½ tsp salt
Directions
Step 1

Peel the cucumbers and scoop out the seeds. Grate the cucumbers into a large mixing bowl. Add the drained rice rava, coconut, jaggery (if using), and salt. Mix well. Pour the batter into a medium kadhai, wok, or other pot and gently cook on low heat while stirring continuously, until the mix transforms from lumpy and watery to a moist, well-combined dough of dropping consistency, about 5 minutes. Allow the batter to cool for 10 minutes.

Step 2

Heat the oven to 375°F (190 °C). Butter and line a loaf pan with turmeric leaves. Sprinkle 1 tablespoon of sesame seeds on the bottom of the tin. Transfer the rava mixture to the lined tin and spread the batter evenly to ensure uniform baking. Sprinkle the rest of the sesame seeds on top. Fold the overhanging leaves over the top of the batter and cover with more leaves. (See video for demonstration.) Bake for 30 minutes or until a knife inserted into the center of the cake comes out clean.

Step 3

Let the cake cool for 10 minutes, then unwrap and cut. Serve warm, preferably with a small dollop of ghee. Store leftovers in an airtight container in the fridge for up to 3 days. Before serving, heat the oven to 340°F (170°C) and warm the slices for 5 minutes.
Substitutions: Banana leaves instead of turmeric leaves, as they are more readily available.
Zero waste: Blitz the scooped-out cucumber seeds with dahi or yogurt. Season with salt and pepper for a refreshing cucumber chhaas, a probiotic beverage.