Ghee Rice in Pandan Leaves
Prep Time:
10 min, plus resting time
Cook Time:
25 min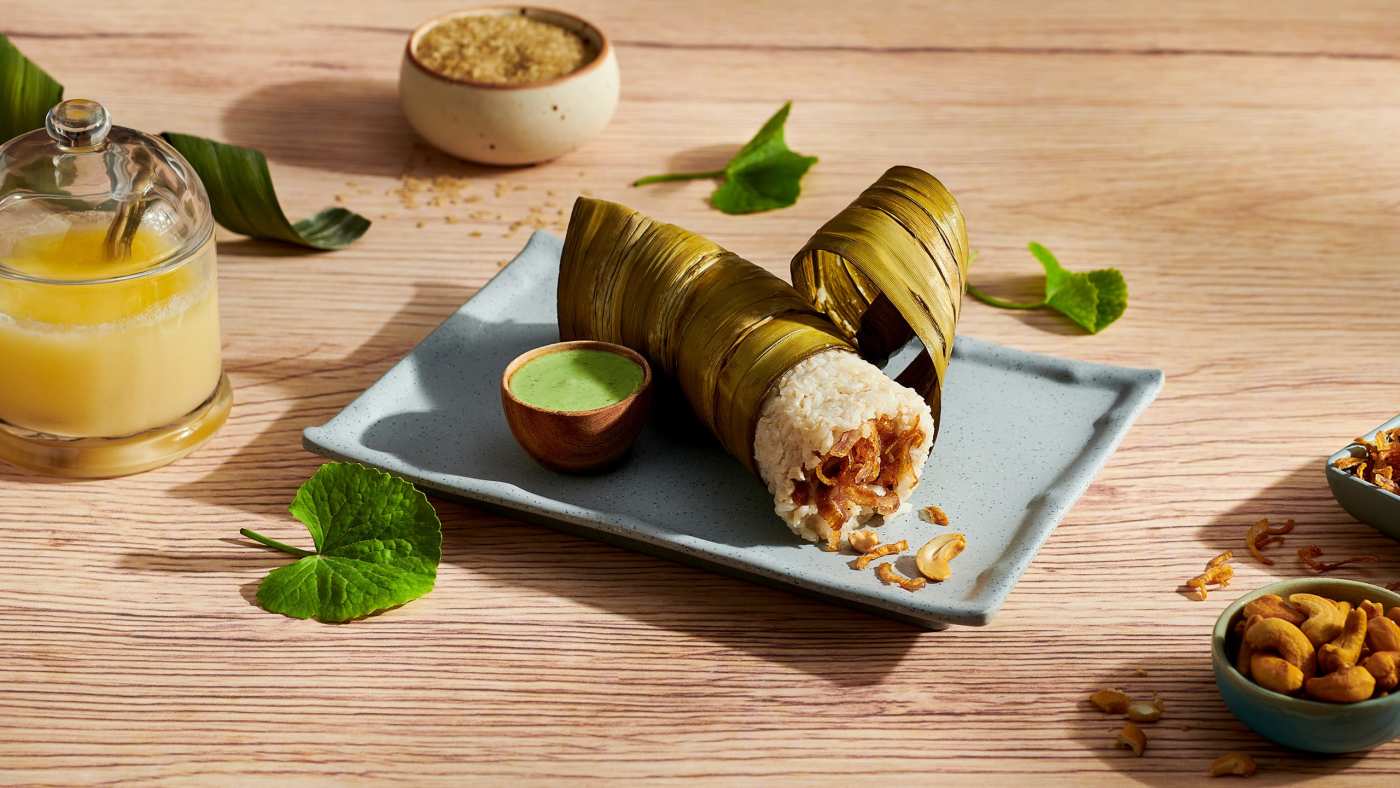 Ghee Rice in Pandan Leaves
Prep Time:
10 min, plus resting time
Cook Time:
25 min
About This Recipe
You can find large screw pine (pandan) plants among the lush green foliage of my hometown Mangalore and all over Southeast Asia. Some genius many generations ago came up with an excellent idea to turn these thin, long, fragrant leaves into tube-shaped baskets, locally called moode. We use these baskets for steaming a variety of fragrant idlis and to make a layered rice dish called "nei da nuppu", a Mangalore-style ghee rice, which can give a biryani some stiff competition. This recipe brings together some of my favorite culinary elements, including my big love for brahmi leaves (Centella asiatica).
The Benefits
Energy-dense brown rice is rich in niacin and quality fiber, which have cholesterol-lowering benefits. The vitamins and antioxidants in fresh herbs give them anti-inflammatory, immunity-boosting, and anti-aging properties. Brahmi, or gotu kala, is an important herb in Ayurveda — it is considered a brain tonic with calming, anti-inflammatory effects. Ghee improves the bioavailability of fat-soluble vitamins, besides providing essential nutrients for brain functions such as omega-3 fatty acids and MCTs (medium-chain fatty acids). Steaming food in pandan infuses it with essential oils from the leaves, rich in polyphenols and alkaloids with cardiovascular and mind-calming benefits.
Note: This recipe requires 6 moode (pandan leaf cylinders). If moode baskets aren't readily available where you live, here's a hack you can use:
Get some mature pandan leaves; you will need about 3-4 per serving. Run each leaf along an open flame to warm and soften. Once cool enough to handle, wipe with a kitchen towel to remove any soot. Roll the leaves into a tight coil, tie them with a string, and rest the coils overnight for better malleability. To line the tumblers, cut a 2- or 3-inch strip and place it at the bottom. Roll the remaining leaves into a 6- to 7-inch cylinder, using toothpicks to hold the coils up, and place in each tumbler.
Equipment: A steamer or a large Dutch oven with a steamer stand/plate
Ingredients
For the Garnish
1½ (15 ml) ghee
1/8 cup (20 g) raisins
1/4 cup (50 g) cashews, halved
1 medium (80 g) onion, sliced thin
For the Ghee Rice
1 Tbsp (10 ml) ghee
1 bay leaf
1 (50 g) small onion, sliced thin
1½ cups (375 g) brown basmati rice, soaked for 30 min to 1 hour
3 cups (750 ml) hot water
1 lime or lemon
Salt
For the Chutney
2 tsp (10 ml) coconut oil
1½ tsp urad dal (white lentils)
10 to 12 curry leaves
4 green chiles
1/2 cup (100 g) fresh coconut, grated
A grape-sized ball (12 g) of dehydrated tamarind
1 cup (50 g) loosely packed brahmi leaves
Salt
Directions
Step 1

To make the garnish: Heat 1½ tablespoons of ghee in a kadhai or pan. Cook the cashews to a light golden color, remove, and drain on kitchen paper. Repeat with the raisins, and then the onions.

Step 2

To make the ghee rice: Heat the remaining ghee in a thick bottomed pot or a Dutch oven. Add the bay leaf and allow to sizzle for 30 seconds, then add the onion and sauté until soft and translucent. Add the rice, and cook over medium-low heat for about 3 to 4 minutes. Add the water, juice from half a lime, a pinch of salt, and bring the rice to a rolling boil. Cover with a well-fitting lid and let simmer for 5 minutes. Turn off the heat and let the rice sit, covered and undisturbed for 15 minutes. Uncover and gently fluff up the grains using a fork.

Step 3

To make the chutney: Heat coconut oil in a tadka pan or a small frying pan. Add the urad dal, curry leaves, and green chiles, stirring until the dal is golden brown, about 1 minute. Remove from heat and let cool for about 10 minutes. Add this tempering to a blender, grinder or food processor along with grated coconut, tamarind, and brahmi leaves. Grind using as little water as possible to make a smooth, thick chutney.

Step 4

Prep your steamer: Place the steamer rack in your steamer or pot and fill the steamer with water up to 3 inches high. (If using an idli steamer, use only the second idli plate.) Cover and bring the water to a boil.

Step 5

Place each moode in a mug or tumbler so the cylinder is upright. Spoon 2 tablespoons of rice into each moode. Using a small spoon, lightly press down on the rice, sprinkle with a bit of the fried onion, cashew, and raisin garnish and top up with 1 teaspoon of chutney. Repeat with another layer or rice and continue layering until the moode are ¾th full.

Step 6

Arrange the stuffed moode upright in the steamer, leaning against each other for support. Cover and steam for 15 minutes before removing from heat. Let the moode sit in the steamer for 5 minutes. Serve the moode hot, still wrapped up.
Substitutions: Use any long-grain rice. Brahmi leaves can be replaced with basil or any aromatic herb. Each one will add its unique aroma and flavor to the recipe.