Paruppu Payasam
Prep Time:
5 min
Cook Time:
30 min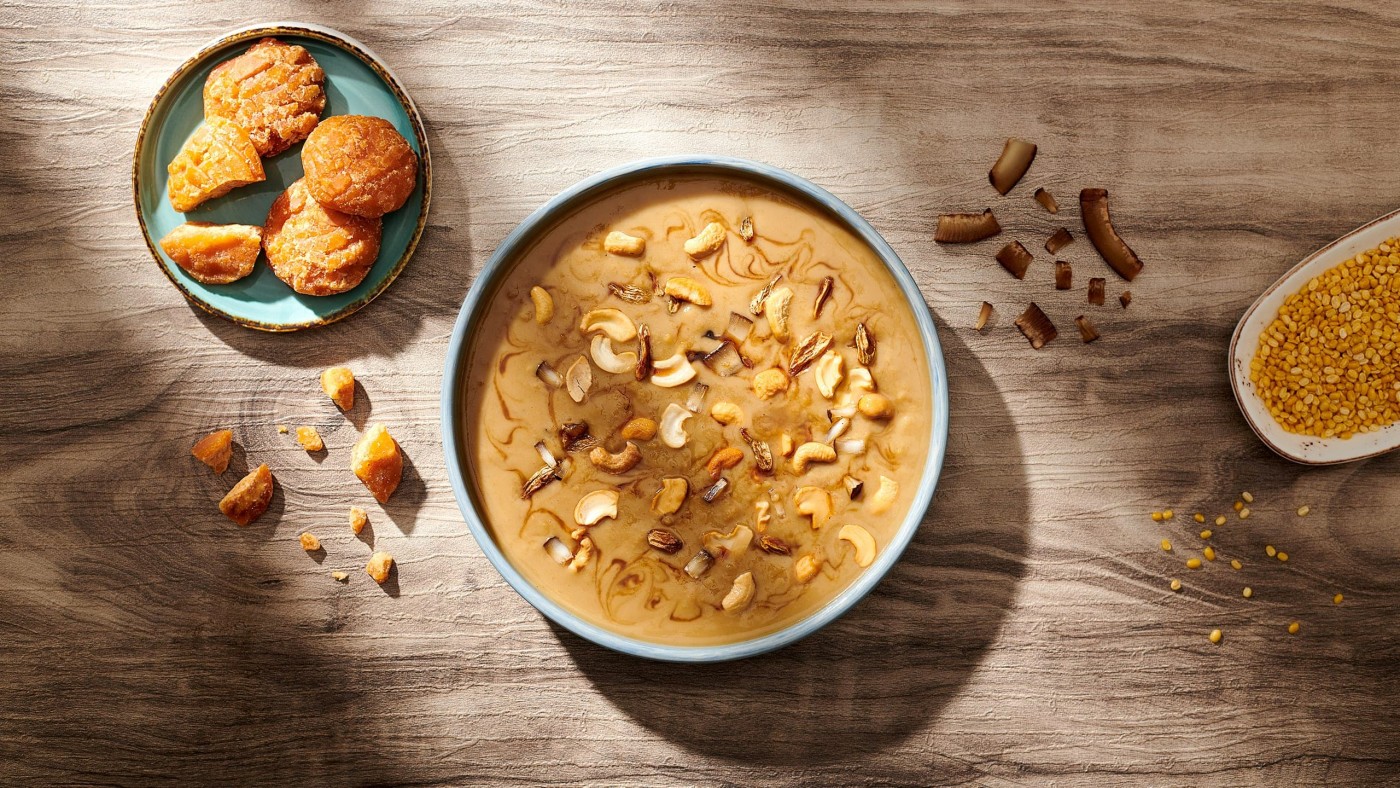 Paruppu Payasam
Prep Time:
5 min
Cook Time:
30 min
About This Recipe
My childhood memories of special occasions, like birthdays, revolve around the anticipation of being served steaming hot payasam on a banana leaf. Paruppu payasam is a traditional South Indian dish that showcases aromatic, yellow mung dal — and a delicious example of why lentils are a great way to add protein and nutrients to sweeter foods. This sattvic dish works as a dessert or energizing breakfast; it will uplift your mood and your health.
The Benefits
Mung dal, or split yellow lentil, is high in folate and essential amino acids, both important for healthy cell growth. Coconut milk is a rich source of MCTs (medium chain triglycerides), a gut-friendly saturated fat, and rich in lauric acid, which has powerful antimicrobial and anti-inflammatory properties. The ghee, nuts and jaggery (mineral- and iron-rich unrefined cane sugar), make this an energy-dense dish, so a little goes a long way.
Ingredients
½ cup (130 g) mung dal (skinned, split yellow lentils)
1 cup (250 g) crushed jaggery
¼ tsp green cardamom powder
1 cup (200 ml) organic coconut milk
2 tsp ghee
2 Tbsp (18 g) cashew nuts, whole or broken
2 Tbsp (20 g) golden raisins
2 Tbsp (10 g) fresh coconut slivers (optional)
Directions
Step 1

Dry roast the mung dal in a pan on low heat for 10 minutes until aromatic and light golden brown.

Step 2

In a traditional pressure cooker, cook the dal in 1½ cups of water on high heat. After the first whistle, cook on low heat for 5 minutes before turning off. Release the pressure, open the lid, and coarsely mash the dal. You can use also an Instant Pot; or, simply cook the dal in a stockpot: cover with water and bring to a boil, then simmer until the lentils are completely softened — about 20 minutes.

Step 3

Add the jaggery and 3 to 4 tablespoons of water to a small pan. Heat on low for 3 to 4 minutes to melt the jaggery. Pour this over the dal, ideally through a strainer. Add the cardamom, mix well, and bring the lentils to a gentle simmer to combine the flavors.

Step 4

Add the coconut milk and continue to cook on low heat for 2 to 3 minutes, just enough to warm the coconut milk through without bringing it to a boil. Pour into serving bowls.

Step 5

In a small pan, heat the ghee and fry the cashews, raisins, and coconut pieces, if desired, to golden-brown, about 1 minute. Garnish the bowls with this mixture and serve warm.
Level Up: Use homemade coconut milk.
Substitutions: The payasam is just as good chilled. To enjoy it this way, refrigerate for two hours or preferably overnight — it will set to a thick, custard-like consistency. Stir in up to ½ cup coconut milk to adjust the consistency and serve.