Kadamba Sambar
Prep Time:
30 min
Cook Time:
30 min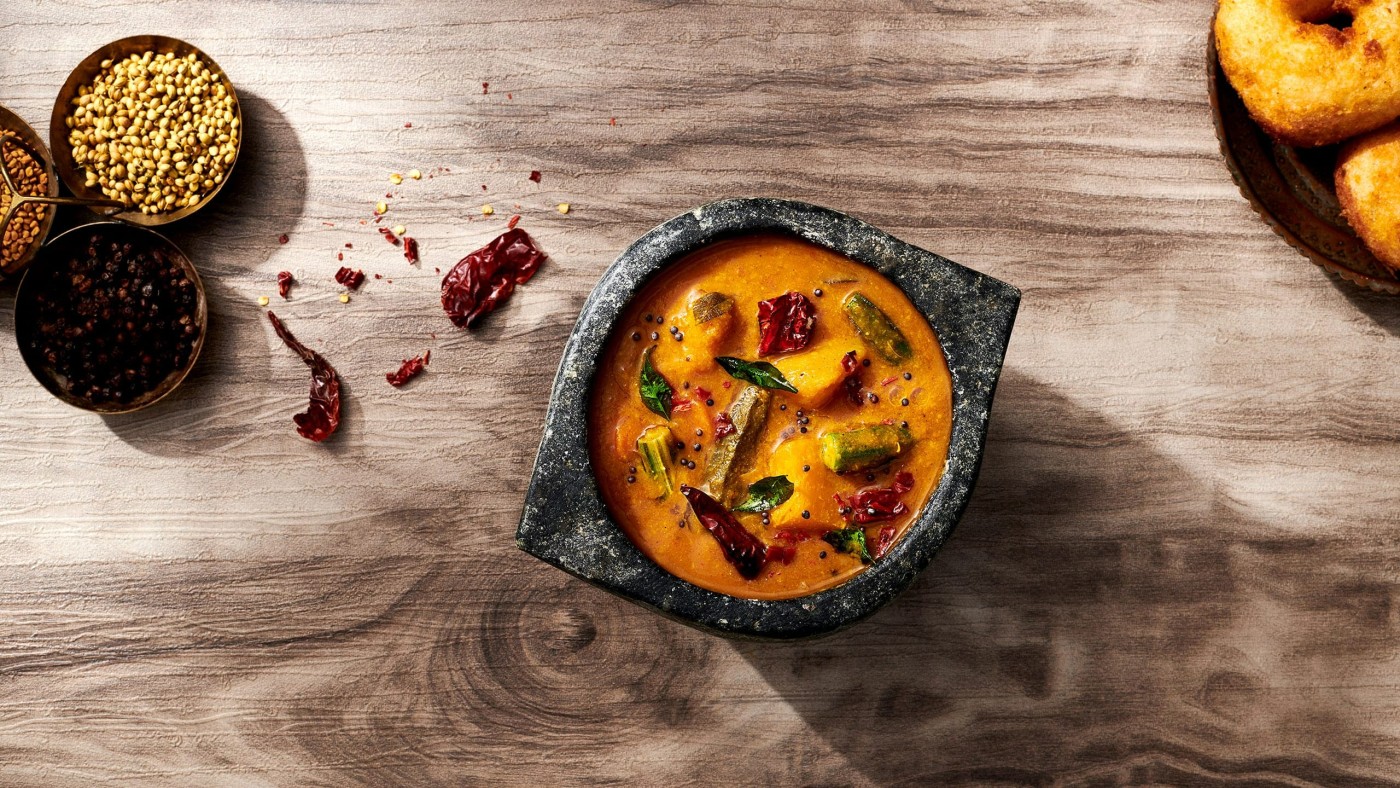 Kadamba Sambar
Prep Time:
30 min
Cook Time:
30 min
About This Recipe
For most Tamils and South Indians like me, sambar is the ultimate comfort food. Some historical accounts say this lentil and vegetable stew was the culinary invention of an ingenious cook in the royal kitchens of Thanjavur. It may or may not have regal origins, but sambar today is a dish loved by rich and poor alike. A versatile recipe, sambar is often part of a thali meal eaten with rice at lunch. It can also accompany a breakfast of idli, dosa, or venn pongal; a vada or paniyaram at snack time; or constitute a light dinner.
The Benefits
Sambar has a mix of gut-friendly spices, protein-rich lentils, and loads of vegetables with high fiber content. This recipe contains moringa, which is rich in iron and vitamin B6, and offers immunity support. Antioxidant-rich tamarind supports heart health as well. Cold-pressed oils are healthier than hot-pressed oils, as they tend to preserve their potent nutrients.
Equipment: Traditional pressure cooker
Note: You need about 2 cups (250 g) of mixed vegetables for this recipe. Feel free to mix things up by swapping any of the vegetables with your favorites.
Ingredients
For the Sambar
3/4 cup (150 g) tur dal (split yellow peas), soaked for 30 minutes
2 cups water
1 Tbsp cold-pressed gingelly (sesame) oil
A pinch of asafetida
½ tsp black mustard seeds
A sprig of curry leaves
¼ tsp fenugreek seeds
½ cup (100 g) chopped yellow pumpkin
½ cup (100 g) chopped onion
½ cup (100 g) chopped carrot
½ cup (100 g) chopped okra
2 (50 g) drumsticks (moringa pods), cut into 2-inch batons
2 Tbsp (30 g) sambar masala powder
½ tsp turmeric powder
2 tsp salt
1 Tbsp tamarind paste
For the Tadka (Tempering)
1 Tbsp gingelly (sesame) oil
¼ tsp black mustard seeds
1-2 dried Byadgi chiles
1 sprig of curry leaves
¼ tsp fenugreek seeds
A pinch of asafetida
Directions
Step 1

Drain the tur dal and cook in a traditional pressure cooker with 2 cups of water on high heat. After the first whistle, lower the heat, cook for 10 minutes, and turn off the heat. Wait for about 4 to 5 minutes for the residual pressure to release before you open the lid. Using a whisk, mash the dal and keep it aside.

Step 2

In a medium kadhai or saucepan, heat 1 tbsp of oil. Add the asafetida and mustard seeds, followed by the curry leaves and fenugreek seeds. Temper the spices in the oil for 1 minute on medium heat. Once the mustard seeds begin to crackle, add the vegetables (pumpkin, onion, carrot, okra, and drumsticks) and sauté on a medium flame for 1 to 2 minutes.

Step 3

Mix in the sambar powder, 1 tsp of the salt, turmeric powder, and tamarind paste. Add 1 cup of water and cook the vegetables on medium heat for about 8-10 minutes or until fork tender.

Step 4

Once the vegetables and tamarind are cooked, mix in the cooked tur dal. Add 1 cup of water and continue to cook the vegetables and tur dal together on a gentle simmer for 4 to 5 minutes, or until the tamarind loses its raw smell.

Step 5

Make the tempering: Heat oil in a small pan and add all the ingredients. As soon as the mustard seeds begin to pop and crackle — it takes about 30 seconds to a minute — take the pan off the heat and pour the tempering over the sambar. Serve hot.
Substitutions: If you don't have a traditional pressure cooker, cook the lentils in an Instant Pot or a stock pot until completely soft. Any neutral vegetable oil can be substituted if gingelly oil is not available.
Level Up: To prepare your own freshly ground sambar masala, toast the following spices in a small pan on medium heat: 4 dried red chiles (use Kashmiri or Byadgi for low heat and color, or Guntur for more heat), 1 tbsp chana dal (split Bengal gram), 2 tbsp coriander seeds, and ¼ tsp fenugreek seeds. Stir the ingredients continuously, but gently, to allow for even toasting, and take the spices off the heat as soon as the chana is a light golden brown. Allow the spices to cool and grind to a fine powder. This makes about 2 tbsp or 30 grams of masala.
Try It With: Serve the sambar hot with steamed rice and stir-fried potatoes, or try it with dosa, vada, or idli.