Cream of Miso Mushroom Stew
Prep Time:
20 min
Cook Time:
20 min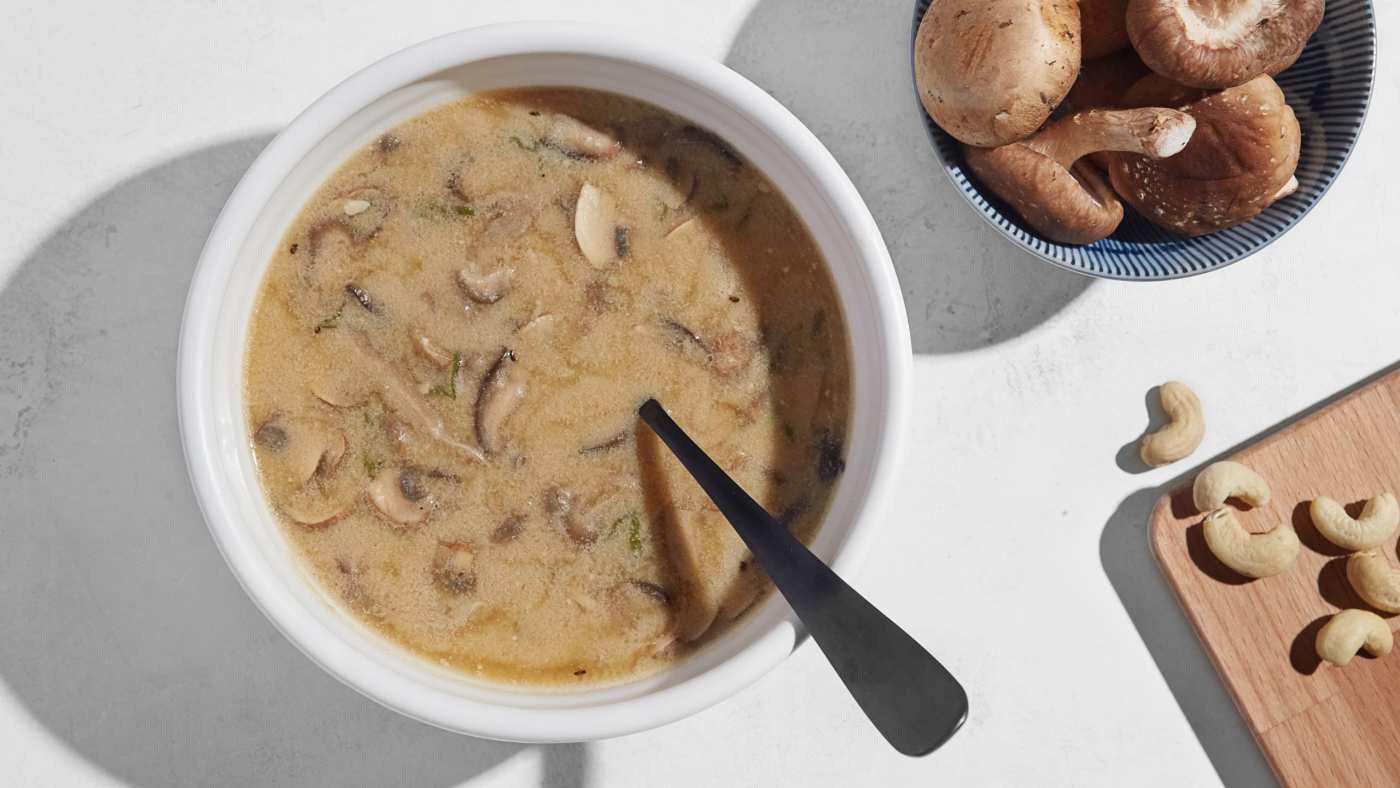 Cream of Miso Mushroom Stew
Prep Time:
20 min
Cook Time:
20 min
About This Recipe
The umami in miso and mushrooms is the secret to making my cream of miso mushroom stew full of flavor. The miso cream sauce, made with cashews, gives you all the richness without dairy. If you miss some of the savory notes from meat and dairy, umami is the way to create flavorful and satisfying vegan meals. — JL Fields
The Benefits
Mushrooms are credited with having high levels of antioxidants and supporting immunity. Due to fermentation, miso sauce contains probiotics that improve digestion. Healthy additions like vegetable broth and soy milk, which is rich in vitamin B and omega 3, make this a nourishing stew.
Note: This recipe makes more miso cream sauce than you will need for the stew. Store any leftover in an airtight container in the refrigerator for up to 5 days. Use it over rice and grain bowls, in savory porridge or oats, or as the final touch to any cooked vegetable. I like to drizzle it into mashed potatoes.
Ingredients
Miso Cream Sauce
1/2 cup (80 g) raw cashews
2 Tbsp (30 g) white or yellow miso paste
2 cups (480 ml) unsweetened soy milk, divided
3/4 cup (180 ml) vegetable broth
Mushroom Stew
1 Tbsp (30 ml) low-sodium soy sauce or tamari
1 cup (85 g) sliced green onions
2 cups (132 g) sliced mushrooms (shiitake, oyster, or baby portobello)
2 cups (480 ml) Miso Cream Sauce
2 cups (480 ml) vegetable broth
1 Tbsp (30 ml) rice vinegar
Directions
Step 1

Make the miso cream sauce: In a high-speed blender, grind the cashews into a flour (be careful not to grind them into nut butter). Transfer the cashew flour to a small bowl, add the miso and 1 cup (240 ml) of soy milk, and whisk to combine.

Step 2

In a saucepan, bring the remaining 1 cup (240 ml) soy milk and the broth to a boil over medium-high heat. Lower the heat to medium-low, add the cashew mixture, and bring to a simmer. Cook, whisking occasionally, until thick, 5 to 10 minutes. This makes 3 cups (720 ml).

Step 3

Make the stew: In a large saucepan, heat the soy sauce over medium-high heat. Add the green onions and mushrooms and sauté until tender, 3 to 5 minutes. Add 2 cups (480 ml) miso cream sauce and cook until it begins to thicken, about 3 minutes.

Step 4

Add the broth and bring to a boil. Reduce the heat to low and simmer, stirring occasionally, for 10 minutes. Remove from the heat. Stir in the vinegar and serve.
Substitutions: Use negi (Japanese leeks), leeks, or bunching onions instead of green onions. Use gluten-free tamari or coconut aminos instead of soy sauce; use gluten-free miso paste in your miso cream sauce.
Adapted from The Complete Plant-Based Diet: A Guide & Cookbook to Enjoy Eating More Plants (Rockridge Press 2020)