Avocado Kale Salad & Peanut Dressing
Prep Time:
15 min
Cook Time:
15 min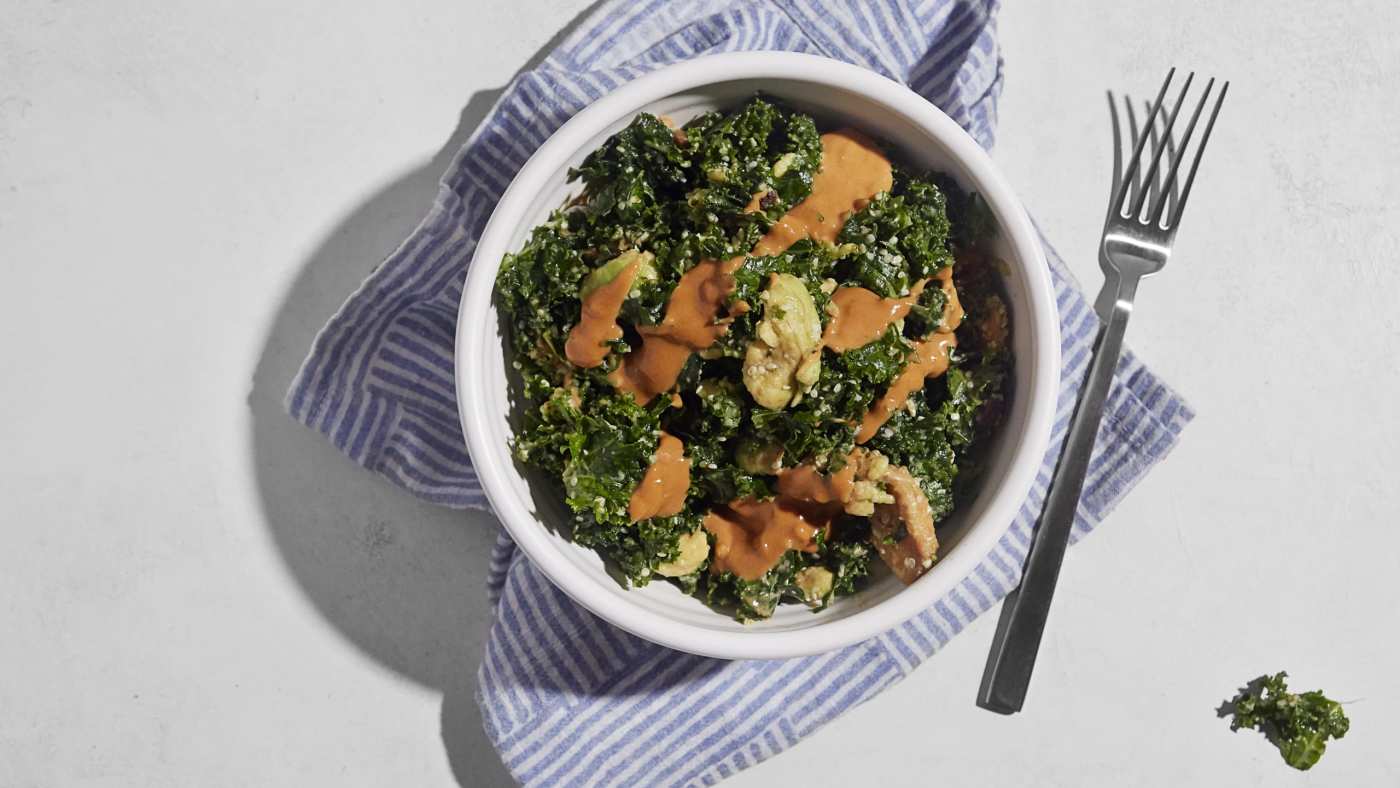 Avocado Kale Salad & Peanut Dressing
Prep Time:
15 min
Cook Time:
15 min
About This Recipe
Don't think about restriction when turning vegan, but abundance. For instance, being vegan doesn't mean you stop eating fats. Fats that are vegan — avocados, nuts, and seeds — have a ton of flavor.
The Benefits
This is a dish full of healing potential. Fiber-rich and nutrient-dense avocados, antioxidant kale and immunity-building citrus fruits come together with hemp seeds, which are an excellent source of oleic acid (omega-9 fatty acid), which is good for heart health.
Ingredients
Avocado-Kale Salad
1/4 cup (40 g) dried cherries (or other dried fruit such as cranberries, mango, etc.)
1/4 cup (60 ml) lemon juice (or other citrus juice — lime, grapefruit, orange, etc.), divided
1 to 2 bunches of kale
1 ripe avocado
2 Tbsp (20 g) hemp seeds
Peanut Dressing
1/2 cup (130 g) peanut butter
2 Tbsp (30 ml) soy sauce
1 garlic clove, finely chopped
Directions
Step 1

In a small bowl, rehydrate the dried fruit in half of the citrus juice; set aside while you prepare the salad.

Step 2

De-stem the kale, and tear it into bite-size pieces over a large bowl. Add the avocado and remaining citrus juice. With clean or gloved hands, massage the kale with avocado for about 3 minutes. The kale should brighten, glisten, and the volume should decrease.

Step 3

Sprinkle the hemp seeds over the salad. Add the rehydrated fruit (with the juice, too). Toss well. Set aside.

Step 4

Make the dressing: Mix the peanut butter and soy sauce until smooth. Stir in the garlic until thoroughly combined. Serve the salad with the peanut dressing alongside.