Chunky Cashew No-Bake Cookies
Prep Time:
15 min (plus 1 hour chilling time)
Cook Time:
0 min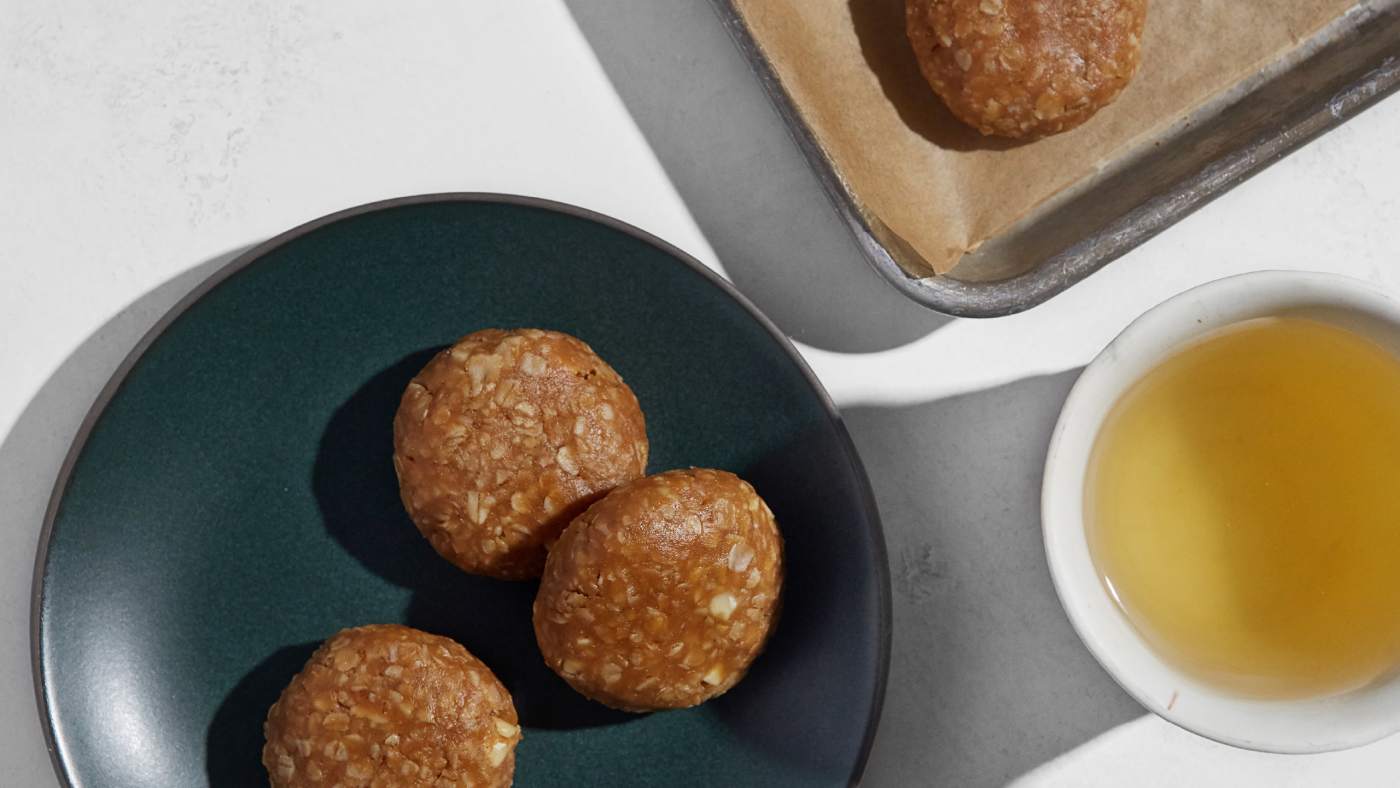 Chunky Cashew No-Bake Cookies
Prep Time:
15 min (plus 1 hour chilling time)
Cook Time:
0 min
About This Recipe
No food judgement, no food shame. But some foods are better than others, and some are better in moderation. So how do you satisfy that craving? By making cookies that are great for dessert tonight … and just as good for breakfast in the morning. Quinoa flakes are like rolled oats, but less dense. They have a nice texture, a good contrast to the richness of the cashews.
The Benefits
Healthy ingredients and easy preparation make this a mood-uplifting cookie. Planet-friendly plant-based milks are high in unsaturated fats, making them good for your heart, as are cashews. Maple syrup is high in manganese, which is vital for bone health. Studies suggest that fiber-rich quinoa can stabilize cholesterol and blood-sugar levels.
Note: Instant oats work great in place of the quinoa flakes.
Ingredients
2 Tbsp (30 ml) pure maple syrup
2 Tbsp (30 ml) unsweetened plant-based milk
2/3 cup (170 g) natural cashew butter or other nut butter
1 cup (120 g) quinoa flakes
1/4 cup (35 g) finely chopped raw cashews (optional)
Directions
Step 1

Line a baking sheet with parchment paper.

Step 2

In a saucepan, combine the maple syrup and plant milk and cook over medium-high heat until it just begins to bubble.

Step 3

Remove the pan from the heat, add the cashew butter, and stir until well combined. Add the quinoa flakes and chopped cashews (if using) and mix well.

Step 4

Using a cookie scoop or tablespoon, scoop out 2 Tbsp of the mixture and place it on the prepared baking sheet. Repeat with the remaining mixture.

Step 5

Refrigerate for at least 1 hour before serving. The cookies can be stored in an airtight container in the refrigerator for up to 5 days.
Substitutions: To make this nut-free, use a seed butter instead of the cashew butter and omit the optional chopped cashews