Raw Almond Rose Laddus
Prep Time:
16 min
Cook Time:
0 min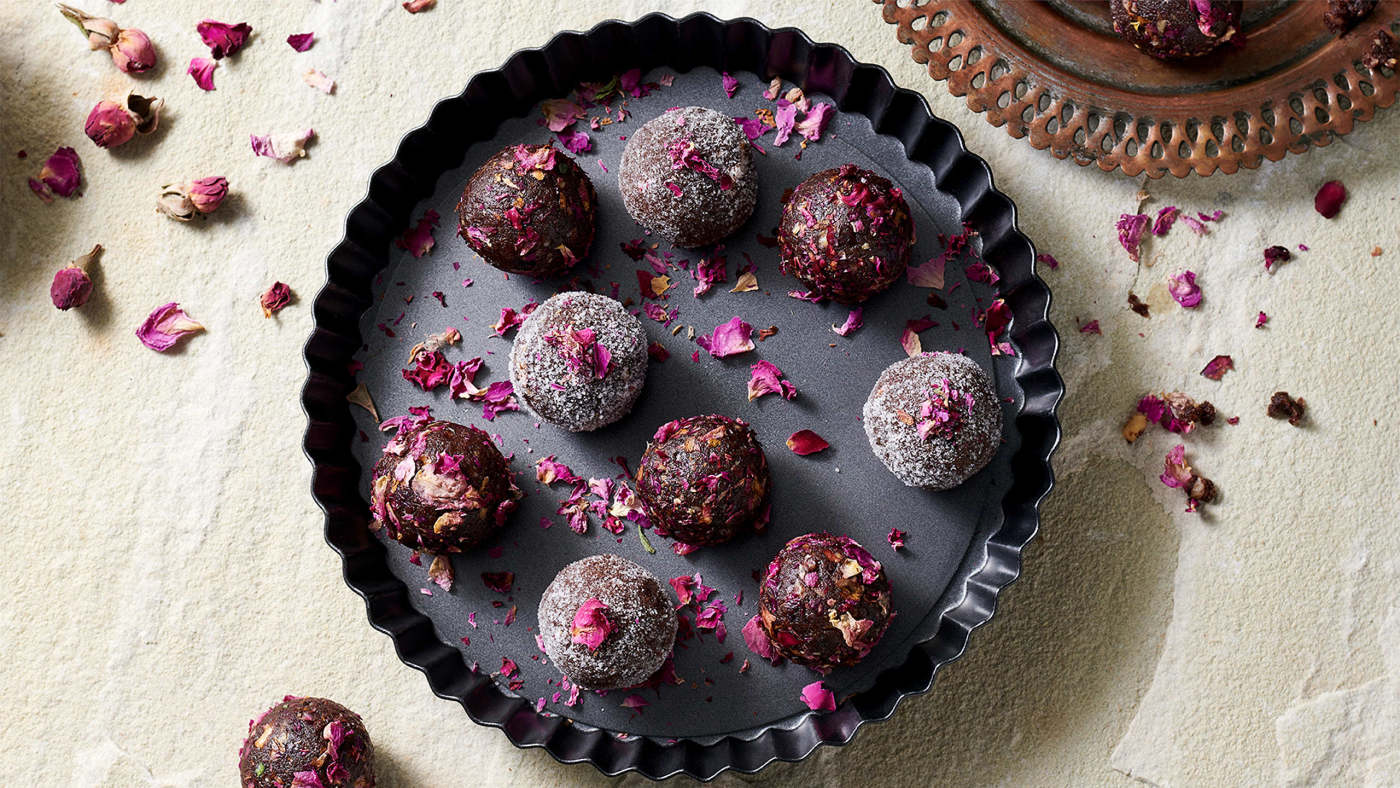 Raw Almond Rose Laddus
Prep Time:
16 min
Cook Time:
0 min
About This Recipe
Laddu (also laddoo) is a generic term for a compressed ball of different ingredients, but it typically refers to dessert versions that incorporate ghee, sugar, and often gram (chickpea) flour. My energy-packed, raw vegan laddoos require no cooking and are sugar-free, but still taste delicious. Arrange them in a box for a thoughtful Diwali gift, or grab one as a workout snack — these are extremely versatile.
The Benefits
Rose petals and raw cacao may lift your mood, both through their nutritional compositions, and their positive associations. Dates are high energy and a more fiber-filled, complex form of sweetener than refined sugars. With almonds, cashews and walnuts, these laddoos are packed with a mix of nutrients and minerals, including vitamin E, copper, and healthy unsaturated fats. These are complex ingredients that are digested slowly, keeping you fuller longer.
Note: You can also shape these into bars by pressing the dough into a tray and freezing before slicing.

Ingredients
1 cup (100 g) almond flour
1¾ cup (150 g) dates, deseeded
Pinch of sea salt
2 Tbsp (20 ml) cold-pressed coconut oil
3 Tbsp (20 g) raw cacao powder
1 tsp cashews, soaked for 2 hours, drained and chopped
2 Tbsp hot water
½ cup (50 g) walnuts
2 Tbsp dried rose petals
Directions
Step 1

In a blender, process all of the ingredients except for the walnuts and dried rose petals until a smooth dough forms. Using a spatula, stir in the walnuts. Line a 9x6 tray or a chopping board with parchment paper or foil. Spread the rose petals out on a plate.

Step 2

Take a large lime-sized piece of dough and roll it into a ball. Add a little coconut oil to your palms if required. Roll each ball in rose petals so they stick, then place on the tray.

Step 3

Pop the tray into the freezer. After a couple of hours, you can store the frozen balls in a bag or airtight container in the freezer. They will last for a month if you can resist finishing them before that! Alternately, you can shape the dough into bars. Transfer the dough to the tray and flatten in an even layer. Press until flat. Sprinkle the rose petals on top and press down with a spoon and freeze for at least 30 minutes before cutting into smaller pieces.
Substitutions: If you can't get rose petals, roll the balls in finely chopped nuts or desiccated coconut flakes.