DIALOGUE: Anna Voloshyna
Article
5 mins
Healthy Eating
The Ukrainian cookbook author talks slow food, her favorite herb, and what she would cook for Volodymyr Zelensky.
Born and raised in Ukraine, Anna Voloshyna brought her traditional culinary wisdom with her when she moved to San Francisco, where she realized that cooking was a way of telling her new friends about her family and culture. As a magazine contributor, photographer, and food critic, she began to host dinner parties, pop-ups and cooking classes, sharing her homeland's many recipes, often with a modern twist.
Many of Voloshyna's happy memories revolved around delicious food, and through cooking, Voloshyna has kept these memories alive. She remembers her mother's kitchen garden yielding the best herbs, fruits, and vegetables in response to the seasons — and cooking the harvested produce in inventive ways. Weekly visits to the village bazaar with her mother taught Voloshyna how to get the best bargains and pick the season's best offerings. Celebrations and home feasts led by female cooks , who cooked large and lavish meals with ease, gave her the confidence to host her own dinners.
While food and flavors became a way of holding on to the idea of home, observing how changing political borders impacted Eastern European culinary culture also gave Voloshyna an understanding of how recipes get tweaked.
Through her first cookbook Budmo! (2022) Voloshyna shares "the complex and delicious story of Eastern European food." For her, food is one of the best ways to nurture relationships, and the best food is accompanied by "countless toasts and long conversations."
Roundglass Food: What is the mindful practice around cooking and eating that the world can learn from Ukraine today?
Anna Voloshyna: In Ukraine, we appreciate slow food. We take time to prepare our food, and we certainly take time to enjoy it.
RG: What is your enduring food memory while growing up?
AV: Picking sour cherries from our backyard trees in the summer. And then making cherry dumplings with my mom.
RG: Is there a must-have ingredient in your pantry?
AV: I can't live without garlic.
RG: Can you practice self-love with cooking? How?
AV: I never cook or eat food that doesn't inspire me. I would rather skip a meal than eat something I don't like. I believe that every single dish I cook should nourish not only my body but also bring me joy and comfort.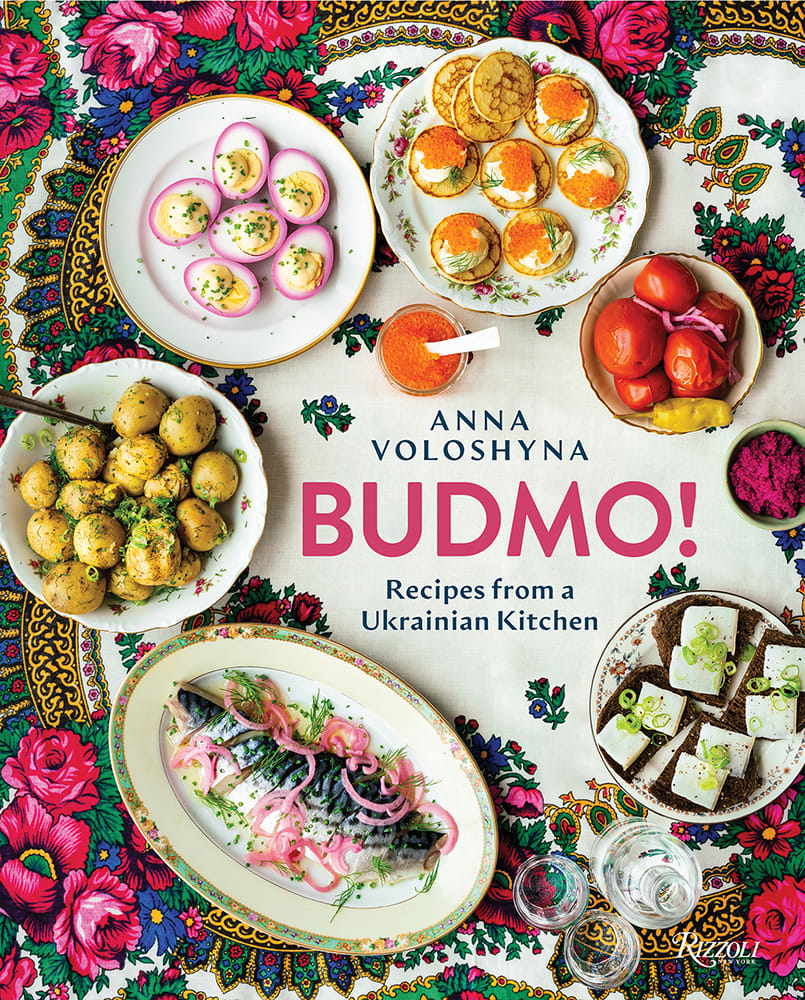 RG: How would you tell us to forge a connection with Mother Earth through cooking?
AV: First of all, follow seasonality. Get your produce from local sources, connect with your farmers, and make weekly trips to a farmer's market. Trust me, the quality of your cooking will improve dramatically.
RG: Do you have a favorite season for cooking?

AV: I love late summer with all its wonderful tomatoes, peppers, and stone fruit.
RG: What aspect of cooking do you find relaxing?
AV: I love creating menus and making prep lists. I find it incredibly relaxing. Not exactly cooking, but close.
RG: Do you think food can be a tool for positivity and help tackle big issues like death, grief, and even war?
AV: Absolutely. The first thing I did when I found out about the war in Ukraine – I made my husband his favorite Ukrainian pancakes, oladky. That was the only dish we could eat, and I made them every morning for the whole week. It brought us much-needed comfort and nourishment. The simple activity of making my husband's favorite dish helped me cope with my own pain and grief.
RG: What's an "unusual" ingredient that you'd encourage people to cook?
AV: I would encourage people to try blue fenugreek. It's a wonderful spice from Georgia. It goes lovely with meat, stews, and rich sauces. It recently became available from multiple online spice shops in the US. When I smell blue fenugreek, I always think of all the wonderful dishes I had in Georgia.
RG: What would you tell people who are afraid to cook to overcome their fear and practice healthy habits in the kitchen?
AV: Start with simple recipes and slowly build your way to more ambitious ones. Don't be discouraged if something doesn't come out perfect on the first try. Even the best chefs fail in the kitchen, and let me tell you, it happens much more often than you think.
RG: If you could invite anyone over for dinner, who would you call and what would you serve them?
AV: I'd love to have dinner with Ukrainian president Volodymyr Zelensky. Since we'd have dinner in my kitchen in San Francisco, I think I would grill us some American Wagyu steak from my neighborhood butcher shop. I'd serve it with some simple sides like confit maitake mushrooms, pommes Anna, and crispy Brussels sprouts. As for the wine, I'd get the best Napa Cabernet Sauvignon I could afford.
RG: Is there a piece of heritage cookware from Ukraine that you could never part with?
AV: My mom's metal press for making traditional Eastern European walnut-shaped cookies. After both "walnut shells" are golden brown and crispy, they are stuffed with dulce de leche. Those cookies are absolutely irresistible and always bring me back to my childhood.
RG: Do you have any nutrition concerns?
AV: My motto is: everything is good in moderation.
RG: If there were one simple, nourishing dish you could encourage the whole world to make, what would it be?
AV: A bowl of buckwheat kasha with a handful of mushrooms or any sauteed veggies. It's really nourishing and good for your body.
RG: What's something you make a point of doing before any meal with others?
AV: I always make sure that people know the meaning of the word "budmo." In Ukraine, we use "budmo" instead of "cheers," and it means "let us be." It holds a very important meaning of being together in the moment, being healthy and happy.
RG: What's a food experience that transformed your life?
AV: Definitely my dinner at The French Laundry . That night I fully understood the meaning of hospitality and how food can evoke the most unexpected and wonderful emotions in people.
DIALOGUE is an ongoing series of conversations about food & wellbeing.
The Benefits
Coping with grief
Building community
Preserving heritage
Being in tune with the seasons