Tamarind BBQ Oyster Mushrooms
Prep Time:
15 min
Cook Time:
30 min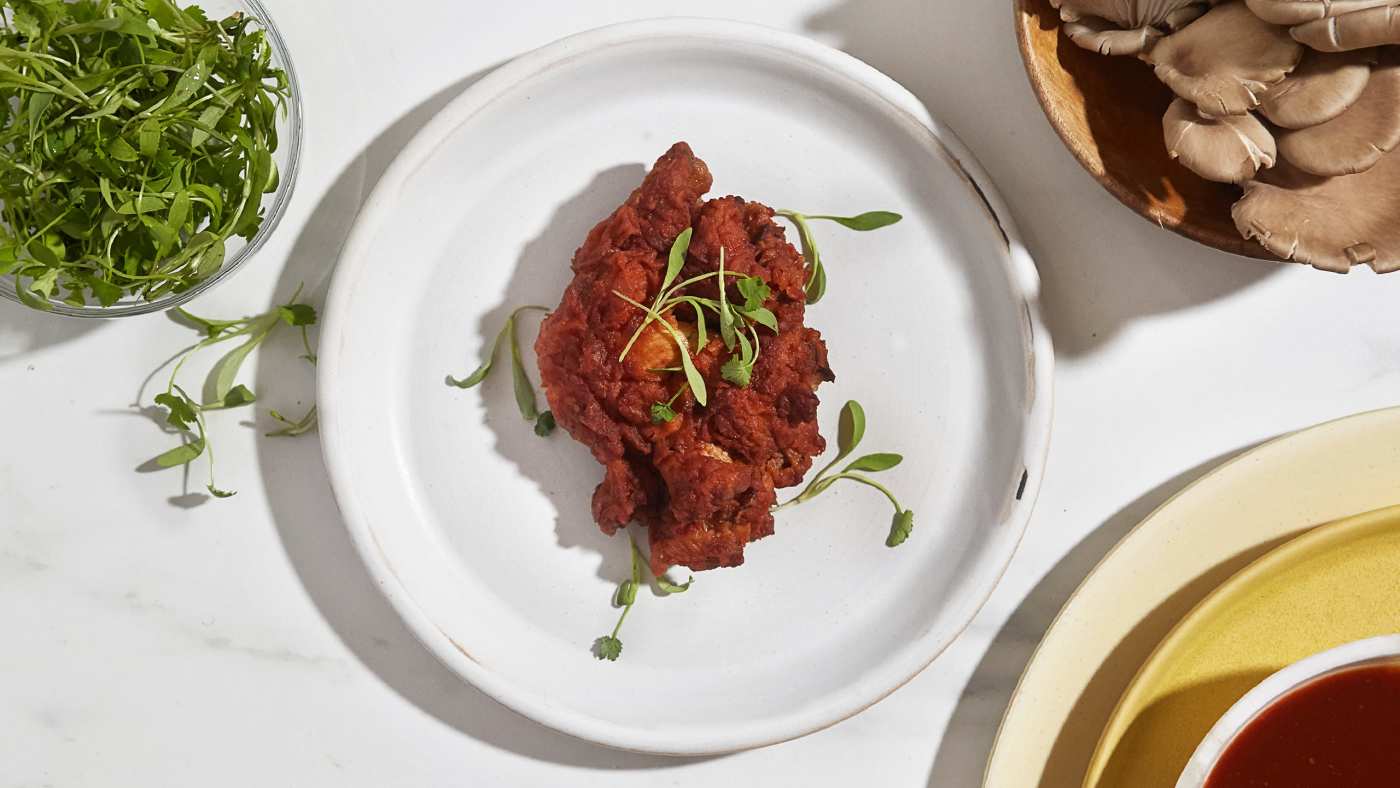 Tamarind BBQ Oyster Mushrooms
Prep Time:
15 min
Cook Time:
30 min
About This Recipe
These oyster mushrooms are a showstopper for a vegan dinner party — a plant-based option instead of chicken or ribs. Use a meaty mushroom such as oyster mushrooms or chicken of the woods. The BBQ sauce with tamarind is a little smoky, a little sweet, and tangy.
The Benefits
Yes, these mushrooms are fried and slathered in sauce. But this is also a super powerful recipe to convert carnivores to a more vegetable-oriented mindsight. Think of this as a gateway dish towards veganism, packed with the nutritional benefits of mushrooms (selenium, potassium, and copper). In addition, mushrooms are anti-inflammatory, boost immune function, protect heart function, and are a great source of B vitamins. They also provide a good amount of Vitamin D2 and vitamin D3.
Note: You can fry these in advance on the day of your dinner party. Keep them on the counter and 15 minutes before you're ready to serve, put them in the oven at a very low heat, then baste them with the BBQ sauce.

Ingredients
Tamarind BBQ Sauce
1¼ cups

(300 ml)

organic ketchup

2 Tbsp

(30 ml)

tamarind concentrate

2 Tbsp

(30 ml)

apple cider vinegar

2 Tbsp

(30 ml)

vegan Worcestershire sauce

1⁄4 cup

(60 ml)

maple syrup

1 tsp

salt

1⁄4 tsp

chile powder

1⁄4 tsp

red pepper flakes

1⁄4 tsp

cinnamon

1⁄4 tsp

cumin

1⁄2 cup

(120 ml)

water
Fried Oyster Mushrooms
Sunflower oil for deep frying

3 to 5 cups

(375 to 625 g)

all-purpose flour for coating

2 lbs

(900 g)

oyster mushrooms, trimmed, or chicken of the woods, separated into 2-to-3-oz (55 to-85 g) pieces

Cilantro micro greens, for garnish
Directions
Step 1

Make the tamarind BBQ sauce: Put all of the BBQ sauce ingredients in a saucepan over medium heat. Whisk to combine thoroughly and heat the mixture, stirring occasionally, until everything is married, 8 to 10 minutes. Set aside to cool.

Step 2

Once the BBQ sauce is cool, put the mushrooms and sauce in a container. Marinate the mushrooms in the tamarind BBQ sauce for 6 to 8 hours, or overnight.

Step 3

Make the fried chicken of the woods: Fill a heavy-bottomed pot or Dutch oven with oil so that it comes about, but no more than, halfway up the sides of the pot. Heat the oil over medium-high to high heat until it reaches 350°F/180°C on a fry or probe thermometer.

Step 4

Meanwhile, put the flour in a large bowl. Remove the mushrooms from the marinade (but save the sauce for brushing later!) and thoroughly coat the marinated mushrooms with the flour, using tongs or one hand. Fry the coated mushroom pieces in small batches: Using tongs, carefully add the mushrooms to the hot oil. Fry until they are golden brown, about 1 minute. Transfer them to a rack or paper-towel-lined plate to drain.

Step 5

In a large bowl, toss the fried mushrooms with the leftover BBQ sauce and transfer to a plate or platter. Garnish with micro greens. Make sure to eat them immediately, while hot and crispy.
Substitutions: Use maitake, lion's mane, lobster, or chicken-of-the-woods mushrooms