Wedge Salad with Mushroom Bacon
Prep Time:
15 min
Cook Time:
15 min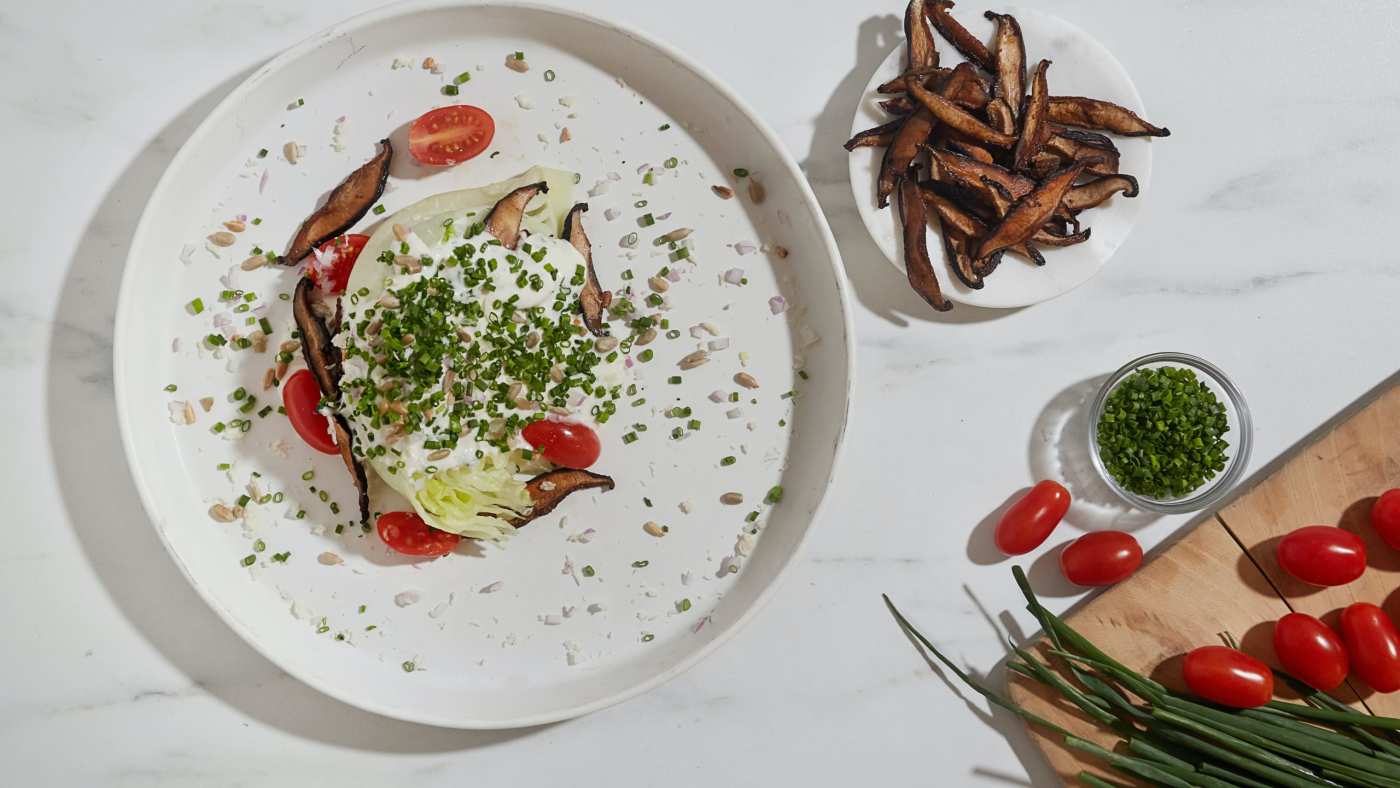 Wedge Salad with Mushroom Bacon
Prep Time:
15 min
Cook Time:
15 min
About This Recipe
My dinner party dishes are easy recipes and I always provide something "extra" to make it something special. For this wedge salad, the standout components are the vegan ranch dressing and the vegan shiitake "bacon," which you can prepare three days ahead of time. Shiitake mushrooms have important minerals for bone health — zinc and copper. Flavored with coconut aminos, liquid smoke, and Old Bay, they provide smokiness and umami.
The Benefits
Plating a salad this beautifully contributes to the feelings of satiety that it promotes. So does the range of textures and flavors included in this wedge salad, from crunchy, vitamin D-packed mushrooms, to juicy cherry tomatoes full of lycopene, which has been linked to a possibly reduced risk of heart disease and cancer.
Note: If you want to make your own breadcrumbs, cut bread into cubes and bake on a baking sheet in a 300°F/150°C oven until crunchy, 10 to 15 minutes. When cool, pulse in a food processor to breadcrumb consistency. This recipe makes more dressing than you might need for the salad; any leftover will keep in a covered container in the refrigerator for up to 3 days.

Ingredients
Shiitake Mushroom Bacon
2 cups

(85 g)

shiitake mushrooms, sliced

1/2 tsp

grapeseed oil

1 Tbsp

(15 ml)

coconut aminos

1½ tsp

agave syrup

1 tsp

liquid smoke

1 tsp

Old Bay
Vegan Ranch
1 cup

(200 g)

soy-free vegan mayonnaise (such as Veganaise)

1 Tbsp

(7 g)

garlic powder

1 Tbsp

(7 g)

onion powder

1/2 Tbsp

(7 g)

salt

2½ Tbsp

(40 ml)

lemon juice

1¼ cups

(60 g)

chives, finely chopped (reserve some for garnish)
Wedge Salad
1

head of iceberg lettuce, trimmed and cut into 4 wedges

4 oz

(120 g)

grape tomatoes, halved

1/2 cup

(40 g)

Shiitake Mushroom Bacon

1/2

red onion, finely diced

1/4 cup

(17 g)

breadcrumbs

3 Tbsp

(25 g)

salted sunflower seeds
Directions
Step 1

Make the mushroom bacon: Heat the oven to 400°F/200°C. On a parchment-lined baking sheet, use your hands to coat the mushrooms with the oil, coconut aminos, agave syrup, liquid smoke, and Old Bay. Spread the mushrooms in an even single layer. Transfer to the oven and bake until the mushrooms are crispy, about 15 minutes.

Step 2

Make the vegan ranch dressing: In a bowl, whisk together the vegan mayonnaise, garlic powder, onion powder, salt, lemon juice, and chives until everything is incorporated. Set aside in the refrigerator. (This makes about 1½ cups dressing; store any left over in a covered container in the refrigerator for up to 3 days.)

Step 3

Put the lettuce wedges on 4 plates. Divide the toppings evenly among the plates: tomatoes, shiitake mushroom bacon, diced red onion, breadcrumbs, and sunflower seeds. Top with the vegan ranch dressing as desired. Garnish with chives. Serve immediately.