Tortilla Avocado Salad
Prep Time:
10 min
Cook Time:
0 min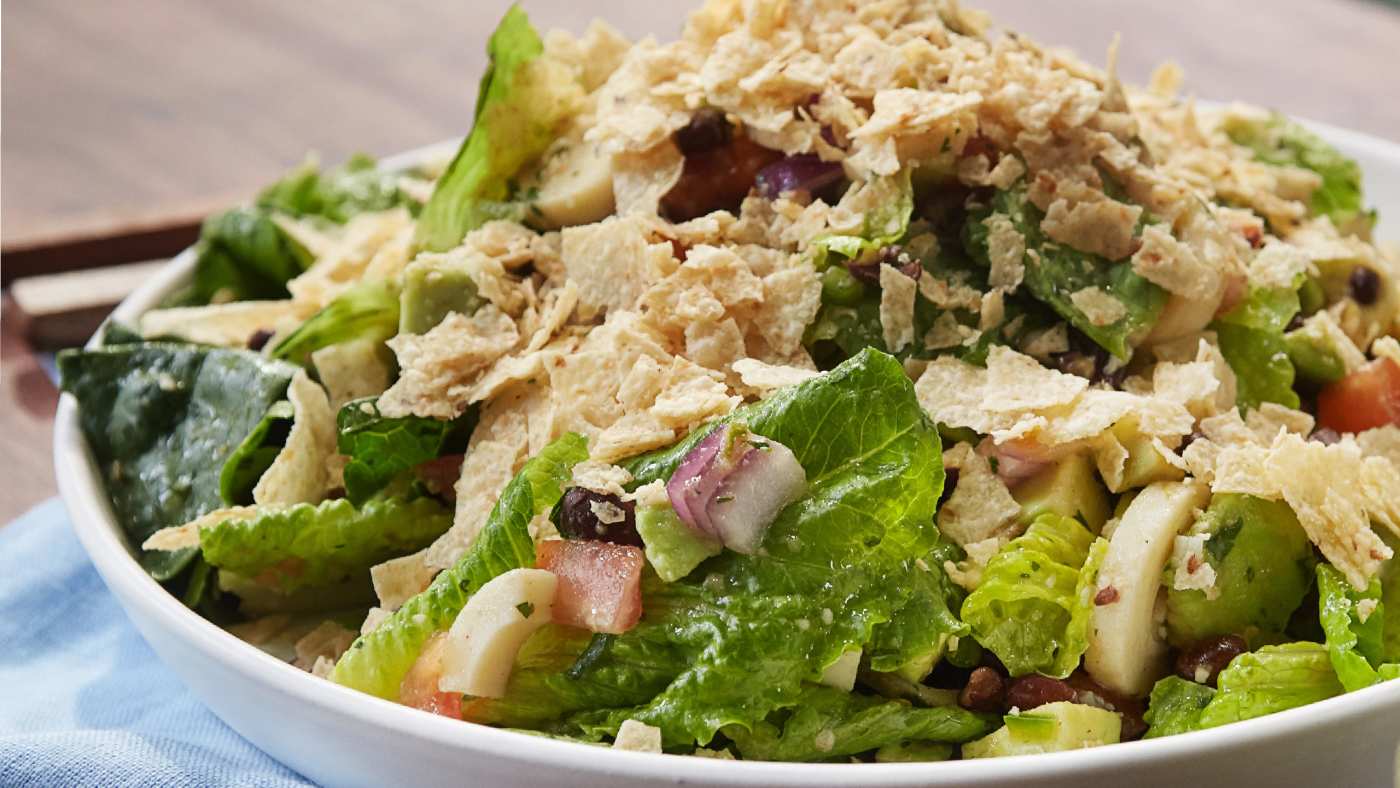 Tortilla Avocado Salad
Prep Time:
10 min
Cook Time:
0 min
About This Recipe
This spicy salad packs a one-two punch of flavor and nutrition, making it a terrific lunch by itself or a happy participant in a larger meal. It's also a great way to use up leftover tortilla chips.
The Benefits
Avocados are a great source of fiber, a critical component for the growth of healthy gut bacteria. Your immune system also gets a boost from the vitamins in avocados, particularly B6, C, and E.
Ingredients
Spicy Lime Dressing
1/2 cup (120 ml) neutral oil (such as avocado or grapeseed)
1/4 cup (60 ml) lime juice
Zest of the lime
1/2 cup (20 g) minced cilantro
2 Tbsp (18 g) finely diced jalapeño
2 tsp minced garlic
Salt to taste
Salad
3 cups (100 g) torn romaine
1/2 cup (80 g) diced tomatoes
1/4 cup (30 g) chopped red onions
1 cup (150 g) hearts of palm, sliced
1 cup (170 g) black beans
2 cups (300 g) diced avocado
1 to 2 cups (60 to 120 g) crushed tortilla chips
Directions
Step 1

Make the dressing: In a bowl, whisk everything together until fully combined. Set aside.

Step 2

Make the salad: In a large bowl, mix everything, including the dressing, except for the avocado and chips. Once everything is well mixed, taste for seasoning and adjust if needed. If your chips are salted, stop there; if they aren't salted, add a bit more salt. Gently mix in the avocado and sprinkle with chips. Serve immediately.