Collard Greens
Prep Time:
15 min
Cook Time:
40 min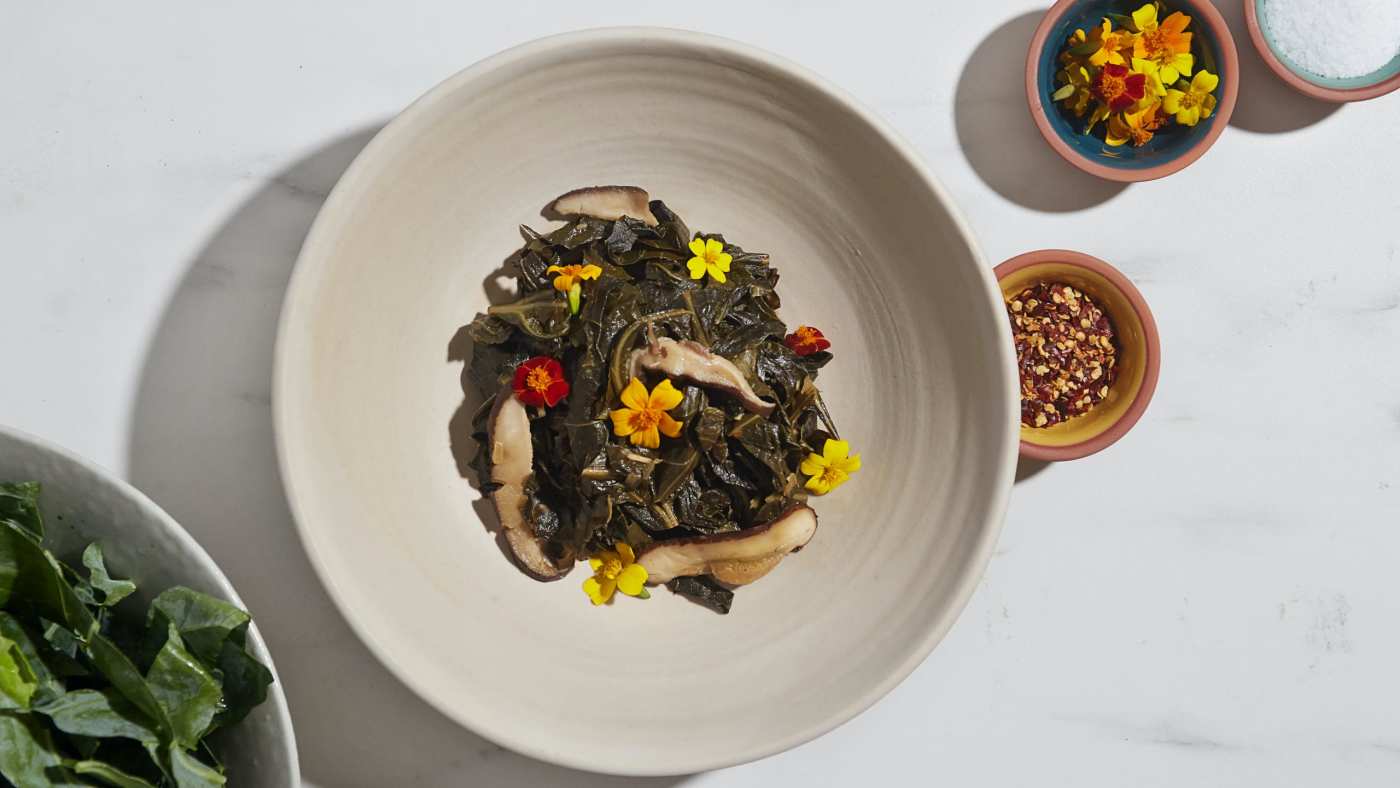 Collard Greens
Prep Time:
15 min
Cook Time:
40 min
About This Recipe
This recipe is a very traditional collard greens recipe, passed down through three generations: My grandmother, my mother, and myself. We've each added our own little twist to it. The things I've added help make this more of a plant-based, vegan recipe.
The Benefits
Collards are powerfully rich in vitamins (A, B-6, C, and K) and minerals (calcium, iron, folate, and magnesium), and great for bone health. They're also high in choline, an essential precursor to compounds your body makes to regulate everything from cellular integrity to mood and memory. The mushrooms, broth, garlic, and apple cider vinegar elevate this nourishing side dish.
Ingredients
1½ Tbsp

(22 ml)

sunflower oil

1

yellow onion, medium dice

4

garlic cloves, minced

2

(24 oz / 680 g)

bunches collards, washed and cut into medium (2 in / 5 cm) slices

2 Tbsp

(30 ml)

apple cider vinegar

4 cups

(945 ml)

vegan chicken broth (such as Better Than Bouillon)

1⁄2 cup

(36 g)

sliced shiitake mushrooms

Edible flowers, for garnish

Salt, to taste

Red chile flakes, to taste
Directions
Step 1

In a large pot or Dutch oven, heat the oil over medium. When the oil is hot and shimmering add the onions and sweat until softened, about 3 minutes. Add the garlic and cook until fragrant, 30 seconds.

Step 2

Add the collards, apple cider vinegar, and broth. Bring to a boil, reduce the heat and simmer, covered, until the collards are tender and dark green, 25 to 30 minutes. Add the sliced mushrooms and cook until soft, 5 to 10 minutes.

Step 3

Remove from the heat, plate, and garnish with flowers. Add salt and red chile flakes as needed.