Steamed Pies in Jackfruit Leaves
Prep Time:
20 min, plus soaking time
Cook Time:
30 min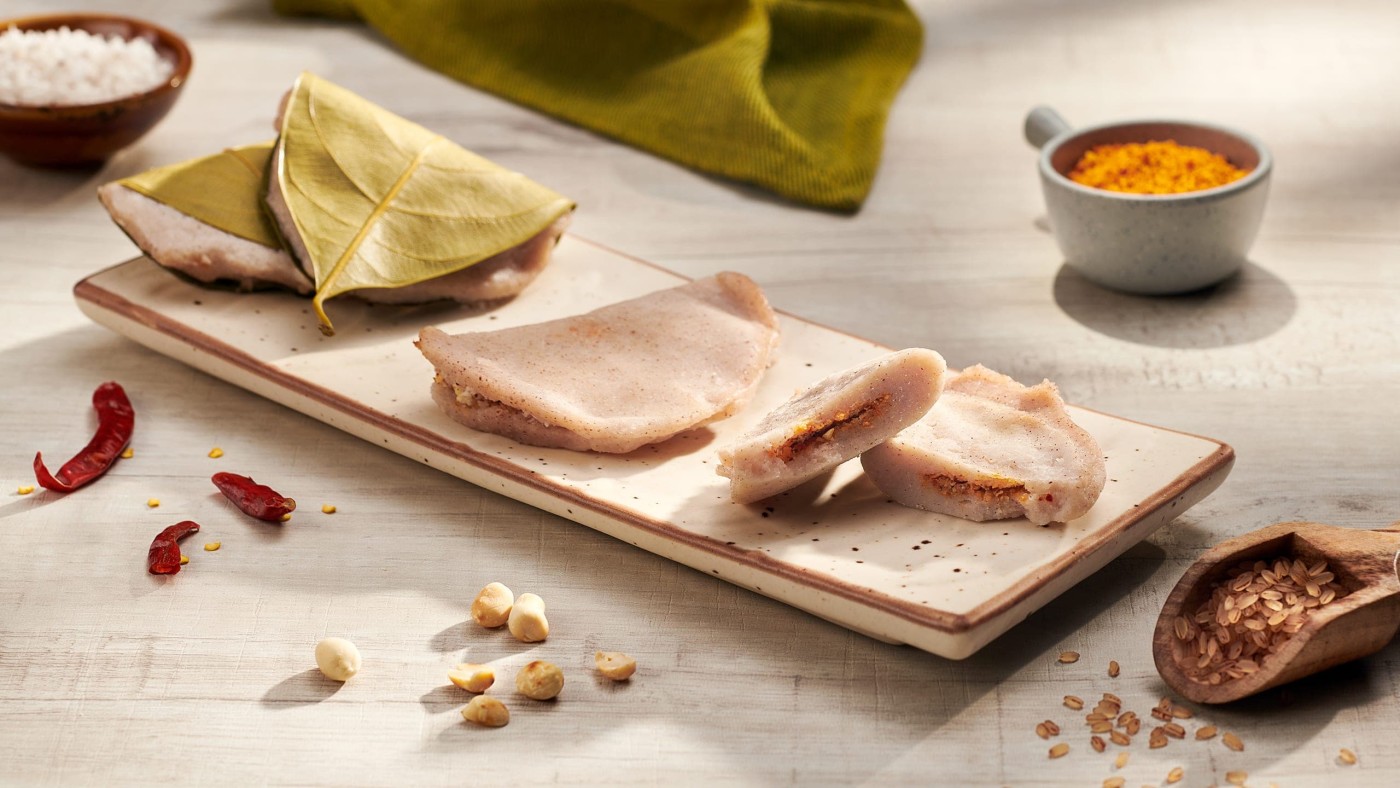 Steamed Pies in Jackfruit Leaves
Prep Time:
20 min, plus soaking time
Cook Time:
30 min
About This Recipe
You've got to love jackfruit trees for their abundance. The fruit offers distinct flavors and textures when raw and ripe, the seeds make an energy-dense snack, and the leaves are perfect parcels for Peja Ire Da Gatti, a Mangalorean staple. Steamed in aromatic jackfruit leaves, the gattis are half-moon-shaped hand-pies with a caramelly filling of jaggery and coconut. My twist to this classic recipe is making it a savory one. I made this at my first pop-up dinner, so it's special to me. The steamed rice cakes come together beautifully with Shenga Da Chutney, a dry, spicy peanut chutney that is a favorite across northern Karnataka.
The Benefits
Jackfruit leaves are prized as an anti-aging ingredient in Indian folk medicine; their flavanoid-rich leaves have antioxidant and anti-inflammatory benefits that improve healing at a cellular level. Rosematta, a red rice variety, is rich in iron and zinc, while sonamasuri, a fragrant medium-grain rice, is packed with minerals like iron, calcium, potassium, manganese, and selenium. Compared to polished white rice, both unpolished rice varieties retain most of their nutrients, are rich in fiber, and are beneficial for gut health and balancing blood sugar. Peanuts are rich in plant-based protein, good fats, and key minerals such as iron, magnesium, phosphorus, zinc, and potassium.
Note: I use two local varieties of unpolished Indian rice (rosematta and sonamasuri). You can use any variety or combination of aromatic, non-sticky rice. Wash the rice in several changes of water until the water runs clear. Soak overnight or a minimum of 6 hours before cooking.
Equipment: A steamer or a large Dutch oven with a steamer stand/plate
Ingredients
For the Batter
1 cup (230 g) rosematta, rajamudi or any medium-grain red rice, soaked overnight
¼ cup (60 g) sonamasuri or any medium-grain rice, soaked overnight
1½ cups (145 g) fresh grated coconut or frozen, unsweetened coconut
1 tsp salt
For the Chutney
10 dry byadgi or other whole red chiles
1 tsp cumin
4 garlic cloves
Salt for seasoning
1 cup (200 g) skinned and roasted peanuts
1 tsp Kashmiri chili powder (optional)
For Steaming
15 medium fresh jackfruit leaves
Directions
Step 1

To make the batter: Drain the rice and combine add it to your blender or food processor. Add 1 cup of the coconut and the salt. Grind, adding a little water as needed, until you have a fine, smooth paste, the consistency of thick cake batter.

Step 2

To make the chutney: Dry roast the red chiles in a hot pan for 2 to 3 minutes. Transfer to a grinder jar. Dry roast the cumin for a few seconds and add to the blender as well. Allow the spices to cool then blitz to a fine powder. Let the chili dust cloud settle; open the lid, add garlic, salt, and chili powder, if using, and blitz until the cloves are smoothly minced. Add the roasted peanuts and pulse a few times until coarsely ground and well combined with the rest of the chutney ingredients coarse mixture.

Step 3

Place your steamer rack into your pot and fill with water up to 3 inches high. (If using an idli steamer, use only the second idli plate.) Cover the pot and bring the water to a boil.

Step 4

Place a jackfruit leaf on your work surface, glossy-side-up. Spoon 2 to 3 tablespoons of rice batter onto the center of the leaf. Moisten your fingers with water to help prevent the paste from sticking to your hands, then evenly spread the paste, leaving about 1/2-inch (about 1 cm) space around the edges of the leaf. Sprinkle some of the reserved fresh coconut and a liberal helping of the chutney into the center. Fold the leaf lengthwise. Gently press until the edges are sealed. Repeat to make the rest of the leaf parcels.

Step 5

Stack the leaf parcels on the steamer plate and steam for 30 minutes. Using kitchen tongs, remove the leaf parcels and let cool for 10 minutes. Serve warm, still wrapped in the leaf.
Substitution: Use banana leaves instead of jackfruit leaves. For a sweet version, swap the peanut chutney for a mixture of 1:1 grated coconut and jaggery.