Spicy Mango & Bean Sprout Salad
Prep Time:
25 min
Cook Time:
0 min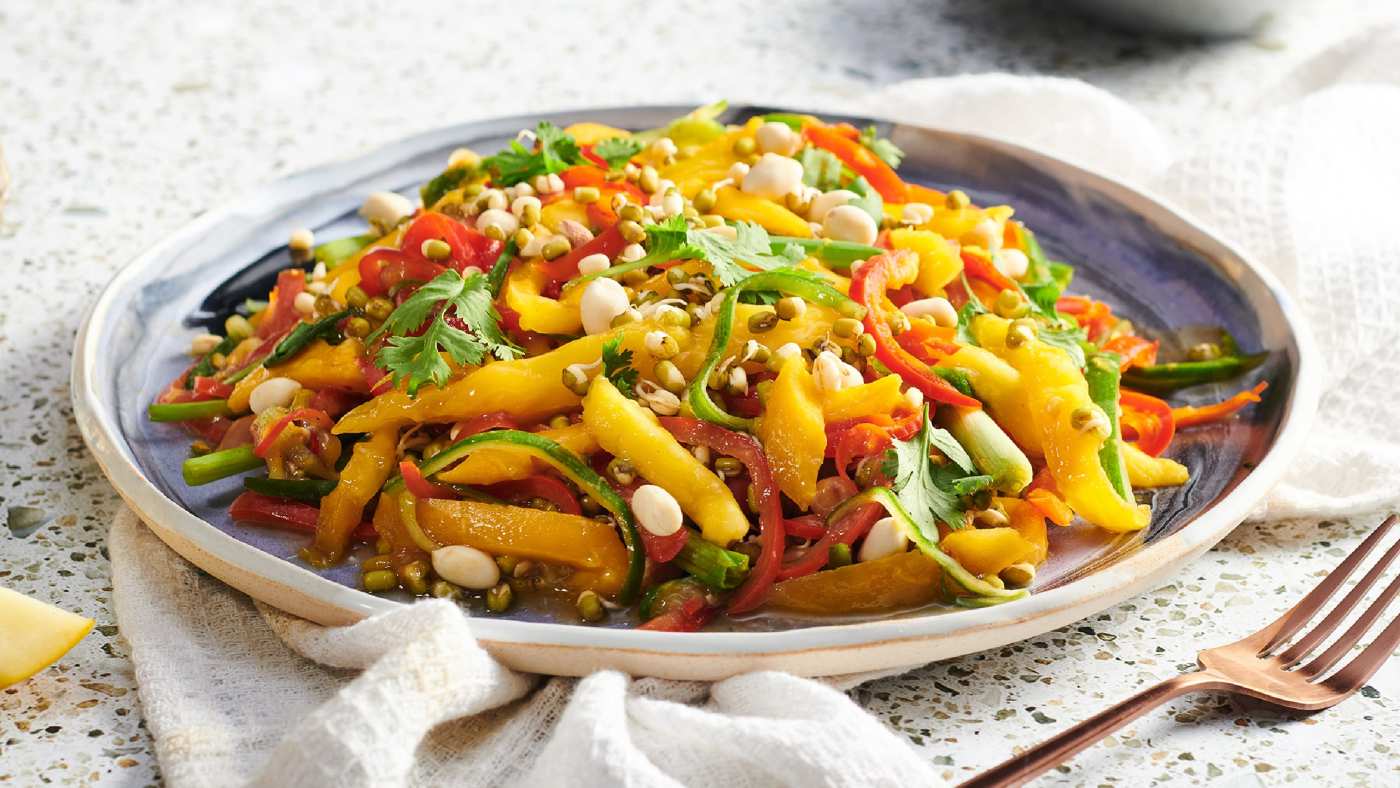 Spicy Mango & Bean Sprout Salad
Prep Time:
25 min
Cook Time:
0 min
About This Recipe
In the summer, prep-ahead salads are my go-to meal. This spicy mango and bean sprout salad is inspired by the flavors of Thai salad dressings. This salad has beautiful colors — the green cucumber, red bell pepper, and yellow mangos make it feel like a party on a plate, with beansprout confetti. It also has a mix of cool, crunchy, soft, and crisp textures which make it feel like a full meal on a hot day.

The Benefits
High in fiber and super filling, this salad is a great combination of protein, polyphenols, and vitamins (A, C, several Bs, K, and E) that are important for a number of health functions. Sprouts are easier to digest than beans or lentils, with protein that is more readily absorbed.

Note: Use a firm, sweet-and-sour mango variety like safeda for this recipe. The salad dressing can be made in advance. Adjust the quantities of tamarind and jaggery depending on the sweetness of your mangoes.
Equipment: Mason jar

Ingredients
2 Tbsp tamarind paste
1 tsp light soy sauce
4 to 5 drops of sesame oil
1 to 2 fresh bird's eye chiles, minced
1 Tbsp powdered organic jaggery
¼ tsp salt
2 (600 g) firm mangoes, peeled and sliced into batons
2 (200 g) cucumbers, sliced into batons
2 (60 g) green onions, thinly sliced
1 (300 g) red bell pepper, seeded and julienned
1/4 cup cilantro, finely chopped
1 cup (100 g) fresh mung bean sprouts
1/4 cup roasted peanuts, roughly chopped
1/8 tsp red pepper flakes (optional)
Directions
Step 1

To make the dressing: Add the tamarind, soy sauce, sesame oil, minced red chiles, jaggery, and salt to a mason jar. Shake to combine.

Step 2

To a large, shallow bowl, add the mangoes, cucumbers, green onions, bell pepper, and cilantro. Pour all of the dressing and gently toss to combine. Add the bean sprouts and gently toss.

Step 3

Transfer the salad to a serving plate. Sprinkle with roasted peanuts and red pepper flakes, if desired.
Substitutions: Add other raw vegetables of choice.
Level up: Make your own bean sprouts.