Kidney Beans & Red Rice Salad
Prep Time:
10 min
Cook Time:
5 min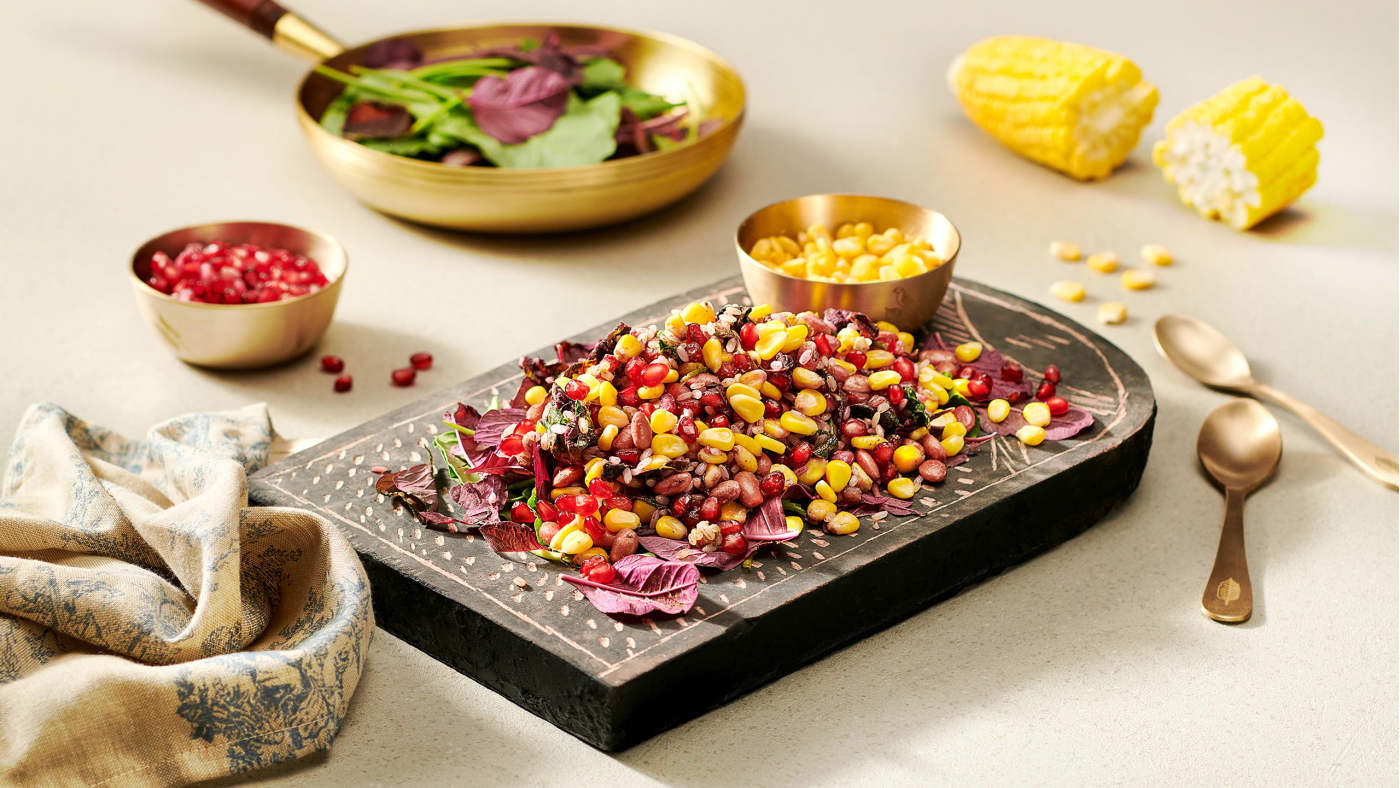 Kidney Beans & Red Rice Salad
Prep Time:
10 min
Cook Time:
5 min
About This Recipe
In North India, rajma chawal, a kidney bean stew served with hot, fluffy rice, is the ultimate comfort food, and the inspiration for this hearty salad bowl. The combination of legumes, grains, and greens makes this an excellent blueprint for meal-prepping parents looking for healthy, balanced meal options. Serve it freshly made or pop it in the refrigerator and enjoy it in a lunchbox the next day — it tastes great chilled.
The Benefits
Kidney beans are an affordable, plant-based source of protein. High in copper, folate, and vitamin K, they also contain resistant starch and insoluble fiber, which are important for colon health. Red rice varieties such as matta rice from Kerala are rich in minerals such as magnesium and selenium, and have a good carb to fiber ratio, which keep you satiated for longer. The combination of grains and legumes makes a complete protein meal, providing all essential amino acids. Greens bring in a bouquet of vitamins and minerals.
Ingredients
For The Salad
25-30 (100 g) baby spinach leaves
25-30 (75 g) young amaranth leaves
1 tsp extra virgin coconut oil
½ cup (100 g) cooked kidney beans
½ cup (100 g) cooked matta rice or any red rice
½ cup (60 g) pomegranate arils
½ cup (80 g) corn kernels
A pinch of salt
For the Dressing
2 Tbsp (30 ml) virgin coconut oil or cold-pressed sunflower oil
4 Tbsp (60 ml) lime juice
½ tsp grated ginger
1 Tbsp honey or jaggery powder
½ tsp coarsely ground black pepper
10-12 tender curry leaves
½ tsp coarse grain sea salt (more if the kidney beans and rice are not salted)
Directions
Step 1

Remove any tough stems from the greens and wash them in 2-3 changes of water. Drain and spin in a salad spinner or pat dry. Stack them and cut roughly into big pieces.

Step 2

In a pan, heat the coconut oil and lightly sauté the greens over medium heat for 1-2 minutes or until they began to wilt. Move the greens onto a plate to cool.

Step 3

In a bowl, combine the kidney beans, red rice, pomegranate arils, corn, and the greens.

Step 4

To make the dressing: In a small blender, add the coconut oil, lime juice, ginger, honey, black pepper, curry leaves, and Himalayan crystal salt. Blend until creamy. Pour the dressing over the salad and toss to mix. Adjust seasoning and serve in a large bowl or plate it as a meal. Refrigerate leftovers and enjoy as a chilled salad the next day.
Substitutions: Use any unpolished rice variety or play with other grains like quinoa or millet. Swap kidney beans for black-eyed peas. You can experiment with greens too. Try collards, watercress, snow pea shoots, chard, and kale.