Venn Pongal
Prep Time:
15 min
Cook Time:
15 min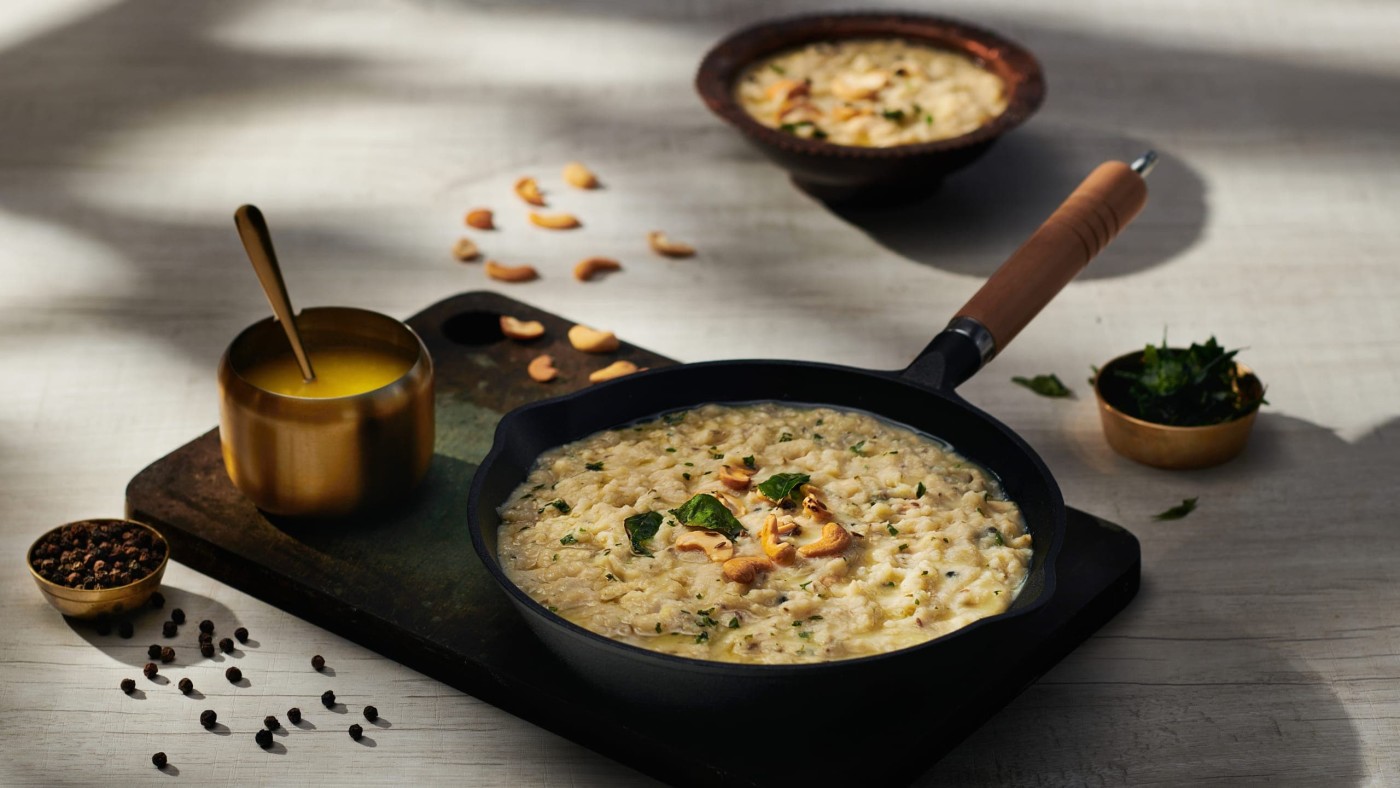 Venn Pongal
Prep Time:
15 min
Cook Time:
15 min
About This Recipe
During Marghazi, an auspicious winter month in the Tamil lunar calendar, the air in Chennai's old neighborhood of Triplicane is filled with prayer songs and aromas of flavorful food wafting from the Parthasarathy Temple. In the early mornings, minstrels and young women sing the Thiruppavai, hymns praising the god Vishnu, in the temple square. The devotees are offered "donne" or small leaf bowls of steaming hot venn pongal, made of fragrant cooked rice and split yellow mung dal, and laden with ghee. Traditionally, this blessed food is made with a South Indian short grain rice like Ponni. I have swapped it with Buddha rice, which is rich in fiber and micronutrients.
The Benefits
Kalanamak or Buddha rice is rich in micronutrients like iron and zinc. Mung beans are high in fiber and resistant starch, which help feed good gut bacteria. Curry leaves are antibacterial and contain a compound called girinimbine, which has anti-tumor and anti-cancer properties. Ghee is rich in vitamin A, which helps reduce inflammation, promote gut health, and support a healthy heart.
Note: If using a pressure cooker, cook on high heat for 5 minutes or until the first whistle, then turn the heat down to medium and cook for two to three whistles. Wait about 5 minutes for the residual pressure to release before opening the lid.
Ingredients
1 cup (190 g) Kalanamak (Buddha) rice
½ cup (100 g) split yellow mung dal
6 cups (1½ L) water
1 tsp cold-pressed sesame oil
3 Tbsp (45 ml) ghee
2 tsp cumin seeds
2 tsp black pepper
10 cashew nuts
10 curry leaves
1 inch ginger, grated
1 tsp asafetida powder
Salt to taste
Directions
Step 1

Combine the rice and dal in a large bowl. Wash under running water and drain. Add both to a large stockpot. Add ginger, asafetida, curry leaves, salt, and water. Cook the rice and dal in water for about 15 minutes to a porridge consistency.

Step 2

Heat the oil and ghee in a kadhai or a small pan, and add cumin and black pepper. Once the spices begin to splutter, about 30 seconds, add the cashews and roast until golden brown. Add the curry leaves and take the kadhai off the heat. Pour the tempering over the molten pongal. Serve warm.
Substitutions: Use any short-grain rice variety like Ponni or Parmal.
Try It With: Sambar or coconut chutney.