Vendhaya Kal Dosa
Prep Time:
5 min, plus 4 hours soaking time
Cook Time:
25 min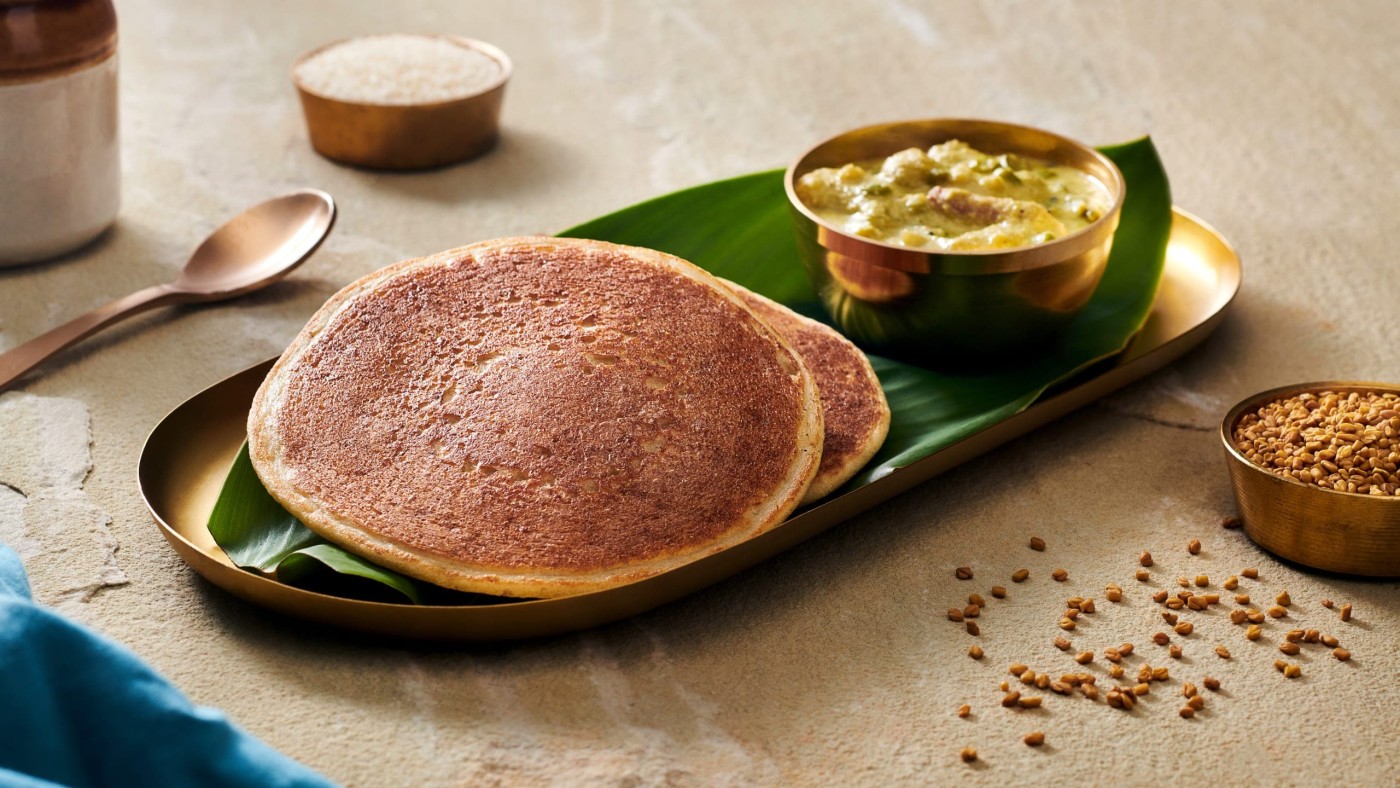 Vendhaya Kal Dosa
Prep Time:
5 min, plus 4 hours soaking time
Cook Time:
25 min
About This Recipe
My earliest memories of coming home from school are laced with the aromas and images of my mother making fresh, hot dosas. Crisp and golden on one side, with a spongy white belly on the other, this kal (griddle) dosa is a wholesome meal with its mix of fermented lentils and grains. Vendhaya, or fenugreek, takes the nutritional quotient of the dish up a notch; these pungent seeds are traditionally used in India to aid digestion. Thicker and spongier than a standard dosa, the vendhaya kal dosa has a subtle, characteristically bitter aftertaste.
The Benefits
Fermented foods like dosas can improve digestion by increasing the bioavailability and therefore absorption of nutrients like B vitamins, zinc, and iron. Fenugreek also provides dietary fiber and is a source of immunity-boosting amino acids. Soaked fenugreek seeds may aid digestion and help reduce blood sugar and triglycerides.
Equipment: A heavy-wattage blender or a food processor, and a cast iron dosa kal (or any large, flat cast-iron pan suitable for making crepes) with a lid.
Note: Idli rice, a short grain parboiled rice, is available at Indian grocers and online.
Ingredients
½ cup (100 g) toor dal (skinned and split pigeon peas), soaked for 4 hours
1 Tbsp (12 g) urad dal (white lentils), soaked for 4 hours
1 cup (200 g) idli rice or any short-grain rice, soaked for 4 hours
1 Tbsp (15 g) fenugreek seeds, soaked for 4 hours
7-8 curry leaves
1 small (30 g) onion, halved (to season the pan)
Cold pressed sesame oil, neutral cold-pressed oil or ghee for cooking
1 Tbsp (17 g) salt
Directions
Step 1

Drain and grind the soaked lentils, rice, fenugreek seeds, and curry leaves. Use as little water as possible to achieve a thick paste-like batter.

Step 2

Heat the dosa kal or a flat cast-iron pan on medium-high heat for 2 mins. Sprinkle some water on the surface, if it instantly sizzles and evaporates, your pan is ready. Add a few drops of oil and use the cut, flat side of a halved onion as a tool to grease the pan evenly.

Step 3

Reduce the heat and pour ½ cup of batter in the center of the pan. Using the back of the round ladle or a large spoon, gently spread the batter in a circle about 5-inch-wide. With a small spoon, drizzle a few drops of oil around the edges, cover the pan and cook the dosa on medium heat for 3-4 mins.

Step 4

Once the bottom is browned, use a spatula to flip the dosa. Drizzle more oil around the edges and cook for an additional 30 seconds. Continue to follow these steps to make more dosas. Serve hot off the pan with coconut chutney, podi, or sambar. Store any leftover batter in the fridge in an airtight container for up to 3 days. Bring the batter to room temperature before cooking.