Spiced Sabja Flush
Prep Time:
5 min
Cook Time:
0 min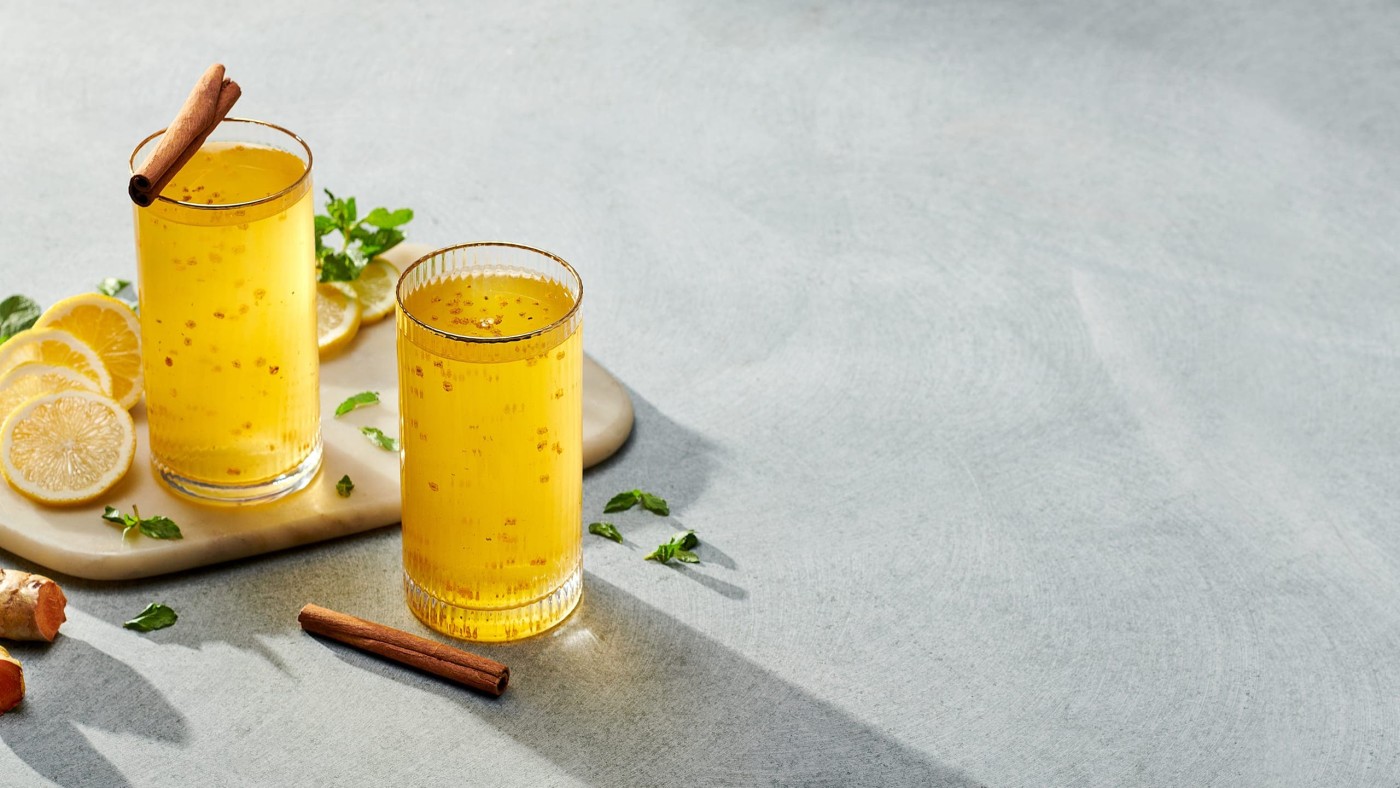 Spiced Sabja Flush
Prep Time:
5 min
Cook Time:
0 min
About This Recipe
For those days when I need something a little extra energizing and detoxing, I use my infused Vitamin Water as a base, then amp up the taste and health benefits to create a spiced sabja (basil seed) flush. This detoxifying drink has gut-healthy spices and good fats from the seeds to elevate your mood and hydration.
The Benefits
Apple cider vinegar may help reduce insulin sensitivity and increase feelings of fullness. Cinnamon is an anti-inflammatory superfood, which has higher polyphenol antioxidant levels than many other spices or herbs and a naturally sweet taste. The powerful anti-inflammatory and antioxidant effects of the curcumin in turmeric are well known, and the bioavailability of this compound is vastly improved in conjunction with piperine, a naturally occurring substance in black pepper. Like chia seeds, basil seeds are high in insoluble fiber, which is great for digestion. They are also a source of healthy fats and antioxidants. The kefir or kombucha are optional, but as fermented ingredients, they add a probiotic component.
Note: Any recipe is only as good as your ingredients. Edible essential oils add big flavor, but look for high-quality, pure oils that are steam-distilled or cold-pressed, and don't contain any adulterants (I use doTerra) . I recommend using raw and unfiltered vinegar with the mother culture.

Ingredients
25 to 34 oz (750 ml to 1L) Vitamin Water (see related recipe)
1 Tbsp apple cider vinegar, raw and unfiltered, with the mother culture
½ Tbsp cinnamon powder
½ tsp turmeric powder
Pinch of black pepper
⅓ cup of kefir water or kombucha (optional)
½ tsp sabja (basil seeds)
4 drops of high-quality orange or peppermint essential oil
Directions
Step 1

Make sure your vitamin water is in a non-reactive glass or ceramic jar. Add all the additional ingredients. Mix and stir well. Let the basil seeds soak for at least 10 mins.

Step 2

Taste. You can add a pinch more of any of the spices if you prefer a more flavorful mixture. Drink a small glass of the sabja flush for an instant boost. The mix can be stored in the fridge, but should be consumed within a day.
Substitutions: Use chia in place of basil. Basil seeds are a little smaller than chia seeds and bloom faster when soaked. Basil seeds also have slightly more fiber than chia seeds, but less omega-3 fatty acids. Depending on where you are, one may be more locally available.