Salad in a Jar
Prep Time:
20 min (plus 30 min soaking time)
Cook Time:
30 to 90 min for the wheat berries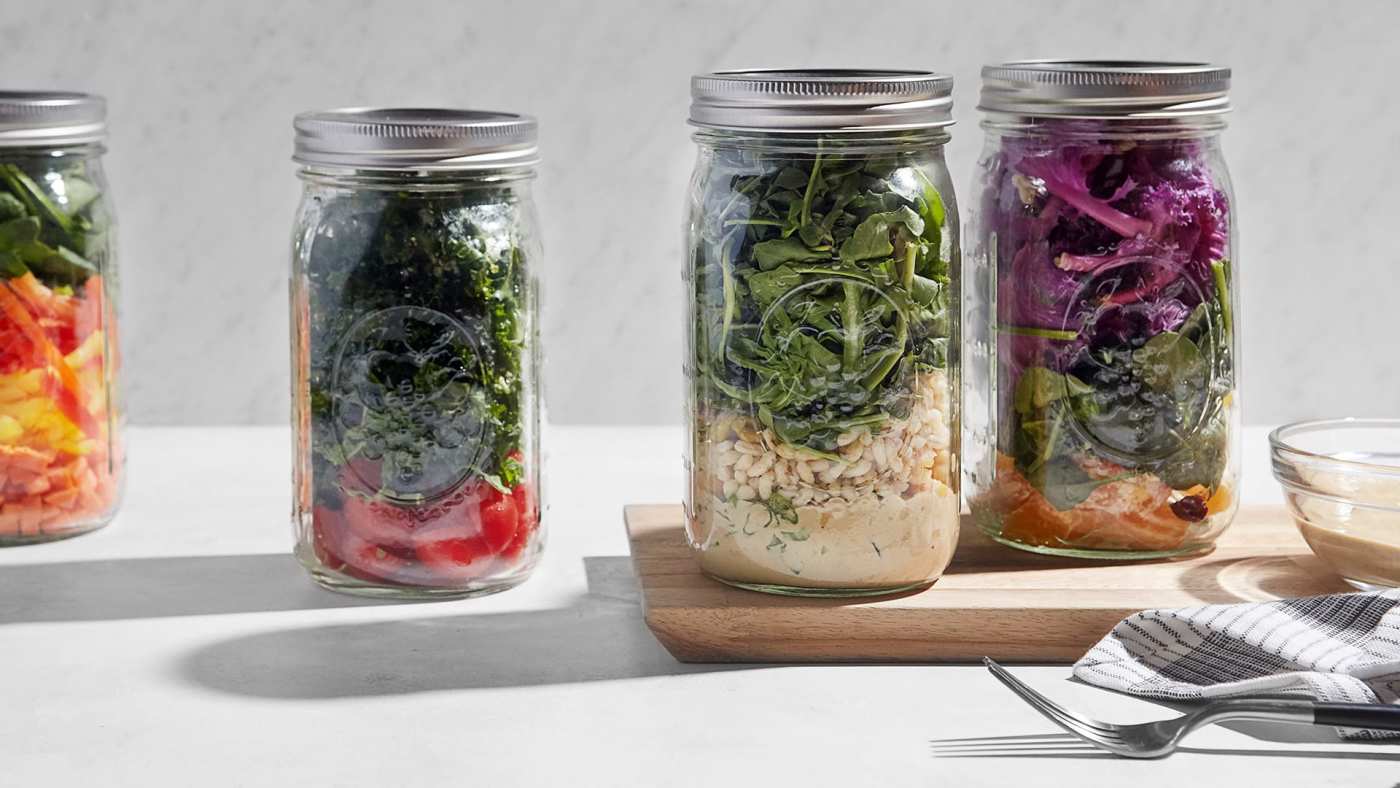 Salad in a Jar
Prep Time:
20 min (plus 30 min soaking time)
Cook Time:
30 to 90 min for the wheat berries
About This Recipe
I love glass jars for food and meal prep storage. But did you know that mason jars are also great for salads? It's all about how you layer the ingredients, because no one wants a soggy salad! Remember that wide-mouth jars are key (you need lots of room to pack in all the good stuff), and I prefer a quart jar for salads.
The Benefits
Fiber-rich, whole grain wheat berries are a great choice for keeping your heart healthy. And the wonders of fiber never cease, as it also great for digestion and keeping you regular. Cashews in the dressing add even more protein, along with healthy fats. Both grains and nuts will keep you fueled up for whatever your day brings.
Anatomy of a Mason Jar Salad
• Begin with your dressing or nut sauce.
• Add diced cucumbers, onion, scallions, or jicama to the dressing.
• Next, add foods that will do well soaking up the dressing: tofu,
beans, mushrooms, diced zucchini, and so on.
• For a heartier meal, add a cooked grain
• If using nuts or seeds, add them now.
• And now it's time to stuff the jar with your raw leafy green of choice
To eat, I like to simply turn the jar upside down over a large bowl or a plate.
Note: To cook wheat berries, bring 3 cups (720 ml) water to boil in a medium saucepan and add 1 cup (190 g) rinsed wheat berries. Reduce the heat and simmer until tender, checking for doneness after about 25 minutes; continue checking every 10 to 15 minutes. Depending on the variety of wheat berry, cooking time will be between 30 and 90 minutes. When tender, drain; you can use immediately or store in a container in the refrigerator for up to 3 days.
Store any leftover dressing in an airtight container in the refrigerator for up to 5 days.

Equipment: 4 (1-quart) Mason jars
Ingredients
Dressing
1/2 cup (60 g) cashews
2 Tbsp (30 ml) Dijon mustard
3 Tbsp (45 ml) lemon juice
1 Tbsp (15 ml) capers, drained
2 garlic cloves, minced
1 Medjool date, pitted
½ tsp salt
½ tsp ground white pepper
Salad in a Jar
1 small cucumber, diced
4 scallions, sliced
2 (15 oz/425 g) cans cooked chickpeas
2 cups (280 g) cooked wheatberries
1/4 cup (30 g) walnuts (or other nuts such as pistachios or almond slivers)
6 to 8 cups (about 450 to 600 g) shredded leafy greens (such as romaine or butter or Bibb lettuce + arugula)
Directions
Step 1

Make the dressing: Put the cashews in a measuring cup and add hot water to cover. Set aside to soak for 30 minutes.

Step 2

Drain the cashews and transfer them to a blender. Add the mustard, lemon juice, capers, garlic, date, salt, and white pepper and puree until creamy and pourable. Add more lemon juice or water, if necessary, to make it thinner.

Step 3

Make the salad jars: Line up 4 wide-mouth quart jars. In each jar, layer 1 to 2 Tbsp dressing, ¼ cup diced cucumber, 3/4 cup chickpeas, 1/ 2 cup wheatberries, 2 Tbsp nuts, and 1½ to 2 cups shredded greens. If not serving immediately, put the lid on the jars and store in the refrigerator for up to a day.
Substitutions: For greens, use lettuce, spinach, kale, arugula, or any combination of the four. For cooked grains, farro, quinoa, or barley are excellent in salads.
Adapted from The Complete Plant-Based Diet: A Guide & Cookbook to Enjoy Eating More Plants by JL Fields (Rockridge Press, 2020)