Saag Paneer Minus the Paneer
Prep Time:
20 min
Cook Time:
25 to 30 min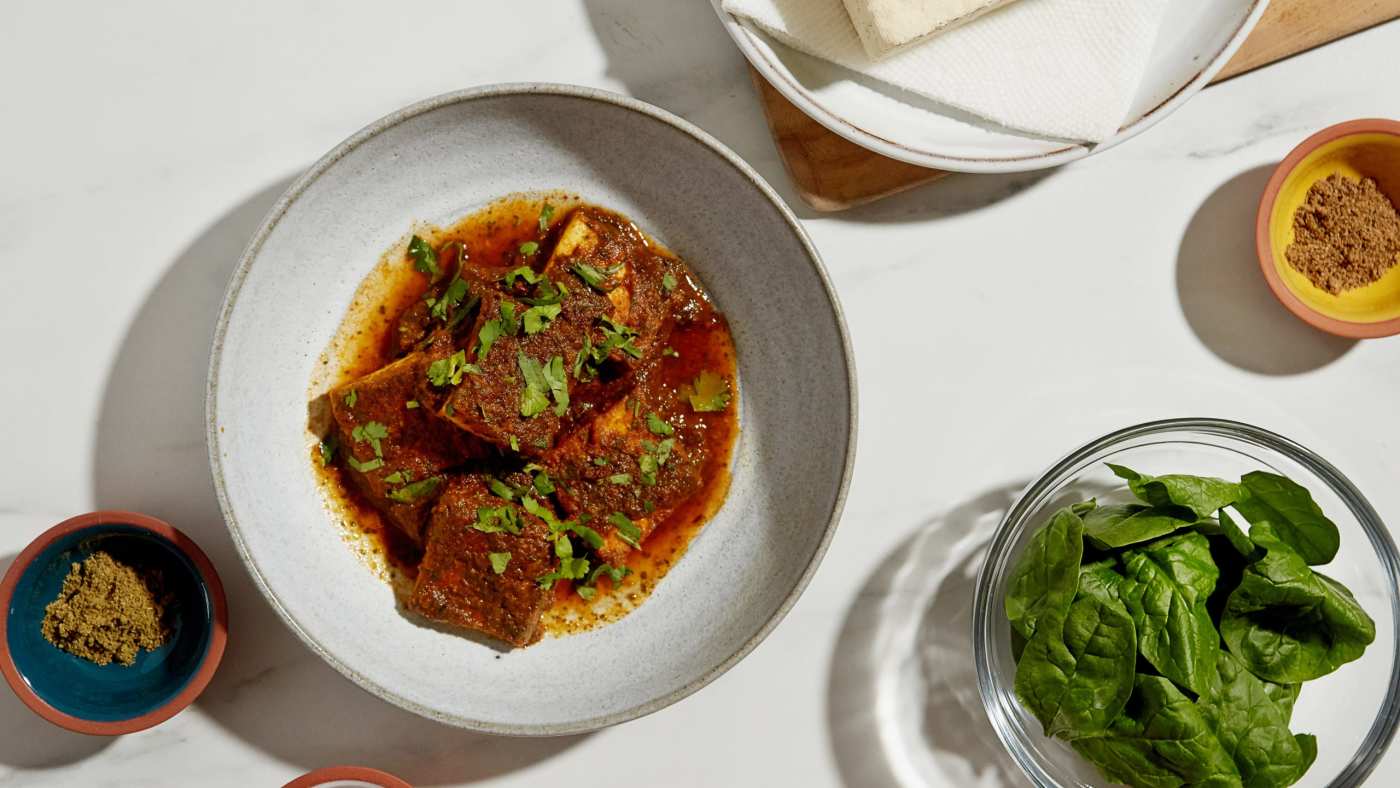 Saag Paneer Minus the Paneer
Prep Time:
20 min
Cook Time:
25 to 30 min
About This Recipe
In this vegan version of saag paneer, you won't miss the dairy. And you'll get a dish packed with nutrition, including magnesium, folate, fiber, and anti-inflammatory spices.
The Benefits
Any dish like this, that's mostly greens and tofu, is off to an excellent nutritional start. Adding a cornucopia of spices and some healthy fat seals the deal.
Ingredients
2 to 3 cups (170 to 255 g) frozen or 4 to 6 cups (106 to 160 g) fresh spinach
A little water — about 2 Tbsp for fresh spinach; for frozen, no water necessary
1 (14-oz / 396-g) package firm tofu
Salt
1/2 tsp ground cumin, divided
3 Tbsp (45 ml) avocado oil, divided
1/2 large red onion
4 garlic cloves
1-inch (2.5 cm) knob of ginger
1½ tsp cumin seeds
Pinch of nigella seeds
1/2 tsp turmeric
1½ tsp ground coriander
1/4 tsp cayenne
Pinch of hing (asafoetida)
1 cup (240 ml) tomato puree
Fresh cilantro, for serving
Pinch of garam masala, for serving
Pinch of cayenne, for serving
Directions
Step 1

Combine the spinach and water (if using fresh spinach) in a pan over medium heat and sauté until the spinach is wilted and bright green. Transfer the spinach to a blender or food processor and blend until smooth.

Step 2

Put the tofu on a plate. Squeeze the water out of the tofu by placing a weighted pan on it for about 10 minutes. Then slice about 1/2-inch (12 mm) thick and sprinkle with 1/4 tsp salt and 1/4 tsp of the ground cumin. In a large skillet, heat 2 Tbsp of the avocado oil over medium heat and pan-sear the tofu until golden brown, 3 to 5 minutes on each side. Remove from the heat and set aside.

Step 3

In a blender, purée the red onion, garlic cloves, and ginger with a splash of water. Set aside.

Step 4

In a separate pan, heat the remaining 1 Tbsp (15 ml) avocado oil over medium heat and add the cumin seeds and a pinch of nigella seeds; let the spices cook for 30 seconds to 1 minute. Add the onion purée to the pan. Cook until golden brown, for about 5 minutes. Then add the turmeric, the remaining 1/4 tsp cumin, coriander, cayenne, and hing. Sauté for a minute. Add the tomato purée and sauté until aromatic, 5 to 10 minutes.

Step 5

Add salt to taste, the spinach purée, and water (if desired for a thinner consistency) to the aromatic tomato purée and stir well. Add in the tofu and coat with the spinach. Season to taste with salt and pepper.

Step 6

Finish with fresh cilantro, a sprinkling of garam masala and cayenne. Enjoy!