Baingan ka Bharta
Prep Time:
20 min
Cook Time:
40 min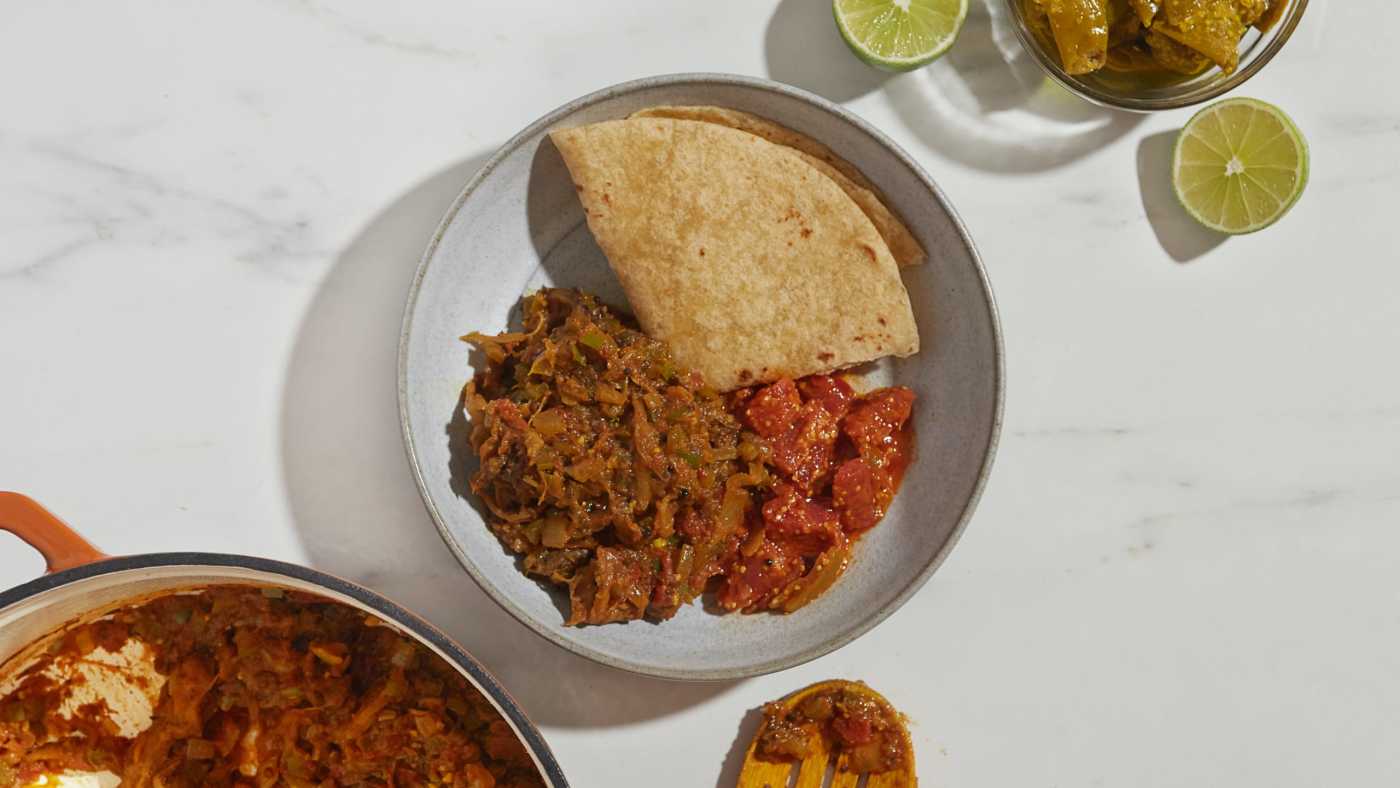 Baingan ka Bharta
Prep Time:
20 min
Cook Time:
40 min
About This Recipe
Baingan ka Bharta is literally translated as "eggplant mishmash." This Indian classic is a crowd-pleaser across all ages, with each family's version slightly unique, and always delicious. My fam's recipe is below. I hope you and your kids love it.
The Benefits
Eggplant is low in carbs and rich in fiber and B vitamins which may improve brain health and blood flow. Bell peppers are high in vitamin C and help to fight infection and improve immunity. Spices that lower cholesterol like cumin and turmeric are most noted for their anti-inflammatory and antioxidant benefits making this a hearty dish.
Note: Get the eggplants going in the oven, then prep the rest of your ingredients as they roast.

Ingredients
2 medium

(about 2 lbs / 850 g)

eggplants

1½ Tbsp

(22 ml)

avocado oil, plus more for rubbing the eggplants

1/2 tsp

cumin seeds

1/2 tsp

mustard seeds

1

onion, chopped

1 Tbsp

(9 g)

minced garlic

1 tsp

minced ginger

1

green chile, finely chopped (optional)

1

green bell pepper, finely chopped

Large

pinch of salt

1/2 tsp

turmeric

1½ tsp

ground cumin

1½ tsp

ground coriander

1 cup

(225 g)

chopped tomatoes

Salt

for seasoning

Freshly

ground black pepper

½ to 1 Tbsp

(6 to 12 g)

sugar, to taste

Lime juice,

for finishing

Fresh cilantro,

for garnish
Directions
Step 1

Heat the oven to 425F.

Step 2

Use a fork to poke holes all over the eggplants, then rub them with avocado oil. Put them on a parchment- or foil-lined baking sheet and roast them in the oven until tender, 30 to 40 minutes. Remove from the oven and allow to cool, then peel the skin. (Save the skin for another use or eat as is. It can be slightly bitter but still yummy.) In a bowl, mash the flesh with a fork and set aside.

Step 3

Heat 1½ Tbsp avocado oil in a skillet over medium heat and warm the cumin and mustard seeds until they sizzle and just begin to pop, about a minute. Add the chopped onion and sauté until translucent, 3 to 5 minutes. Then add the minced garlic, minced ginger, and finely chopped green chile (if using) and sauté for a minute.

Step 4

Add the finely chopped green bell pepper with a large pinch of salt and sauté for a couple of minutes. Add the turmeric, ground cumin, and ground coriander. Sauté for a minute until the spices are fragrant.

Step 5

Add the chopped tomatoes and cook until their color deepens and the oil separates a little from the liquid, 5 to 10 minutes. Then add the mashed eggplant, salt and pepper to taste, and cook over low heat until some liquid evaporates and the eggplant breaks down a bit to become smoother and not so choppy, 5 to 10 minutes.

Step 6

Add 1/2 Tbsp sugar and mix well; taste and adjust seasoning. Drizzle with a little lime juice and finish with fresh cilantro. Serve immediately. We love it with lentils and rice, quinoa, or roti.