Roasted Sweet Potato Shrub & Toddy
Prep Time:
15 min (plus 24 hours resting time)
Cook Time:
1 hour 20 minutes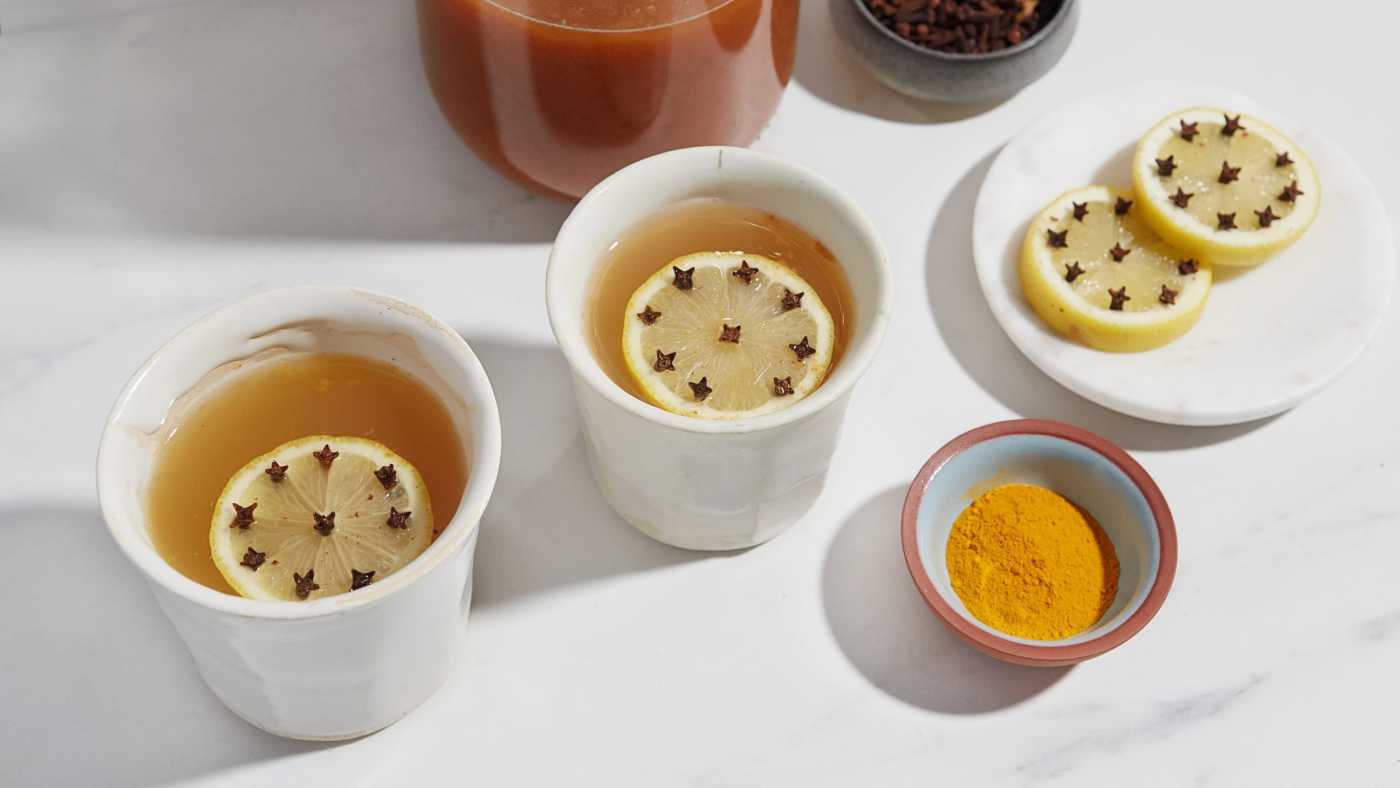 Roasted Sweet Potato Shrub & Toddy
Prep Time:
15 min (plus 24 hours resting time)
Cook Time:
1 hour 20 minutes
About This Recipe
A shrub is traditionally a drinking vinegar infused with fruit and herbs. But shrubs don't have to be just berries and vinegar. You can use a combination of so many savory or sweet ingredients. Even the natural sweetness and earthiness of sweet potatoes. I love reimagining ingredients of the African diaspora, like sweet potatoes, into untraditional formats because it helps to keep your relationship with the ingredients, history, and culture fresh. (You could also try making this shrub with butternut squash or pumpkin.) The warming aromatics of cardamom, cinnamon, ginger, and bay leaf will help you tap into a cozy vibe that you'll want to enjoy any time of the year. You could use this in a granita, you could incorporate it into a salad dressing, you could even add this to a vinegar pie.
The Benefits
Rich in beta-carotene, an antioxidant, sweet potatoes are also a great source of fiber. Both are a bonus when it comes to maintaining a healthy gut.
Ingredients
about 1½ cups (360 ml)
Yield
Roasted Sweet Potato Shrub
2 large (about 2 lb) sweet potatoes, scrubbed clean
2 to 3 Tbsp (30 to 45 ml) olive oil
1½ cups (360 ml) raw honey
1½ cups (360 ml) apple cider vinegar
6 cardamom pods
1 Tbsp (5 g) ground cinnamon
1 bay leaf
1/4 cup (24 g) grated fresh ginger
Sweet Potato Toddy
1 oz (30 ml) Roasted Sweet Potato Shrub
1/2 oz (15 ml) fresh lemon juice
Pinch of turmeric
3/4 cup (175 ml) hot water
1 lemon wheel studded with cloves to garnish
Directions
Step 1

Heat your oven to 375F. Rub the sweet potatoes with olive oil. Line a Dutch oven with foil. Put the sweet potatoes into the Dutch oven, cover with the lid, and roast the potatoes in the oven until they can be easily pierced with a fork, about 1 hour 20 minutes. Remove the pot from the oven and place the sweet potatoes on a rack to cool.

Step 2

Once the potatoes have cooled, use a spoon to scoop the flesh into a glass jar (discard or save the skins for another use). Add the honey, vinegar, cardamom, cinnamon, bay leaf, and ginger. Stir the ingredients to combine. Place in the fridge to rest for 24 hours.

Step 3

Give the shrub a quick stir (some settling may have occurred). Place a fine-mesh strainer over a large bowl or container. Transfer the sweet potato mixture to the strainer to allow liquid to pass through to the bowl.

Step 4

Once all of the liquid has passed through, give the mixture a light press with your spatula/spoon to get any additional shrub to pass through. Don't press too hard, just allow the shrub to gently pass through the strainer on its own. Toss the spent shrub material. Transfer to a jar and keep the shrub refrigerated. It will last for several months in the refrigerator and is great in a toddy.

Step 5

To make a toddy: Add the sweet potato shrub, lemon juice, and turmeric to an 8-oz mug. Add the hot water and stir to combine. Garnish with the lemon wheel and serve immediately.