Sweet Potato Niçoise
Prep Time:
40 min
Cook Time:
10 min (to blanch and cool the haricots verts)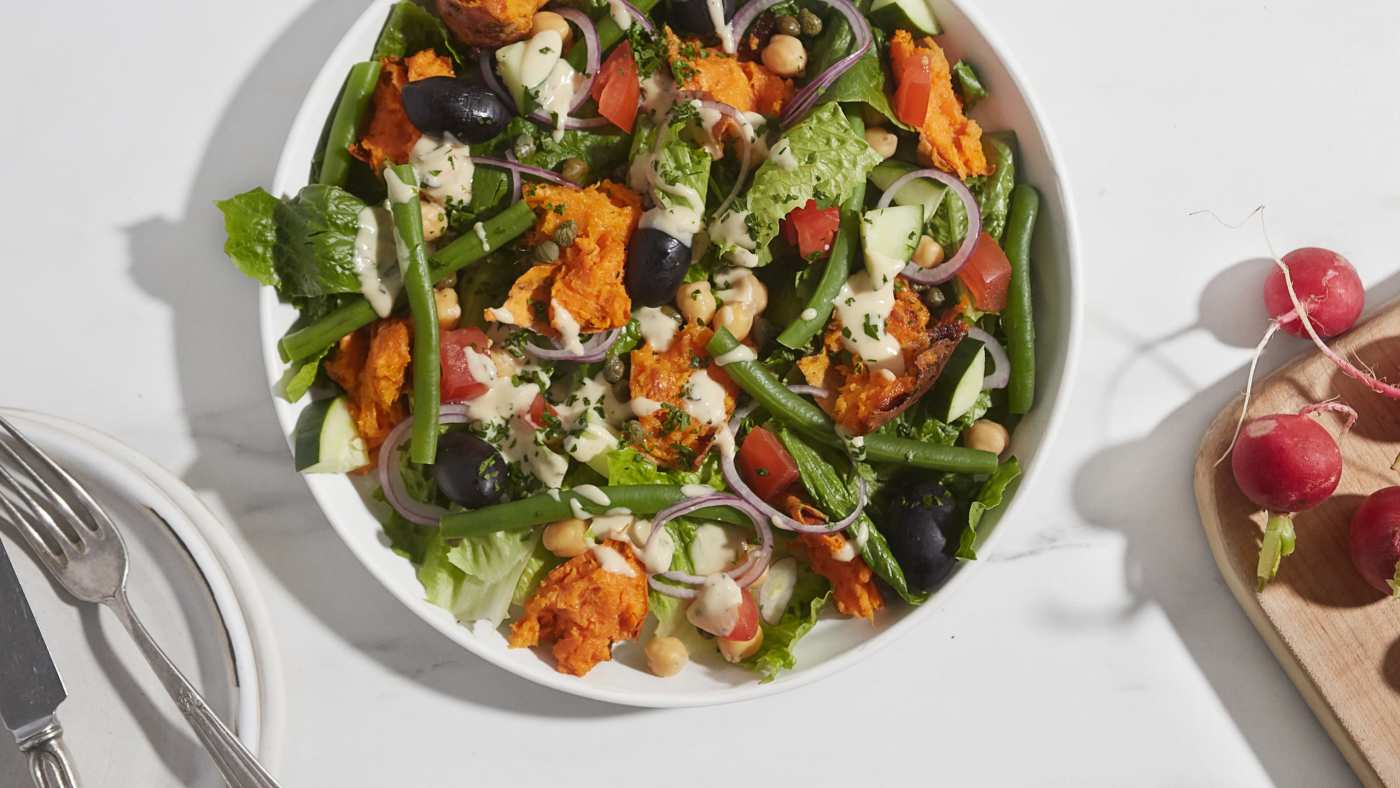 Sweet Potato Niçoise
Prep Time:
40 min
Cook Time:
10 min (to blanch and cool the haricots verts)
About This Recipe
This salad eats like a meal, with a variety of textures unified by the hearty, complex dressing thickened with beans and tahini.
Beta carotene not only gives sweet potatoes their orange color, but your body also coverts it into vitamin A — which plays a key role in supporting the immune system. White beans are loaded with protein and fiber, and a particularly significant sources of copper, iron, and folate.

Note: For the sweet potatoes — roast them at 375°F/ 190°C for an hour, until they're almost bursting.
Ingredients
White Bean Dressing
1 cup (188 g) cooked white beans
2 Tbsp (30 ml) tahini
1/2 cup (120 ml) extra virgin olive oil
1 tsp Dijon mustard
2 Tbsp (30 ml) lemon juice
2 tsp of minced garlic
2 Tbsp (30 ml) white wine vinegar
1 Tbsp (4 g) chopped rosemary
1/2 sheet of nori, chopped
Water to blend, as needed
Salt to taste
Salad
4 cups (110 g) torn romaine
Salt
1 cup (157 g) large dice tomatoes
1 cup (110 g) large dice hot house cucumber
1/2 cup (70 g) sliced radishes
1 cup (100 g) blanched haricots verts, shocked in ice water and drained
1/4 cup (33 g) thinly sliced red onions
1 cup (151 g) cooked chickpeas
2 roasted sweet potatoes
1 cup (110 g) black olives
1/4 cup (20 g) capers
1/4 cup (5 g) chopped parsley
Directions
Step 1

For the dressing: In a blender, blend the white beans, tahini, olive oil, mustard, lemon juice, garlic, and vinegar until very smooth. (If the dressing is too thick, add a splash of water and blend.) Add the rosemary and nori and pulse twice (no more than that!). Set aside.

Step 2

Make the salad: Mix the romaine with half the dressing and salt to taste, then divide it between 4 bowls. Divide the tomatoes, cucumber, radishes, haricots verts, red onion, chickpeas, sweet potatoes, black olives, and capers between the bowls, placing them on top of the lettuce. Drizzle each salad with remaining dressing, sprinkle with fresh parsley, and season to taste.