Ricotta Ravioli with Roasted Garlic
Prep Time:
1 hour
Cook Time:
20 min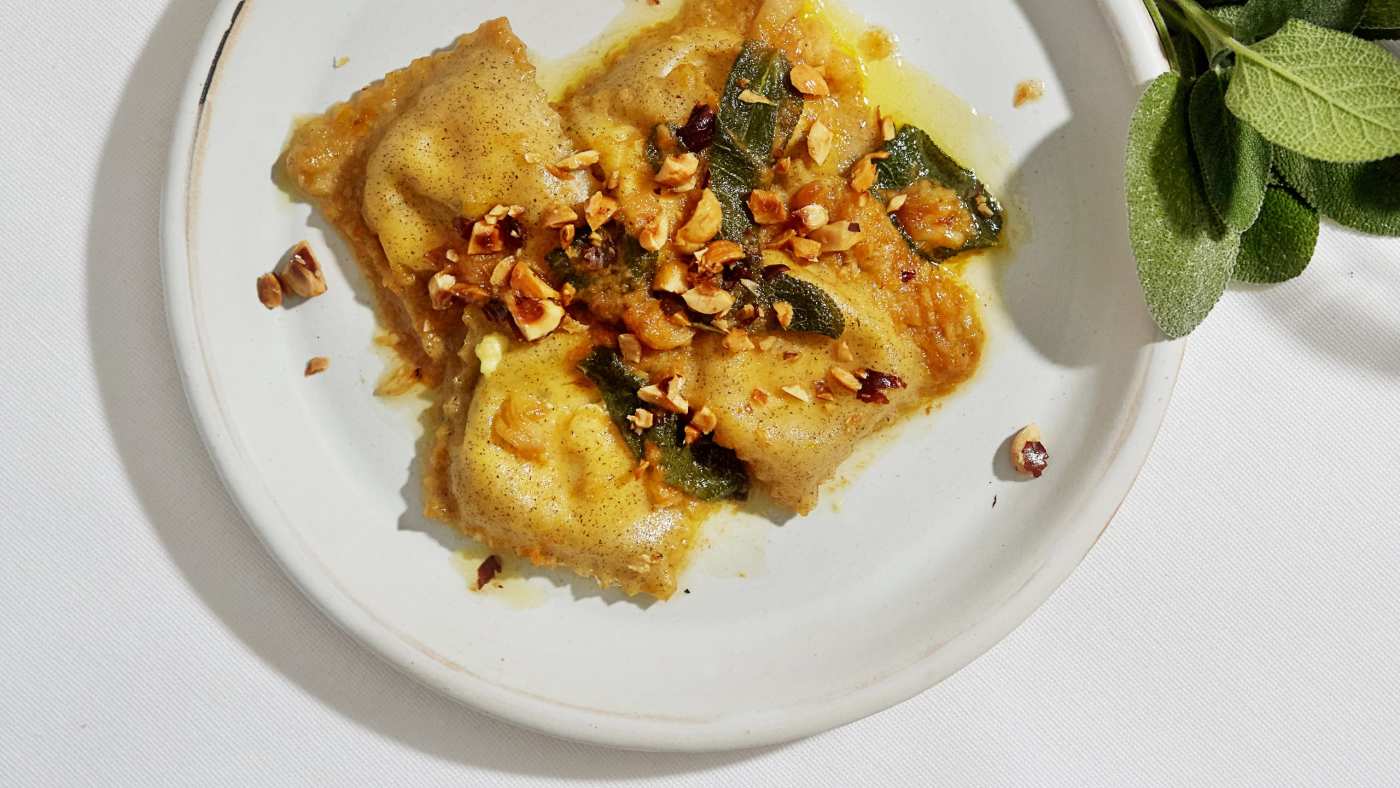 Ricotta Ravioli with Roasted Garlic
Prep Time:
1 hour
Cook Time:
20 min
About This Recipe
In this recipe we're taking our standard 1 egg per 100g of flour ratio and swapping in a little buckwheat flour for added flavor, nutrition, and a nice, speckled appearance. The sauce is barely a sauce, but the whole is more than the sum of its parts; the combination of sweet garlic, earthy sage, bright orange peel, and rich, crunchy nuts adds up to a powerful result.
The Benefits
Buckwheat adds significant nutrients to the pasta, including the flavonoids rutin and quercetin. Garlic and olive oil are two of the pillars of the famously longevity-promoting Mediterranean diet, and hazelnuts add protein and omega-3 fatty acids.
Equipment: Digital scale to weigh the eggs
Ingredients
Sauce
1 head of garlic
Sprinkle of thyme
1/4 cup (38 g) hazelnuts, coarsely chopped
2 Tbsp (30 ml) olive oil
1/4 cup (6 g) sage leaves
1 tsp orange zest
Wine or water for deglazing the pan
1 tsp cider vinegar
Filling
1/2 lb (225 g) ricotta
1 egg yolk
1/4 cup (25 g) grated parmesan
1 Tbsp (2 g) chopped parsley
1 tsp fresh thyme
Salt
Freshly ground black pepper
Pasta
3 eggs
Water
2 cups plus 2 Tbsp (270g) all-purpose flour
1/4 cup (30 g) buckwheat flour
Directions
Step 1

Make the pasta dough: Weigh the eggs and add enough water to bring the total to 185 g. Whisk gently to combine. Combine the flours in the bowl of a stand mixer, add the egg mixture, and mix for a couple of minutes to bring everything together into a ball. Wrap and rest the dough for an hour or up to overnight.

Step 2

Meanwhile, make the sauce: Heat the oven to 350˚F/180˚C. Cut through the top of the head of garlic so that you can see the tip of each clove. Put the garlic on a square of aluminum foil, drizzle it with a little olive oil, sprinkle in a little thyme, and make a little bundle. Roast until the head is browned and very soft, about 45 minutes. Remove and let cool.

Step 3

Toast the hazelnut pieces in a dry pan over medium heat, stirring constantly, until they begin to brown, 5 or 6 minutes. Transfer the nuts to a bowl. Heat the olive oil in the same pan, followed by the sage leaves. Cook the sage leaves over medium heat until they darken and wilt, about 1 minute, then squeeze in the whole head of garlic, mashing up any large pieces and combining with the sage. Add the orange zest, stirring it in, and cook for another minute or so. Deglaze the pan with a little white wine or water with a teaspoon of cider vinegar added. Turn off the heat and set aside.

Step 4

Put the pasta dough back in the stand mixer and knead for 5 minutes. Put the dough on the counter, lightly floured if need be, and knead for another minute or 2 until very smooth, supple, and pliable.

Step 5

Cut the dough into 4 pieces. Cover 3 of them and run the other through the pasta roller at the widest setting, folding and repeating the process at this setting a few times until the sheet is rectangular and very smooth. Run the dough through increasingly narrower settings, stopping at the fifth widest. Cut the sheet in half if it's too long to easily handle. Rest the sheets, covered lightly, while you get the filling together, and don't let them dry out.

Step 6

Make the filling: In a bowl, mix the ricotta, egg yolk, parmesan, parsley, and thyme. Season with 1/2 tsp salt and a few grinds of black pepper. Set aside.

Step 7

Make the ravioli: Lay out the sheets of pasta and brush them lightly with water (or the egg white you have left from making the filling). Using two small spoons, make mounds of filling at regular intervals on the pasta sheets, then cover them with the top (parsley) sheets, using your fingers to make a tight seal and press out any air bubbles. Use a knife, fluted pastry wheel, stamp, or tray-style ravioli maker to cut your ravioli, then place them on a floured baking sheet until you're ready to boil them.

Step 8

In a large pot of salted boiling water, boil the ravioli for a minute or two; when they float, they're done. Use a spider or slotted spoon to remove them directly to the serving plates. Turn the heat back on under the sauce, add a ladle of the pasta cooking water, and stir well to make a nice fluid sauce. Let it cook until heated through, then spoon it over the ravioli. Garnish each plate with the hazelnuts and serve.
Substitutions: Filled pastas are effectively infinite; they contain multitudes. Ricotta is a common filling, but all manner of other cheeses and cooked vegetables can work beautifully. Use what you have!
Level Up: Try your hand at agnolotti instead of ravioli.
Zero Waste: Parsley stems are great in pestos and stocks.