Orecchiette with Roasted Radicchio
Prep Time:
40 min plus resting time
Cook Time:
40 min to 1 hour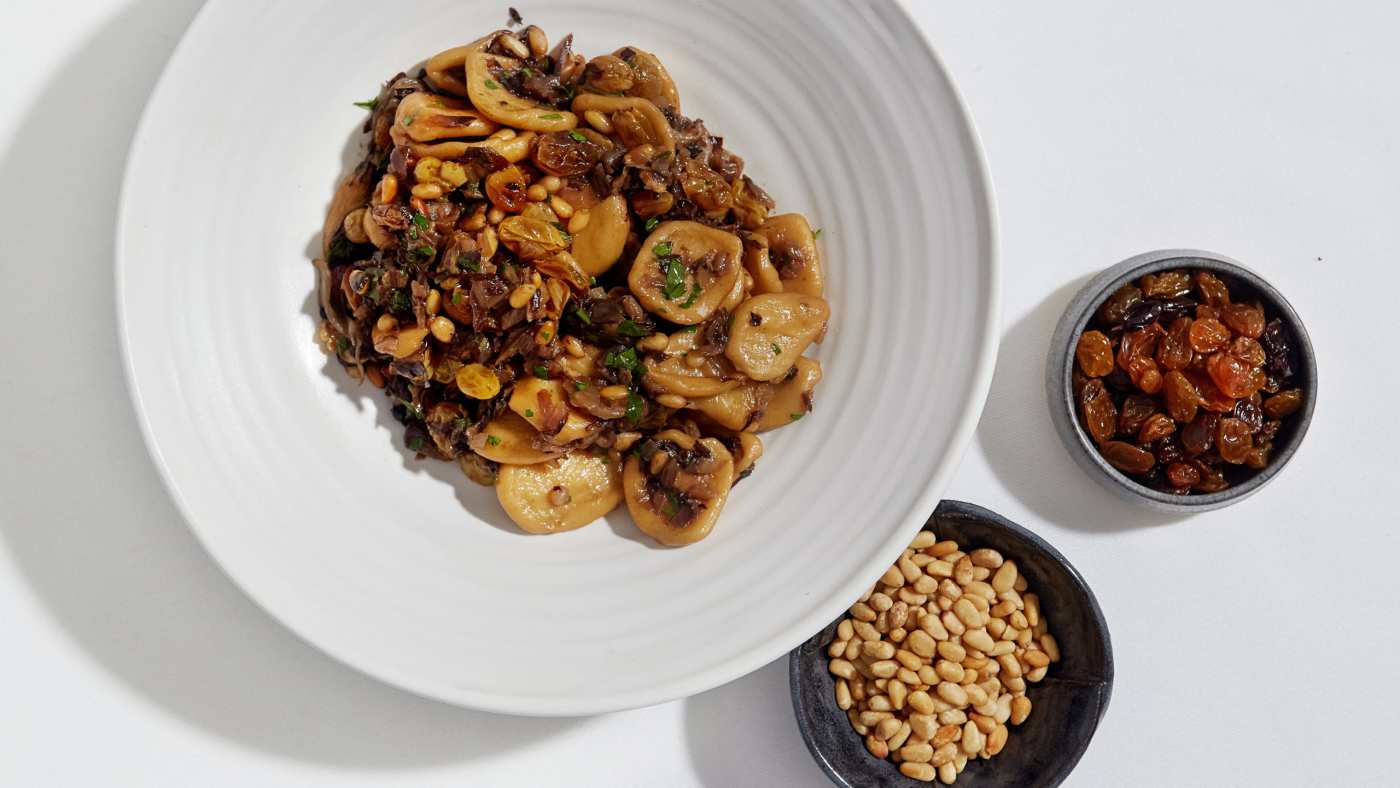 Orecchiette with Roasted Radicchio
Prep Time:
40 min plus resting time
Cook Time:
40 min to 1 hour
About This Recipe
Orecchiette are a shape most often seen in Apulia, the heel of Italy's boot. The high percentage of gluten in semolina flour — made from durum wheat — makes it ideal for eggless pasta. Most of the dried pasta you find at the store is made this way, with just semolina and water. Once you've gotten the hang of this 50/50 semolina and all-purpose flour mixture, try doing it with all semolina.
The Benefits
Durum wheat (semolina) is high in protein and both soluble and insoluble fiber for promoting gut health. Fiber-rich radicchio gets its gorgeous color from anthocyanins, and the pine nuts and raisins add still more protein and fiber. Using roasted vegetables to "sauce" your pasta like this is an excellent way to get more of them into your diet.

Note: Some semolina flour is too coarse to work in pasta dough. Be sure to look for the word "rimacinata" on the label, meaning "re-ground." That's what you want for this.
Ingredients
1 cup (175 g) semolina flour
1 cup (125 g) all-purpose flour
1 cup (240 ml) water
1 head radicchio, quartered lengthwise, core left intact
Extra-virgin olive oil
1/4 cup (40 g) pine nuts, toasted
1/4 cup (45 g) raisins, soaked in hot water for 30 minutes
1 tsp cider vinegar or lemon juice
Salt
Freshly ground black pepper
Directions
Step 1

Make the pasta: In a large bowl, mix the two flours together with a whisk or wooden spoon and add 3/4 cup (180 ml) of the water. Combine, adding more water if needed to make the dough come together. Wrap and rest for an hour, then knead for 5 minutes until the dough is smooth and supple. Rest the dough again (if time permits) for half an hour to let it relax.

Step 2

Cut the dough into pieces and roll them out into snakes about 1/2-inch (12 mm) thick. Cut the snakes into segments about 1-inch (2.5 cm) long and use a butter knife blade to push down on the dough while pulling back toward you, curling the dough around the blade. Open up the curl and place each piece on a floured baking sheet.

Step 3

Make the radicchio sauce: Heat the oven to 375˚F/190°C. In a bowl, toss the radicchio quarters in olive oil to coat them, lay them on a baking sheet, and roast them for about an hour, turning them to another cut side about halfway. You want them to be nicely caramelized. Remove them, let them cool a little, and then cut them into chiffonade.

Step 4

Put the radicchio in a pan with the pine nuts, raisins and their soaking liquid, and the vinegar. When the pasta is done cooking, add it to the pan, over medium-high heat. Toss the mixture well and add a ladle of pasta cooking water to make an emulsified sauce. Taste for seasoning and serve.
Substitutions: Almost any roasted vegetable could work here instead of radicchio
Level Up: If you leave your orecchiette unopened, you've got cavatelli, another popular shape in Southern Italy
Zero Waste: Leftover roasted radicchio makes a great side dish simply chopped and tossed with the other sauce ingredients