Potato Pickle
Prep Time:
5 min
Cook Time:
15 min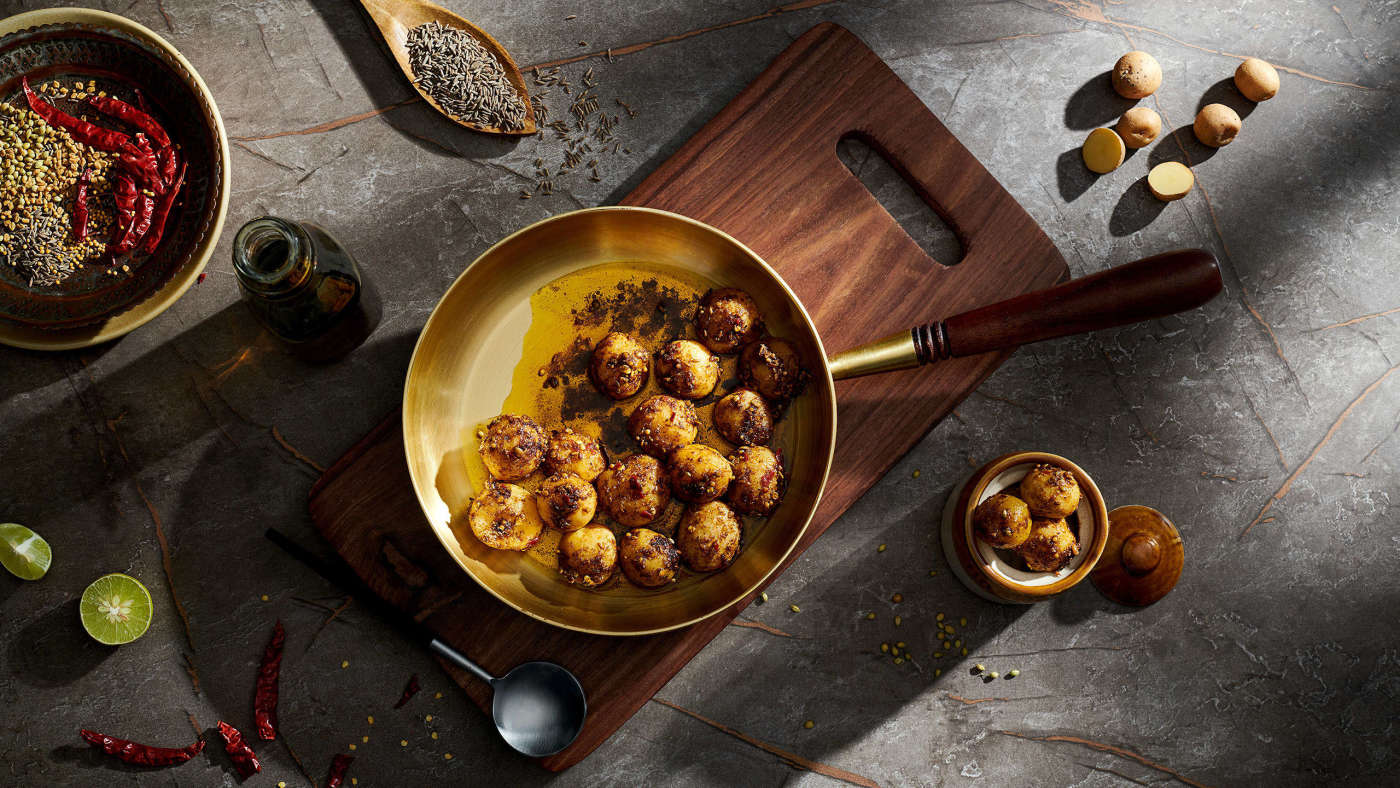 Potato Pickle
Prep Time:
5 min
Cook Time:
15 min
About This Recipe
Potatoes are a staple pantry item in Indian households, appearing in gravies, stir-fries, and even biryani. Depending on the pairing, these culinary chameleons complement and supplement many dishes. Since potatoes are available all year round, they're an ideal ingredient for an instant pick-me-up pickle that you can serve with any dish for that something extra. And though these tubers get a bad rap for their starch content, there's no reason they can't be part of a nutritious, balanced meal when prepared correctly.
The Benefits
Potatoes are versatile complex carbohydrates: high in fiber, vitamin C, and potassium. A cooked and cooled potato also provides high-quality starch, known as resistant starch, which can help manage blood sugar (when consumed in moderation and skin kept on) and is an excellent prebiotic.
Ingredients
1 pound (450 g) baby potatoes
1 tsp yellow mustard seeds
1 tsp coriander seeds
1 tsp cumin seeds
½ tsp methi (fenugreek) seeds
4-5 dried Kashmiri red chiles
3-4 Tbsp (50 ml) cold-pressed mustard oil
Juice (20 ml) of 1 medium lime or lemon
2 Tbsp amchur (dried mango powder)
1 Tbsp Indian black salt or coarse, unrefined sea salt
Directions
Step 1

Boil the potatoes in salted water until tender, about 8 to 10 minutes. Dunk the potatoes in ice-cold water and gently pull the skin off the spuds.

Step 2

In a small pan or skillet, toast the mustard, coriander, cumin, and red chiles on medium heat, stirring occasionally, until the mustard seeds begin to pop and crackle, about 2 minutes. Allow the spices to cool, then coarsely grind them in an electric grinder or in mortar.

Step 3

Toss the crushed spices in a medium glass or wooden mixing bowl. Add the oil, lemon juice, amchur, and salt. Mix well. Add the potatoes and give a gentle but good shake to coat with masala. Let the mix rest for at least an hour before serving. Refrigerate in a glass jar for up to a week. Stir the contents from time to time for even curing.
Substitutions: Use regular-sized or sweet potatoes instead; cut them into bite-sized pieces.
Level up: : For a mellower, deeper flavor, age the pickle for 24 to 48 hours. Cover the mouth of the jar with muslin or cheesecloth and leave it to rest undisturbed. Seal the jar and refrigerate for up to 10 days.