Curd Brine Pickle
Prep Time:
10 min
Cook Time:
0 min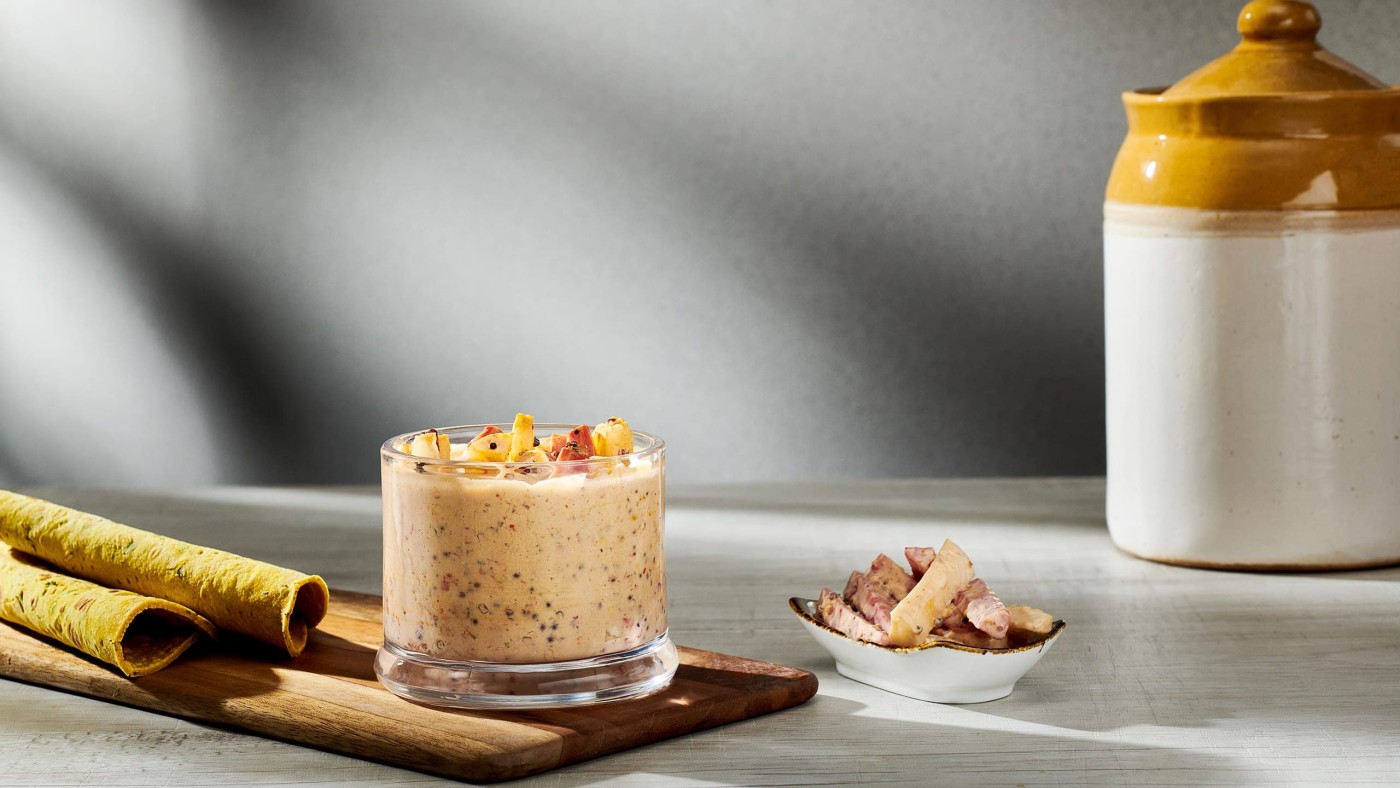 Curd Brine Pickle
Prep Time:
10 min
Cook Time:
0 min
About This Recipe
This yogurt brine pickle draws inspiration from a potent South Indian recipe, "mahali kizhangu thayir urugaai" or tender Indian sarsaparilla roots pickled in yogurt brine, a winter delicacy in some Tamil communities. The pickle brine is similar to the popular Indian kanji, except it is made with dahi (yogurt) instead of water. The result is a sharp, pungent pickle with an intense aroma typical of fermented dairy.
The Benefits
Carrots and radishes are full of vitamins (C, B6, D, E and K), minerals, fiber, and powerful antioxidants. Beta-carotene, which gives carrots their bright orange hue, converts into vitamin A (retinol), which is crucial for eye and skin health. Additionally, minerals such as potassium, calcium, and the unique bioactive compounds in radishes support gut health and improve diabetes and cardiovascular diseases. Dairy yogurt is full of probiotics and packed with calcium, phosphorus, potassium, protein, and B and D vitamins, which benefit bone and heart health.
Ingredients
½ Tbsp (5 g) black mustard seeds
4 Kashmiri red chiles, broken
1 Tbsp (15 ml) lemon juice
1/2 cup (120 g) dahi or yogurt
A pinch of asafetida
1 Tbsp (16 g) Indian black salt
1 medium (100 g) carrot, cut into thick batons
1 medium (100 g) radish, cut into thick batons
Directions
Step 1

Soak the mustard seeds and red chiles in lemon juice in a bowl for 10 minutes then coarsely pound the mixture in a mortar.

Step 2

Transfer the mixture to a large glass or ceramic mixing bowl. Add the yogurt, asafetida, and black salt. Mix well.

Step 3

Pour the mixture into a clean, dry glass jar, then add carrot and radish. Close the jar and shake well to coat the batons in the yogurt mixture.

Step 4

Cover loosely with a lid and place the jar in a cool, dry place for 24 to 48 hours. Taste for salt and spices; if the brine is too strong for your taste, dilute it with a spoonful of yogurt. Cover and refrigerate. This pickle keeps well for up to 1 month.