Nimbu Nimki
Prep Time:
8 min (plus 5 days resting time)
Cook Time:
0 min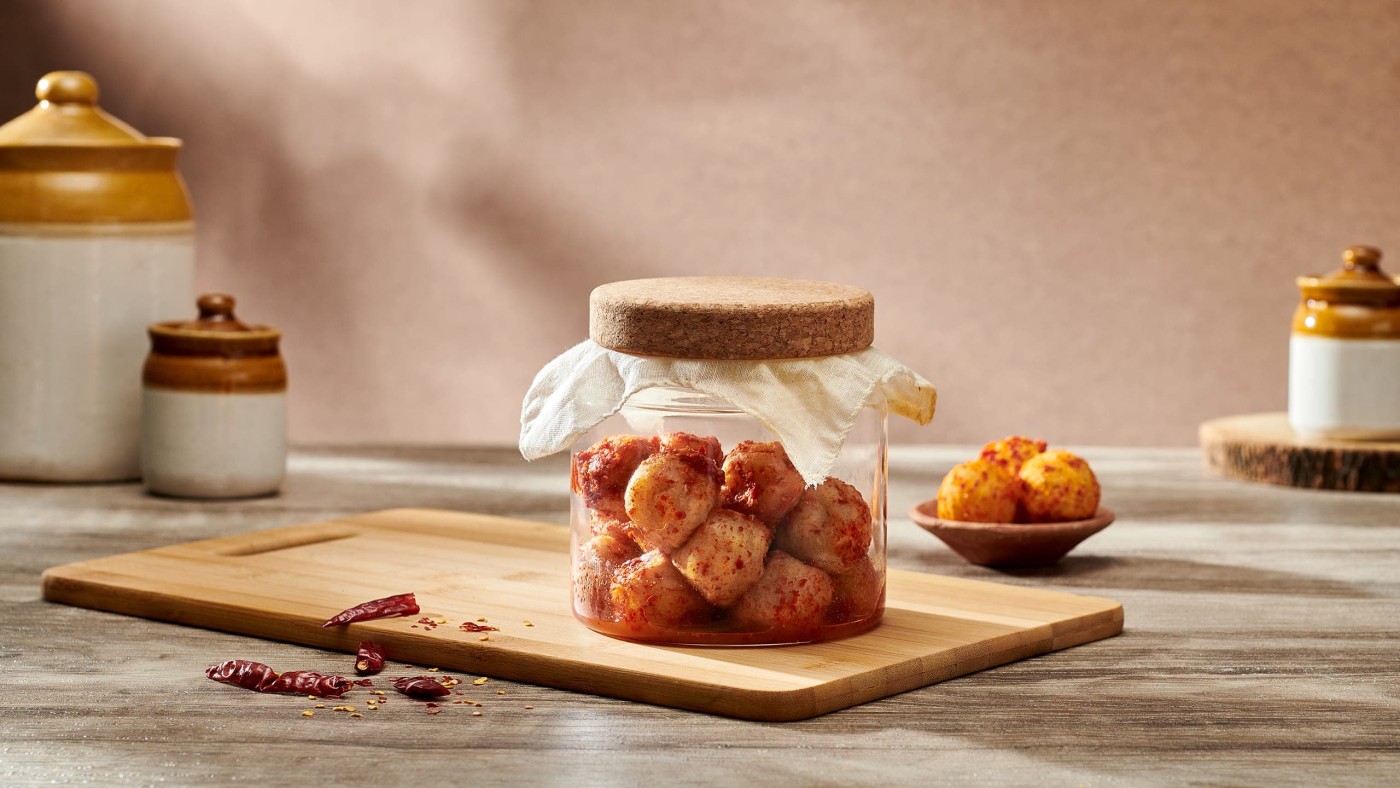 Nimbu Nimki
Prep Time:
8 min (plus 5 days resting time)
Cook Time:
0 min
About This Recipe
Lemon, salt, and patience are all you need to make a jar of delicious nimbu nimki. This mildly tart but intensely lemony pickle doubles as an Ayurvedic medicine for tummy troubles. I spent many summer holidays watching my mama (maternal uncle) transform Indian lemons into tart flavor bombs. He always made an extra jar with my name on it. For long road journeys, my mom always carried some in her bag for us to stave off motion sickness. It worked every time.
The Benefits
Lemons are rich in vitamin C and contain a fair amount of vitamin B6. Pickling preserves and enhances the natural bioactive compounds and antioxidants of the fruit. In India, both fresh and pickled lemons are used in traditional medicines such as Ayurveda and Siddha to treat cough, cold, vomiting, nausea, and inflammatory conditions.
Note: This recipe works with any fleshy, thin-skinned lime or lemon. Adjust the salt qualities according to size and weight; use enough to cover the fruits.
Ingredients
6 (300 g) nimbu (Indian lemons)
4 Tbsp (70 g) salt
½ Tbsp (3 g) coarsely ground dried red chiles (optional)
Directions
Step 1

Lightly zest the lemon rinds using a microplane grater. Prick the zested lemons with a thin wooden skewer or a toothpick. Put them in a glass bowl, cover with 2 Tbsp and let rest for 8 to 10 hours.

Step 2

Drain and transfer them to a clean glass jar. Add the remaining salt and the chile and mix well, ensuring the lemons are well coated in the salt-chile mix. Cover loosely using a lid or a cheesecloth. Leave the jar in a clean, dry place with ample sunlight to age for 4 to 5 days, or until the limes soften and are a deeper yellow. Give the jar a good shake from time to time so that the limes pickle evenly. Once the pickle is ready, seal it with a lid and store it in a cool and dry place. This pickle doesn't need refrigeration.
Substitute: Cayenne pepper instead of ground red chiles.
Try It With: Try it with moong dal khichdi.
Zero Waste: Save the zest to use in cakes and other bakes. Either freeze or dry it at room temperature until all the moisture evaporates, and store it in an airtight container.