Muttar Mushroom Masala
Prep Time:
20 min (plus 35 min for the cashew cream)
Cook Time:
45 min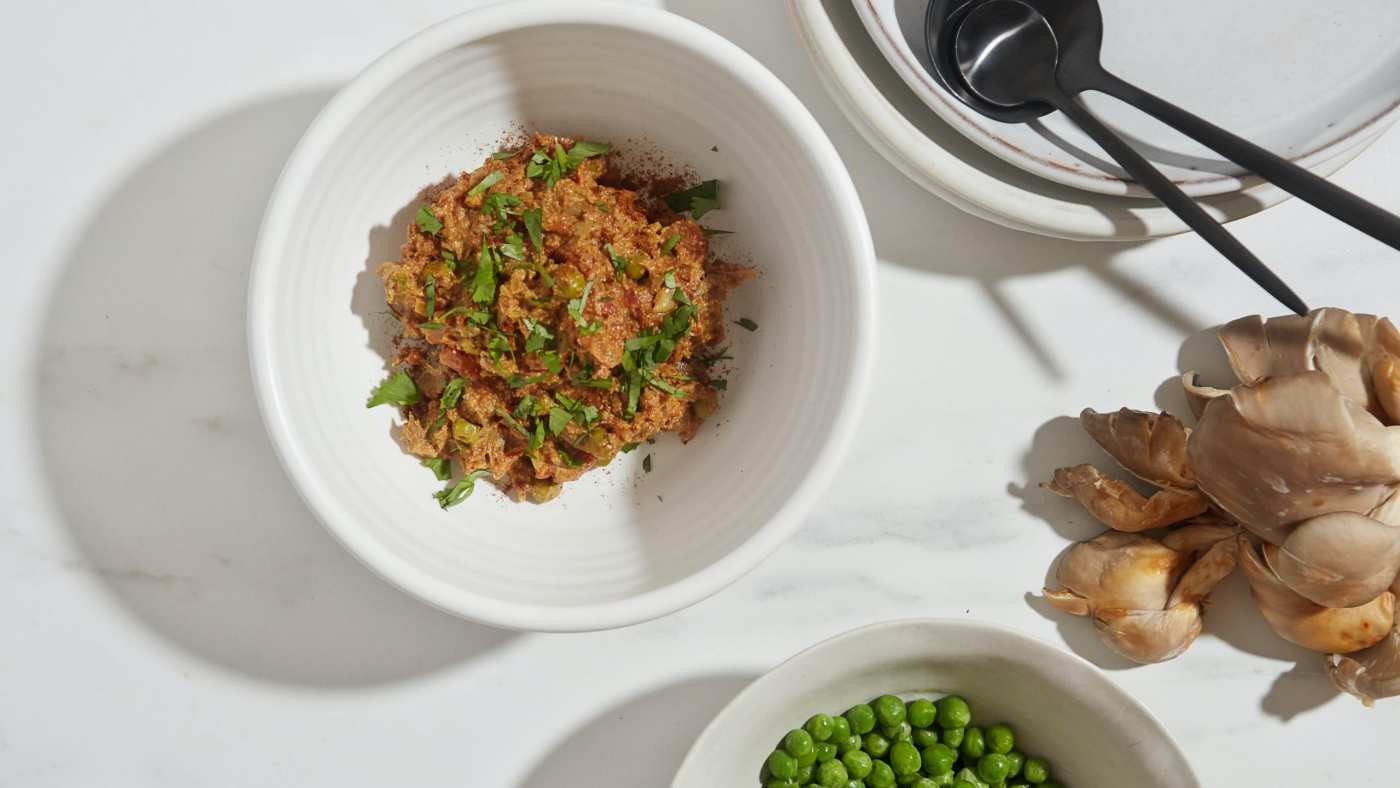 Muttar Mushroom Masala
Prep Time:
20 min (plus 35 min for the cashew cream)
Cook Time:
45 min
About This Recipe
Recent meta-analysis of several studies showed that those who ate 18g of mushrooms daily (less than 1/4 cup!) had a 45% reduced relative risk of cancer than non-mushroom eaters. WHOA. This effect might be due to antioxidants such as ergothioneine in mushrooms, with maitake, oyster, and shiitake having higher amounts than cremini or white mushrooms. More reason to enjoy mushrooms often.
The Benefits
Mushrooms are packed with mega nutrients and tomatoes are rich in lycopene that is an antioxidant. Carrots have vitamins A, K1 good for healthy hair and skin. The vitamin-rich ground spices and aromatics make this a nutrient-dense dish.
Note: To make the cashew cream, soak 1 cup of raw cashews with 1 cup of boiled water for 30 minutes. Strain the cashews but reserve the water. In a blender or food processer, puree the cashews, adding as much water as needed, until the mixture is smooth and the consistency is a little thinner than peanut butter. Makes about 2 cups (230 g).

Ingredients
2 cups

(155 g)

chopped mushrooms

2 cups

(435 g)

chopped tomatoes with juices

1 cup

(133 g)

fresh or frozen peas

1

finely chopped onion

2 Tbsp

(30 ml)

avocado oil

3 or 4

garlic cloves, minced

1 tsp

minced ginger

1½ tsp

ground cumin

1½ tsp

ground coriander

1 tsp

garam masala, plus more for garnish

½ tsp

turmeric

Pinch

of red chile powder

Salt

for seasoning

Freshly

ground pepper

½ cup

(60 g)

cashew cream (see Note)

Fresh

chopped cilantro for garnish
Directions
Step 1

Heat your oven to 400°F/200°C. Put the chopped mushrooms, tomatoes, peas, onion, avocado oil, garlic, ginger, cumin, coriander, garam masala, turmeric, and chile powder in a 2-quart baking dish. Add a pinch of salt a few grinds of black pepper and mix everything well.

Step 2

Bake in the oven until the tomatoes release their juices, the juices start to bubble and thicken, and any mushrooms on top will start to brown slightly, about 30 minutes.

Step 3

Remove from the oven and mix in the cashew cream. Return to the oven and bake until the juices are bubbly, about 10 minutes. Sprinkle the top with fresh cilantro and a dusting of garam masala and serve immediately.