Mushroom Korma
Prep Time:
5 min
Cook Time:
45 min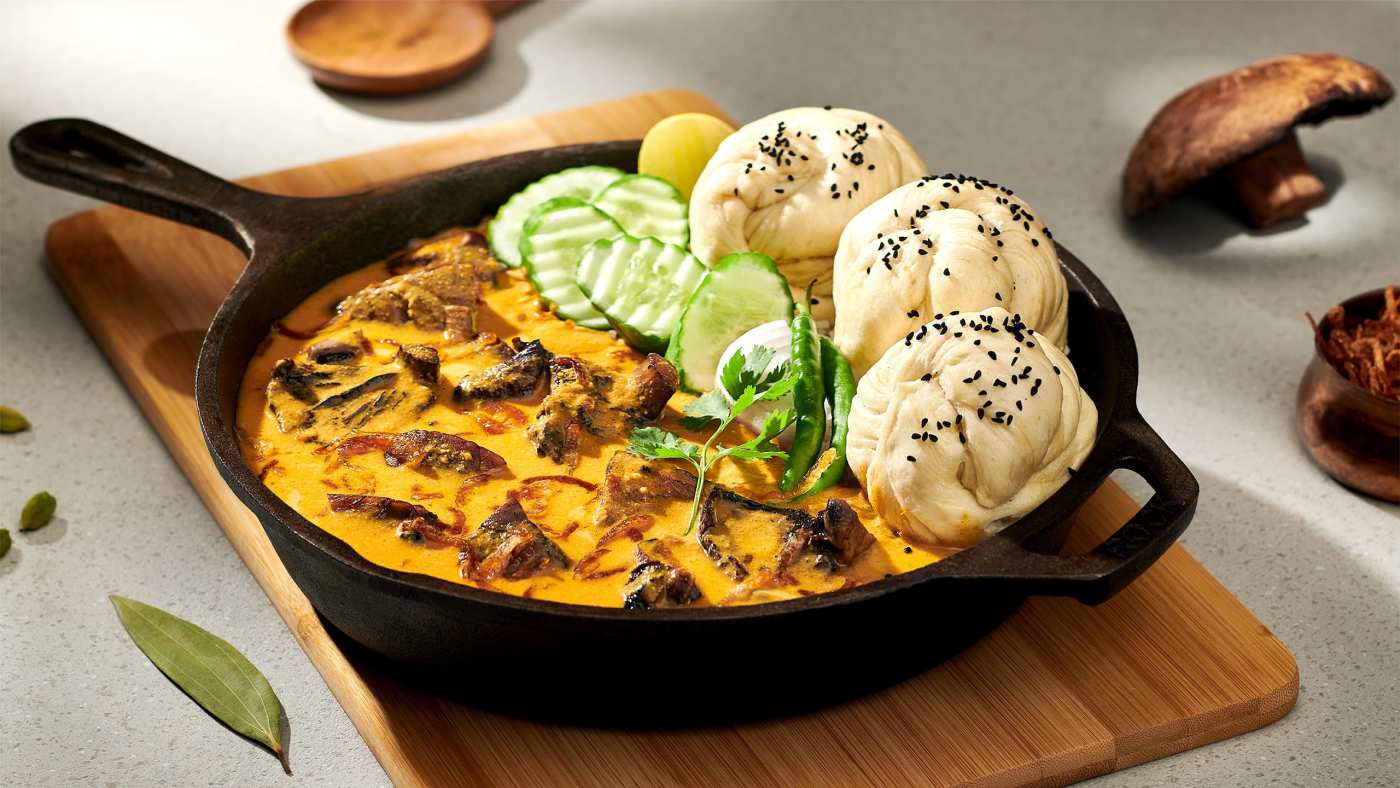 Mushroom Korma
Prep Time:
5 min
Cook Time:
45 min
About This Recipe
As a teen, if I ever willingly stayed home while my parents entertained guests, it was to eat korma. Suffused with aromatic spices, creamy (but never greasy!), and mild, it's hard not to love this decadent Indian gravy. Remarkably nutrient-dense with the goodness of dahi (yogurt), seeds, and nuts, this korma gets a hint of sweetness from raisins rather than sugar. And while traditionally, the stew features braised chicken or meat, my favorite is a version with mushrooms. I love finishing korma with a dash of kewda (pandan flower essence), a magical floral potion.
The Benefits
Spices contain antimicrobial compounds that can help keep our food from spoiling and benefit our immune system too. These antimicrobial effects are enhanced when combined with ginger and garlic. Korma is rich in calcium thanks to the yogurt, while the nuts and seeds add heart-healthy omega-3s and other good fats. Mushrooms are the tastiest source of fiber — fiber with umami! They also pack in protein and vitamin D, making a balanced meal when paired with carbs.
Note: Chef's tip for washing mushrooms: Fill a large bowl with water. Following the ratio of 1:5 of wheat flour to mushrooms, add 100g of wheat flour for this recipe. Soak the mushrooms for 5 minutes. Rub gently with your fingers under running water to wash away the dirt and grime. Clean under the cap, too. Air-dry the mushrooms before cooking.

Ingredients
Groundnut oil or any neutral oil for frying
4 to 5 (300 g) medium red onions, sliced thin
1 Tbsp (20 g) broken cashew nuts
1 Tbsp (20 g) melon seeds
Handful of raisins
2-3 green chiles, slit vertically
1 Tbsp ghee
1-2 bay leaves
4-inch-long cinnamon stick or cassia
5 green cardamom pods
1 tsp black peppercorns
3-4 cloves
1 Tbsp ginger-garlic paste
1 tsp ground turmeric
1 tsp ground coriander
1 tsp ground cumin
1 tsp red chili powder
1 cup (200 g) yogurt
500 g portobello mushrooms
Salt for seasoning
1 tsp garam masala
½ tsp kewda water (optional)
1 Tbsp (8 g) coarsely chopped cilantro
Directions
Step 1

To make the birista: Heat about 3 inches of oil in a medium iron kadhai or skillet over medium heat. Add the onions and fry to a light golden. Using a slotted spoon, remove the onions as fast as you can (sliced onions can quickly go from brown to burnt). Spread the fried onions on a large, paper towel-lined plate. Strain the oil and reserve.

Step 2

In a small saucepan, add the cashews and melon seeds, cover with water and bring to a boil. Drain and set aside.

Step 3

In an electric grinder or a blender jar, grind about a quarter of the birista with the cashews, melon seeds, raisins, and green chiles to a smooth paste. Add water as needed to ensure a smooth consistency.

Step 4

In a medium kadhai, heat the ghee on medium-low. Add bay leaves, cinnamon, cardamom, black peppercorns, and cloves, and sizzle them for about a minute until aromatic. Add the ginger-garlic paste and sauté for a minute, until the raw pungent smell changes to a more mellow aroma.

Step 5

Pour the onion paste into the kadhai. Use a little water to rinse out any leftover paste from the mixer jar into the kadhai. Add the turmeric, coriander, cumin, and red chili and mix well. Partially cover and simmer on medium heat for 5 minutes, until the gravy begins to bubble.

Step 6

In a bowl, mix the yogurt with a spoon of the simmering gravy (this helps raise the temperature of the yogurt slightly so that it doesn't split on contact with hot gravy). Turn the heat to low, add the yogurt to the kadhai and mix well. Keeping the kadhai covered, simmer for 10 to 12 minutes, opening to stir frequently until you see a distinct layer of oil on top.

Step 7

While the gravy simmers, coat a grill pan with the onion-flavored oil reserved from earlier. Grill the mushrooms on medium-high heat for about 3 to 5 minutes on each side until they soften and brown. Note: On a busy day, you can skip this step and instead slice the mushrooms and add them soon after you add the ginger garlic paste (see Step 4).

Step 8

Add the grilled mushrooms to the gravy and simmer for 3 to 5 minutes. Adjust seasoning, add the garam masala powder, and stir in the kewda water, if using. Cook for 2 minutes to allow for flavors to assimilate, then turn off the heat. Serve warm, garnished with chopped fresh cilantro.
Substitutions: Swap portobello mushrooms for other varieties. Or add chicken, meat, paneer, tofu, cauliflower, broccoli, vadis or boris (sun-dried lentil dumplings)
Try It With: Rice, quinoa pulao, or steamed bread
Zero Waste: Use leftover oil from frying the onions as a seasoning to drizzle over soups or hummus or to knead bread dough