Mango Ginger & Date Chhundo
Prep Time:
15 min
Cook Time:
15 min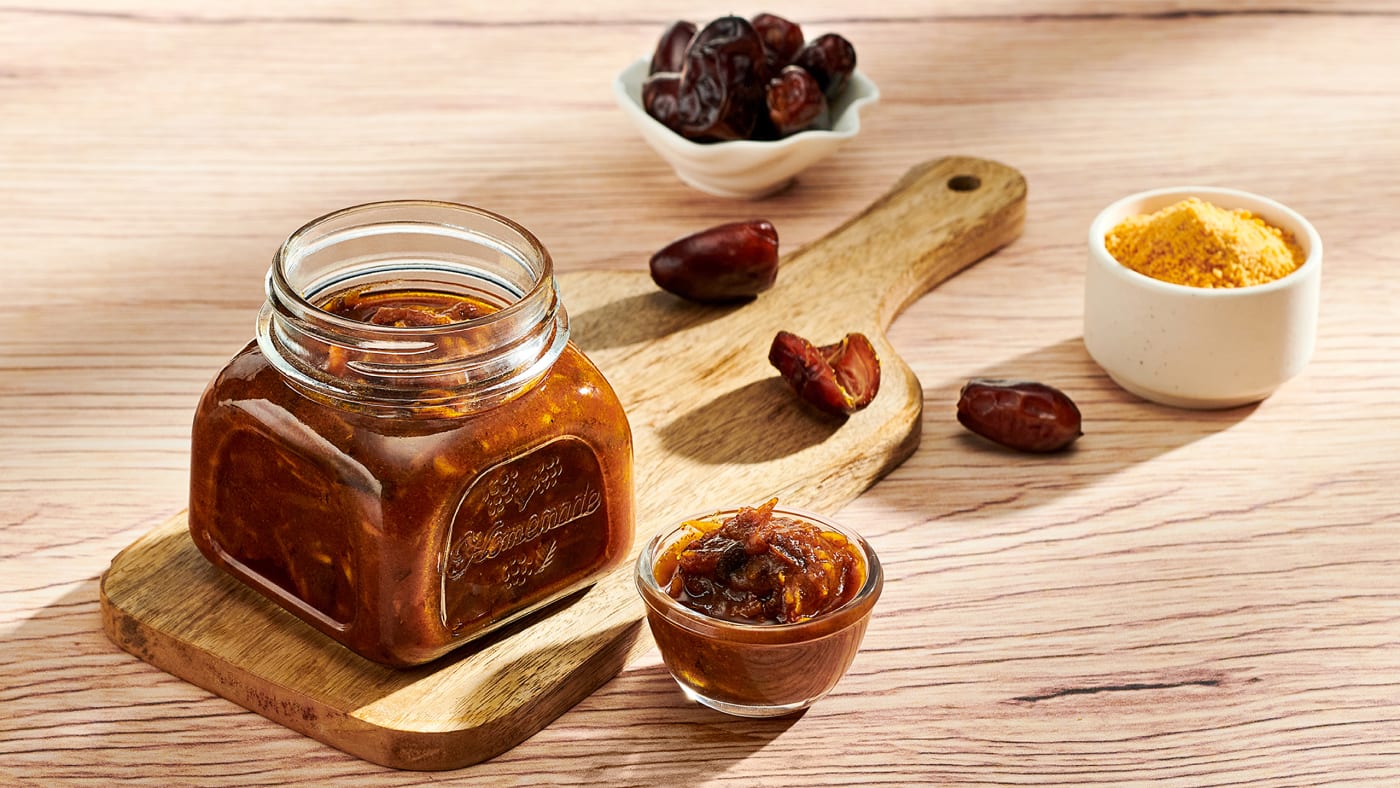 Mango Ginger & Date Chhundo
Prep Time:
15 min
Cook Time:
15 min
About This Recipe
I like chatpata — sweet and spicy — condiments over straight-up sweet or spicy ones. This combination of dates and amba haldi (mango ginger, a rhizome related to turmeric) pickled in a spiced jaggery syrup is an addictively piquant surprise. Pair a dollop of this antioxidant-packed relish with Indian meals, add it to salad dressings, or use it in marinades or sandwiches; you'll be impressed by the digestive benefits and satiety boost.
The Benefits
Mango ginger gives this pickle fiber, antioxidants, and a whole lot more. The rhizome packs in the digestive benefits of both ginger and turmeric (curcumin), plus a couple of its own. Specifically, it is rich in the enzyme enterokinase, which can aid digestion by breaking down proteins into smaller organic compounds. Dates and jaggery replace refined sugar, giving you a slightly more complex and nutrient-dense profile, but keep in mind that this is a condiment, not a dessert sauce.
Note: Anti-caking additives in table salt can discolor jams and pickles over time. Use any unrefined sea salt instead. Depending on the type of salt you use — Indian black salt, sel de mer, Maldon — adjust the quantity to taste.
Ingredients
2 cups (400 g) amba haldi (mango ginger), peeled and grated
1 cup (200 g) seedless dates, quartered lengthwise
1 cup (200 g) crushed jaggery
½ cup (175 ml) water
1 tsp Kashmiri chili powder
1 tsp cumin powder
½ tsp turmeric powder
1½ tsp coarse, unrefined sea salt
Directions
Step 1

Combine the mango ginger, dates, and jaggery in a large, deep saucepan. Cover with water, mix, and let it sit for 10 to 15 minutes until the jaggery melts.

Step 2

Cook the mixture on high heat, stirring continuously, until the ingredients soften and the liquid is reduced to half and coats your spatula, about 8 to 10 minutes.

Step 3

Lower the heat, add the chili, cumin, turmeric powders, and salt. Simmer for 6 to 8 minutes, stirring often, until you have a jammy chutney. Turn off the heat and allow the chhundo to cool down to room temperature. Transfer the pickle to an airtight glass jar. Refrigerate for up to 4 weeks. Use a clean, dry spoon to serve the chhundo.
Substitutions: Use a combination of cayenne pepper and smoked paprika instead of Kashmiri chili powder.
Try It With: Devilled eggs, raw papaya salad, multigrain beet rotis or methi thepla, a Gujarati flatbread where the dough is kneaded with methi greens.