Endive & Cucumber Salad
Prep Time:
10 min
Cook Time:
0 min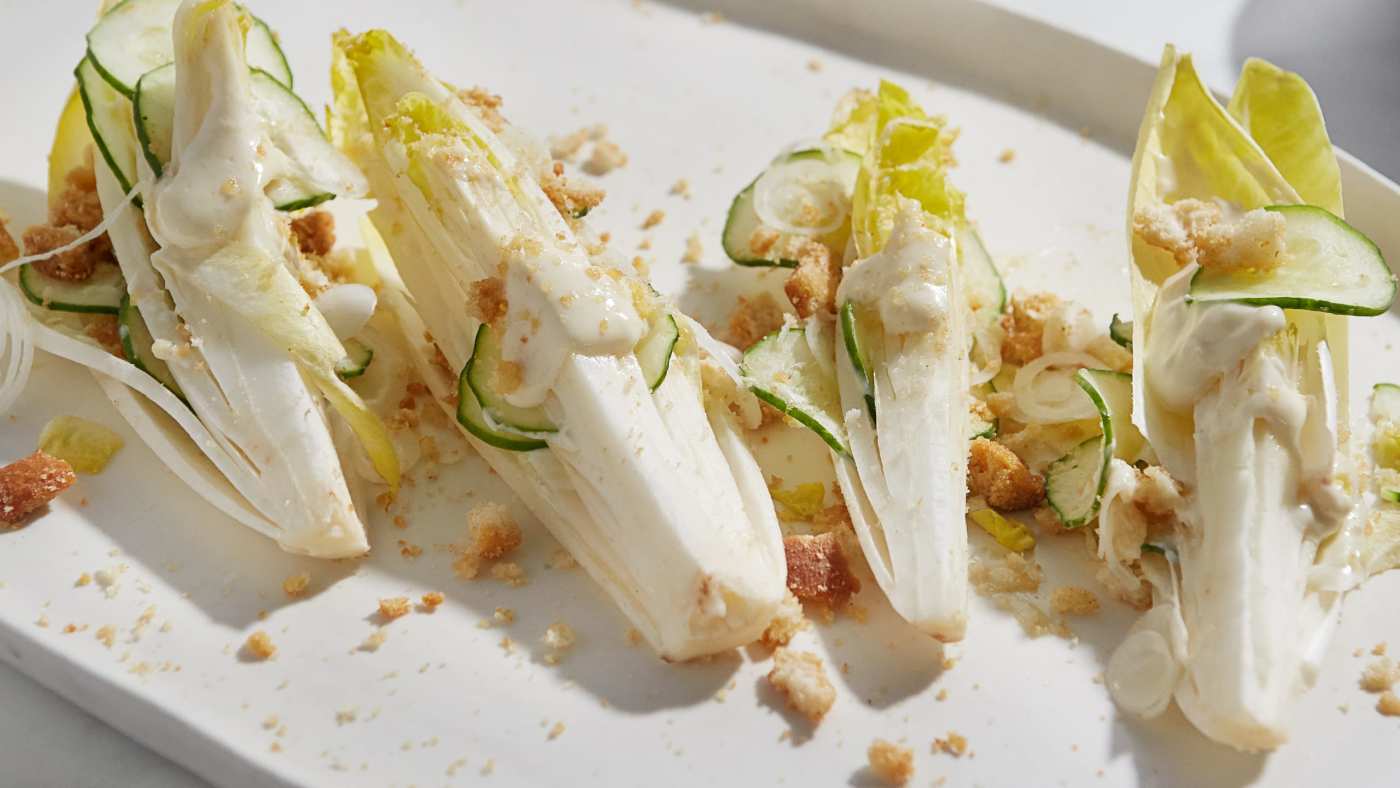 Endive & Cucumber Salad
Prep Time:
10 min
Cook Time:
0 min
About This Recipe
This version of a wedge salad uses strong flavors to play off the gentle bitterness of the chicory. By leaving the endive cores intact, you can spread dressing between the leaves without breaking them apart.
The Benefits
The soluble fiber in lemons, which resides in the pulp, is beneficial to your gut health. Lemons are also loaded with vitamin C and antioxidants, and the endive supports liver function and bone health.
Note: This makes more dressing than is needed for the salad. Store any leftover dressing in a covered container in the refrigerator for up to 3 days.

Ingredients
Dressing
1 cup (220 g) Veganaise
3 Tbsp (45 ml) lemon juice
1/4 tsp smoked paprika
1/2 cup (120 ml) neutral oil (such as avocado or grapeseed)
1 Tbsp (9 g) granulated garlic
1 Tbsp (9 g) granulated onion
1 tsp fresh garlic, minced
1/2 cup (15 g) chopped chives
Salt to taste
Salad
4 endives, quartered lengthwise
1 cup (105 g) thinly sliced cucumber (from about 1/2 cucumber)
1/4 cup (25 g) thinly sliced pearl onions
1 cup (60 g) crouton crumbles (croutons pulsed a few times in food processor)
Directions
Step 1

Make the dressing: Whisk all the dressing ingredients together in a bowl, then season to taste.

Step 2

For the salad: Spread the endive leaves apart in a salad bowl or on a serving plate, working some dressing between them and adding bits of cucumber, onion, and croutons between each layer. Spoon more dressing on top and garnish with the remaining other ingredients. Serve immediately.