Eggplant Satay
Prep Time:
15 min, plus soaking time
Cook Time:
20 min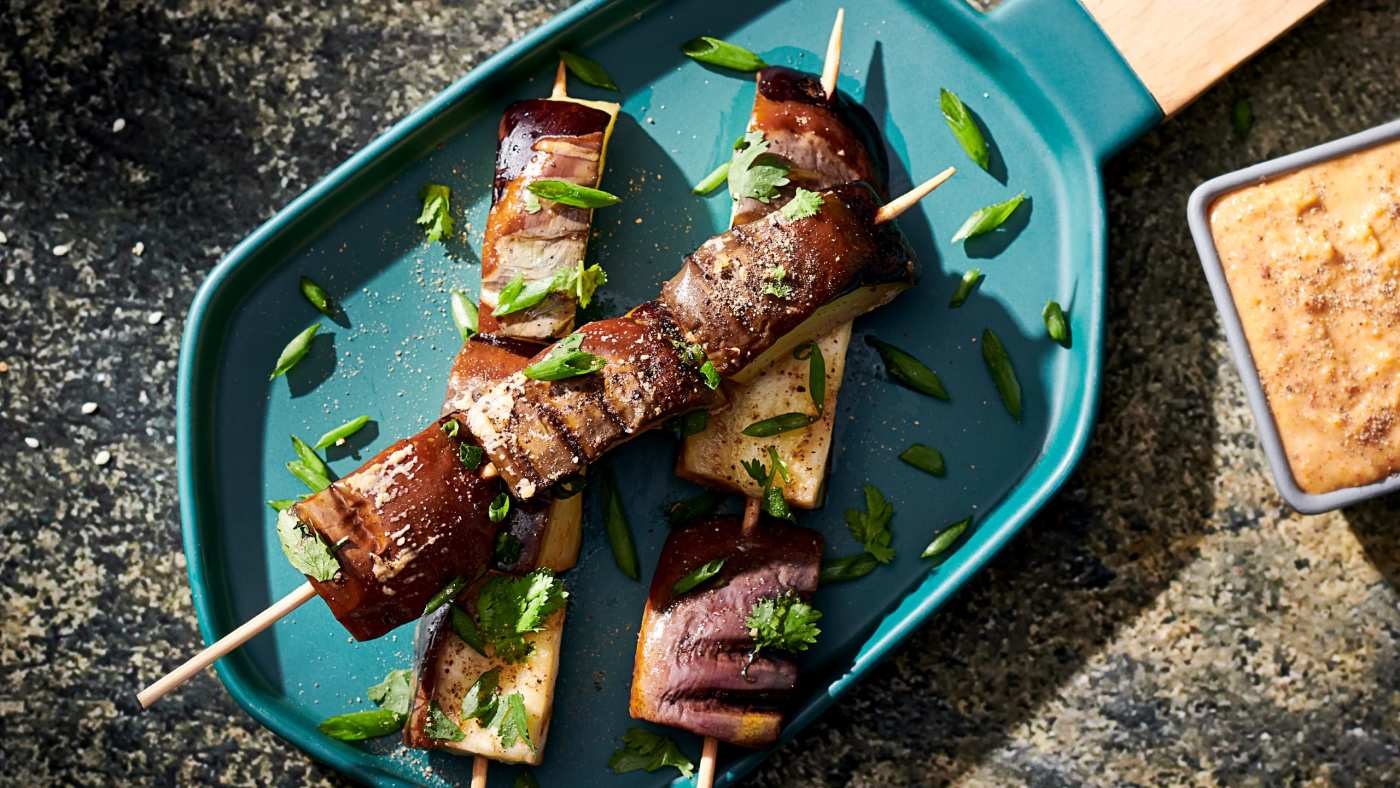 Eggplant Satay
Prep Time:
15 min, plus soaking time
Cook Time:
20 min
About This Recipe
In Ayurveda, the fiery katu rasa, or pungency, brings focus to digestion. According to the ancient Indian tradition, pungent, spicy foods stimulate appetite, aid metabolism, clear sinuses, and energize blood circulation. But food doesn't have to be "Indian" to follow Ayurvedic principles. While I call this recipe a satay, it's equally inspired by my love of Middle Eastern food, particularly tahini.
The Benefits
This veg satay is full of good fats that provide the body with heart healthy, antioxidant-rich compounds. The anthocyanins and polyphenols in eggplant may help reduce blood sugar and detoxify the body. Tahini, which is made of sesame seeds, is an energy-dense ingredient and a great source of stress-mitigating B vitamins, phosphorus, and manganese. It is also full of antioxidants, anti-inflammatory compounds, and may improve brain health.
Equipment: Blender; 5 to 6 wooden skewers, soaked in water for 30 mins before using to prevent them from burning; pastry brush
Note: You can get away with using about half the quantity of oil if using a non-stick pan.
Ingredients
1 large (about 400 g) eggplant
1½ tsp salt
2 Tbsp (30 ml) cold-pressed neutral cooking oil
6 Tbsp (90 g) tahini
½ cup (100 g) almonds, soaked overnight
2 Tbsp (20 g) local honey
2 tsp coconut aminos or miso paste
4 Kashmiri chiles, soaked for at least 10 minutes
1 tsp red chili powder (optional)
2 tsp lime juice
4 tsp (40 g) minced or grated ginger
¼ cup fresh coriander, chopped
2 Tbsp spring onions, finely chopped
½ tsp crushed black pepper
Directions
Step 1

Roast the eggplant on open flame — just about a minute on each side — to soften and slightly char the skin. This evens out the cooking time for the skin and flesh later. If you don't have a gas stove, skip this step.

Step 2

Once the eggplant is cool enough to handle, cut it into medium, bite-sized cubes. Rub salt and 1 Tbsp oil into the eggplant cubes. Skewer them, about 3 to 5 pieces on a stick, and set aside.

Step 3

Make the satay sauce: Grind tahini, almonds, honey, coconut aminos (or miso), Kashmiri chile, chili powder if using, lime juice, and ginger to a smooth paste in a blender. Adjust with a splash of water if needed, taste, and season with salt if required.

Step 4

Heat a griddle or thick pan on medium heat and brush the remaining oil over its surface. Brush this satay sauce over the eggplant skewers before pan-searing them on medium to low heat, with the pan covered. Every few minutes, turn them with tongs and brush with more satay sauce if needed. Cook for 10 to 13 minutes, or until the eggplant is cooked through.

Step 5

Take out the hot skewers and brush lightly with more sauce. Serve generously garnished with fresh coriander, spring onions, and a pinch of crushed pepper. Serve any extra sauce on the side, sprinkled with roasted black sesame seeds if you have them.
Substitutions: : This recipe uses almonds instead of peanuts, but use any ground nut you prefer for the sauce.