Coconut, Lemon & Red Rice Cupcakes
Prep Time:
30 min
Cook Time:
20 min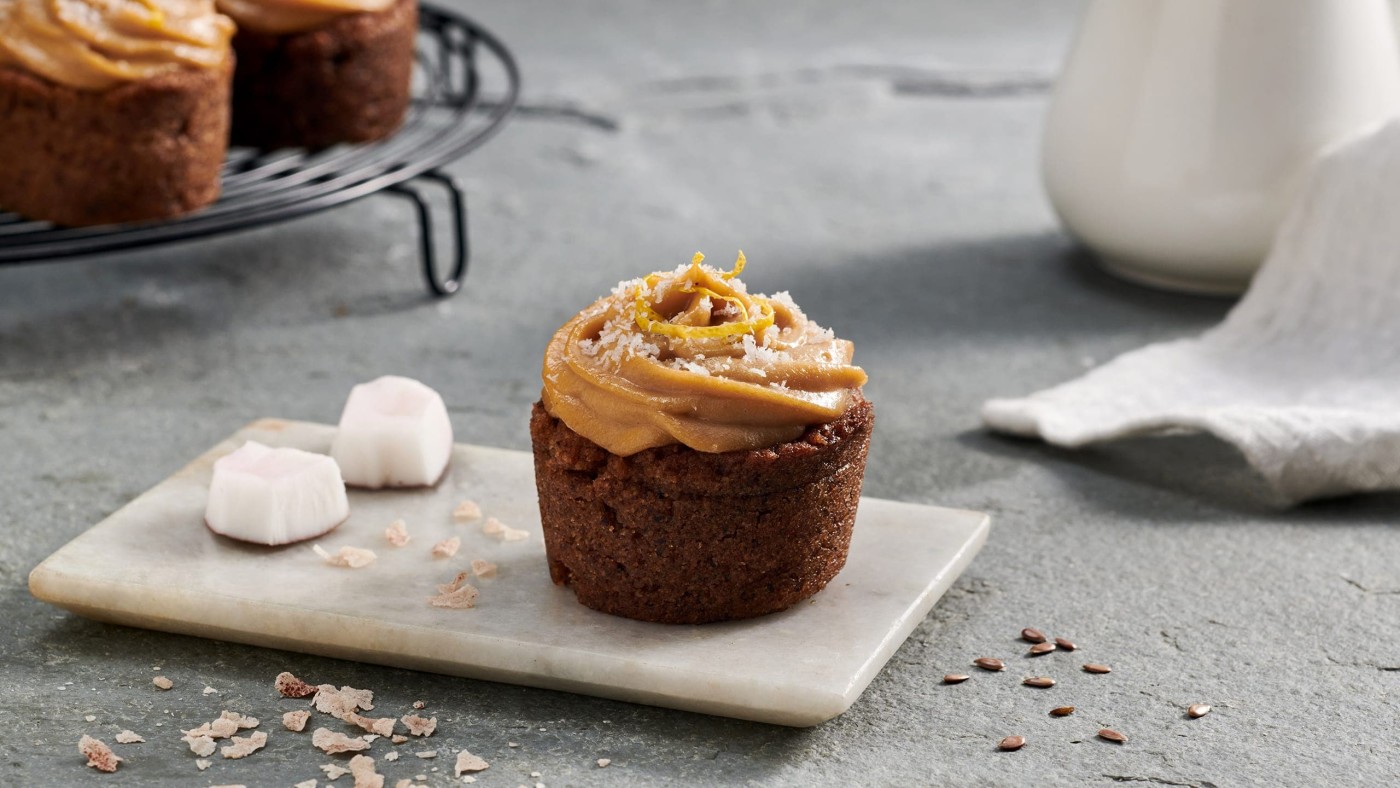 Coconut, Lemon & Red Rice Cupcakes
Prep Time:
30 min
Cook Time:
20 min
About This Recipe
Cupcakes conjure up happy memories of being surrounded by loved ones, at a time of celebration and emotional wellbeing. But with huge amounts of sugar, dairy, and refined flour, they can become a source of stress to the system. The good news is that making a delicious and nutritious cupcake is possible without overly refined ingredients. Incorporating cashew, coconut, and Indian red rice flour, this zesty, citrusy, tropical dessert is a fun introduction to vegan, gluten-free baking. Full of whole foods and good fats, this is a great recipe for kids, who will burn off the energy quickly. If you want a lower-calorie treat, leave off the vegan cashew cream frosting for a muffin version.
The Benefits
These cupcakes harness the anti-fungal, antibacterial, and cognition-boosting benefits of coconut. They also contain medium-chain fatty acids (MCFAs), which are readily converted into energy versus being stored as fat. With trace minerals, coconut sugar is a better alternative to refined white sugar. Red rice, which has higher protein and fiber content than white rice, contains flavonoid antioxidants — which can lower inflammation and help fight disease. Cashews are one of the best sources of monounsaturated fatty acids, essential amino acids, and magnesium. These nutrients aid in controlling blood pressure and cholesterol, and positively impact bone health, the immune system, and your metabolism.
Equipment: Muffin pan or silicone muffin molds
Ingredients
For the Cupcakes
2 Tbsp flaxseed powder
2 Tbsp water
4 Tbsp (50 g) coconut oil
6 Tbsp (60 g) coconut sugar
¾ cup (180 ml) coconut milk
½ tsp lemon juice
7 to 8 drops of high-quality lemon essential oil, such as doTerra
½ cup (80 g) red rice flour
½ tsp baking powder
¼ tsp baking soda
Himalayan pink salt
For the Frosting
1 cup (150 g) cashews, soaked in water for two hours
1/3 cup (80 ml) coconut milk
4 Tbsp cashew butter
4 Tbsp (40 g) coconut sugar
4 to 5 drops of high-quality lemon essential oil, such as doTerra
2 Tbsp desiccated coconut, plus more for sprinkling
1 tsp lemon zest, plus more for sprinkling
Directions
Step 1

Heat your oven to 340˚F/170˚C. Line a standard muffin pan with 6 cupcake liners or use silicone cupcake molds on a baking tray.

Step 2

Make your flax "egg." Mix flaxseed powder with 2 Tbsp of water and let it soak for 10 minutes.

Step 3

In a medium bowl, combine the coconut oil, coconut sugar, coconut milk, the flax egg, lemon juice, and 7 to 8 drops of the essential oil. Whisk until smooth.

Step 4

In another medium mixing bowl, sift in the red rice flour, baking powder, baking soda, and a pinch of pink salt. Stir until the dry ingredients are well-mixed.

Step 5

Slowly add the dry ingredients to the wet ingredients. Using a hand whisk, whisk for 1 minute until smooth. Do not over-beat the batter, or your rising agents will settle to the bottom.

Step 6

Divide the batter between the molds — do not fill to above ¾ of the way up. Bake for 20 minutes and check if a toothpick comes out clean. The cupcakes may take up to 25 minutes to be done. Remove the cupcakes from the oven and let them cool for half an hour.

Step 7

To make the cashew cream frosting: While the cupcakes are baking, add the soaked cashews to your blender and add a splash of warm water to help blend them into a smooth paste. Add the coconut milk, cashew butter, coconut sugar, and the essential oil. Blend again for about 2 to 3 minutes until it reaches a thick, creamy consistency. Gently stir in the zest and desiccated coconut. Cool the frosting in the refrigerator for 30 minutes.

Step 8

Spread the frosting on the cupcakes and sprinkle them with a bit of zest and coconut. If you want to use a piping bag, fix the nozzle, add the frosting to the bag and refrigerate for at least 30 minutes before using. The frosted cupcakes can be stored in the fridge for up to 3 days.
Substitutions: If you can't find coconut sugar, use organic jaggery or another natural sweetener of your choice.