DIALOGUE: Laura Fuentes
Article
7 mins
Healthy Eating
The health coach and busy mom on building a positive relationship with food early on for kids, making treats and desserts with vegetables and fruits, and the versatility of oats.
Health experts agree that it may not be realistic to avoid sugar or desserts through our whole lives, and demonizing sweets can be counterproductive, especially with children. Which is exactly why health coach and cookbook author Laura Fuentes decided to change tack. She approaches treats in a nutritious and mindful way while co-parenting her three children, hosting wellness workshops, and writing cookbooks.

Laura Fuentes's fifth book "Clean Treats for Everyone: Healthy Desserts and Snacks Made with Simple, Real Food Ingredients" is filled with more than 80 recipes, all made with easy to find, affordable ingredients. Looking for healthy, delicious, and easy-to-make desserts and snacks for children and adults alike? This is the book for you.
Fuentes chooses nutritious ingredients free of refined sugars, gluten, and processed foods. She takes a practical view that natural sweeteners like honey, maple syrup, and coconut sugar, which contain minerals and nutrients providing a balanced sweetness. Though they still should be consumed in moderation, as natural sweeteners impact blood sugar levels if eaten in large amounts.
In 2012, Fuentes founded MOMables, a company for sharing nutrition notes, recipes, and meal plans, health and mental wellbeing advice and programs, to inspire moms juggling busy lives and raising children. This development has been a pleasant, organic progression.
When she landed in the United States as a teenager from Spain, Fuentes spoke little English, but picked up speed and graduated college with a degree in Global Economic Relations followed by an MBA in International Business Development. Later, she left her job in the corporate world to raise her children with her husband. Soon, providing healthy and nutritious meals for a growing family took precedence. She admits that she's not a trained chef but taught herself to cook, and how!
Fuentes' recipes cover a wide range of desserts and snacks, including cakes, cookies, ice cream, and energy balls, making it easy to find something for every taste and occasion. She adds nutrient-dense ingredients like oatmeal, tapioca starch, fruits, vegetables, nuts, and seeds. The book includes tips and tricks to make treats with nutritional substitutions. It's a smart resource for anyone looking to improve their health and wellbeing without compromising on taste and satisfy their sweet tooth in a healthy manner.
Roundglass Food: Your book is called "Clean Treats for Everyone". What is the difference between clean treats and healthy treats?
Laura Fuentes: The word healthy means something different for everyone; this can be low-fat, low-carb, low-calorie ... it's relative to what each person's dietary needs might be. By using the word clean instead, the shift is on the quality of the ingredients that make up the recipes inside: simple and minimally processed.
RG: How do we navigate "sugar as the big evil" position with the association of sweetness and treats with happiness and joy in a mindful way?
LF: In moderation. Sugar is sugar, even the less refined forms in the recipes inside the Clean Treats cookbook. For this reason, I emphasized the word "treats" in the title as something to be enjoyed on occasion and give the person that feeling of joy and happiness we love from sweets.
RG: Adults offer kids sweets as treats and rewards early on. Should we rethink how we link treats to happiness since food habits are formed early on?
LF: It's important that parents not use sweet treats as a bribe or reward for a positive outcome such as eating veggies, performing well, or good behavior. Sweets are part of a joyful or fun experience and should stand alone as something families do — going to an ice cream shop, baking cookies, etc. By separating the two, treats and rewards, parents are also laying the foundation for building a positive relationship with food in the future.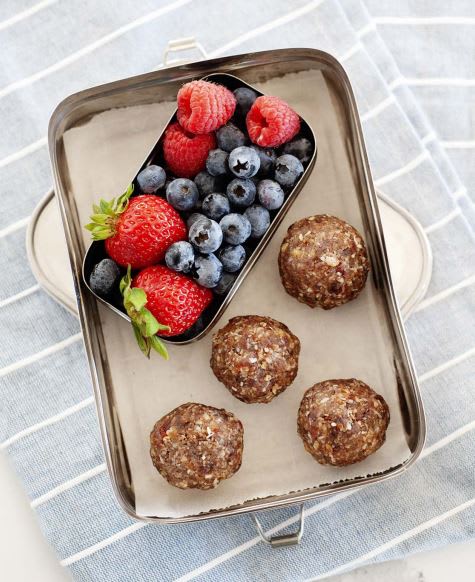 Carrot cake bites for your kid's lunchbox (Courtesy: Fair Winds Press)
RG: How easy is it to get your 3 kids to choose healthy treats over processed sugary food stuffs?
LF: At our house, our kids don't have to choose since traditional sugary foods are not forbidden. I simply don't buy them often. I also know that they are going to also enjoy these from time to time (at school, at celebrations, with their friends, etc) and go with that.
RG: Many times, alternatives or substitutes to sugar can be highly processed. What tips do you recommend to avoid this?
LF: If a person uses a sugar alternative or substitute due to health restrictions (diabetes, food allergies, etc), that's understandable, and if that needs to be done from time to time for them to enjoy a delicious brownie, then it's completely fine.
I suggest they avoid chemical substitutes such as aspartame, as many studies link this substitute to negative health risks. Instead, use something like stevia, which, although it's processed, it's derived from a natural ingredient.
RG: What are your favorite go-to ingredients for clean treats and what do you recommend we stock our pantries at home with?
LF: Oats, peanut butter, and chocolate. I can make delicious treats that hit the spot every time with any of these three. If I had to choose one, it would be oats. It's one of the most versatile ingredients in my pantry that is also nutritious.
RG: What's a mindful practice around cooking and eating that you follow?
LF: Weekly meal planning is the foundation of enjoying nutritious meals for myself and my family. The ingredients I need to make a variety of breakfasts, lunches, snacks, dinners, and one weekly treat, are all written in my shopping list so I can make good food choices throughout the week. I also enjoy listening to audio books while I food prep and cook our meals if I'm flying solo in the kitchen.
RG: What's a vegetable or fruit you'd like to encourage people to use for making treats?
LF: I love using zucchini in my baked goods, like the Chocolate Zucchini Bread in the "Clean Treats for Everyone" cookbook. It adds a lot of moisture without adding as much fat to the recipe and volume without having to use as much sugar. Of course, it also adds fiber and nutrition to any recipe.
RG: Do you have any nutrition concerns — what's your main concern, and how do you address it?
LF: I'm gluten intolerant, meaning I can consume it, but when I do, and in larger amounts, I experience significant digestive issues. Over time, I've learned to eat foods that are naturally free of gluten, which is why all the recipes inside the Clean Treats for Everyone cookbook are gluten-free and don't require the use of special flour mixes.
RG: What's the best reaction to "Clean Treats" you can share?
LF: "Wait, WHAT!? They're all GONE???" Gabriel, my son, learning we devoured the last of the Moon Bars from the "Clean Treats for Everyone" Cookbook.
DIALOGUE is an ongoing series of conversations about food & wellbeing.
The Benefits
Choosing natural foods over processed sugars
Baking with fresh ingredients and diverse whole foods
Address behavioral psychology linking sugar and sweets with rewards