End of Life Leaders gather to create the COVID Paper
More than 80 specialists from around the globe who deal daily with the issues of dying and grief have joined to develop new rituals and resources to honor those who die during the COVID-19 era and to aid the living as they grapple with the crisis.
The newly formed Virtual Funeral Collective has launched a new website called the COVID Paper - www.covidpaper.org, which features an extensive report, guides for laypeople and professionals and dozens of links to resources, with videos forthcoming. Topics range from dying alone to dispensation of the body to conducting funerals and memorials amid physical distancing.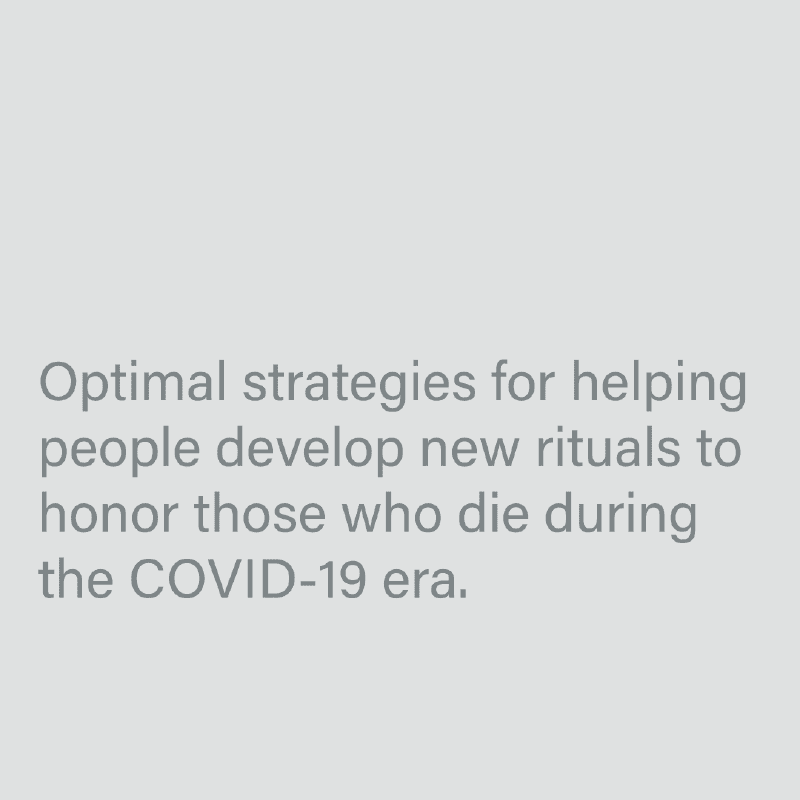 "How we survive this pandemic depends on how well we take care of each other during this time," said Candi Cann, Ph.D., associate professor of religion in Baylor Interdisciplinary Core and lead editor of the collective's report, "Death, Grief and Funerals in the COVID Age."
The Virtual Funeral and Grief Collective includes doctors, scholars, grief therapists, psychologists, funeral home directors, hospice workers, chaplains, hospital administrators and thanatologists, who study the psychological, social and cultural aspects of death and loss.
"This is a group of experts working rapidly to create innovative solutions that might not emerge when people are siloed from each other," said Cann, author of the book "Virtual Afterlives: Grieving the Dead in the Twenty-first Century."
The idea for the working group and the paper was inspired by the Global COVID-19 Relief Coalition, an initiative launched in March with the help of Michael Hebb, a partner at RoundGlass, a global wellness organization. He is the author of "Let's Talk About Death (over Dinner)" and the founder of Death Over Dinner, a nonprofit organization that encourages people to have dinner parties to talk about death, from the philosophical aspects to practical matters like wills and funeral planning.

Erasing boundaries
"Medical leaders don't often work side by side with funeral directors and thanatologists," Hebb said. "However, the threat that we collectively face immediately erased any boundaries, and everyone showed up in the most beautiful way. It was clear from the beginning that the amount of wisdom and knowledge contained in the group would create an immense resource for professionals and lay people everywhere."
Cann said that dealing with grief amid physical distancing, sorting through conflicting information about the virus, dealing with job loss or working at home while caring for children can be overwhelming.
"How do you comfort a patient when their family can't be present? Are you supposed to bring up advanced directives on intake or wait until the person is facing their death? If we can't hold a traditional funeral, how do we mark someone's death?" Cann said.
Front-line professionals such as funeral home directors and health care professionals face additional dilemmas.
"How do you help them as they fear getting the virus themselves or of taking it home? What about their moral distress as they make their rounds and the high-quality standards of care are not always possible? These are some of the questions we are addressing," Cann said.
From Virtual to Old School

The site offers extensive suggestions about high-tech ways to connect with those who are dying — and to mourn them when they are gone.
"There are available technologies such as Zoom, FaceTime or Google Hangout, so we can be present with people as they die, or conducting virtual funerals using such tools as Facebook Live," Cann said. "Hearing is often one of the last senses a dying person loses, so also recording an audio message may mean that, strictly speaking, that a person does not die alone."
The report also offers suggestions as low-tech as writing a letter to the dying loved one or asking a funeral director to make a handprint of the deceased or snip a lock of hair as a keepsake.
Another Baylor member of the collective who contributed to the report is Mia Moody-Ramirez, Ph.D., professor and chair of journalism, public relations and new media, who researches social media. She recently witnessed a simple but meaningful way to express grief after one of her husband's cousins died of the virus.
"The family held a candlelight vigil during which individuals were invited to drive by, flash their lights or leave/light a candle or flowers on the steps," she said.
In some cases, close family may attend the burial and view it from the car, and "this may be comforting for some people," Moody-Ramirez said.
To simulate the traditional after-funeral dinner, families could invite friends to join them via Zoom as they eat dinner, with family slideshows shown during the event or favorite photos displayed that were sent by friends and family, she said.
Compassion Amid Uncertainty
Michael Whitenton, Ph.D., lecturer in rhetoric and religion in Baylor Interdisciplinary Core, contributed a primer on mindfulness as a tool for living with uncertainty, including a pandemic-related list of more than 20 resources and links. Some are aimed at introducing children to mindfulness through games, apps, music and breathing exercises.
"The COVID-19 pandemic has forced us all to 'stare at the sun,'" he said, referring to author Irvin Yalom's metaphor for facing mortality.
"Death is always beating down on us like the sun, but we don't look," Whitenton said. "Unlike staring at the sun, which blinds you, staring at your own mortality helps you see more clearly."
Mindfulness leads to compassion for ourselves and offering comfort and affection to others, he said.
"We want to shine a light on what's available for children, too," he said. "We want to be honest with them, but we also want to be reassuring."
Hebb predicted the pandemic will forever change society.
"The world simply won't be able to forget the encounter with mortality that COVID-19 has caused," he said. "I don't feel inclined to call it a silver lining, but it does give me hope to see a new willingness to discuss the long-held taboo of death, mortality and end-of-life planning. What I have learned from this work over the past decade is that facing our mortality unquestionably gives us more vitality, and it is the best way to clarify what is important to us and increase a sense of meaning in our lives."