Vegetarian Nombu Kanji
Prep Time:
50 min
Cook Time:
35 min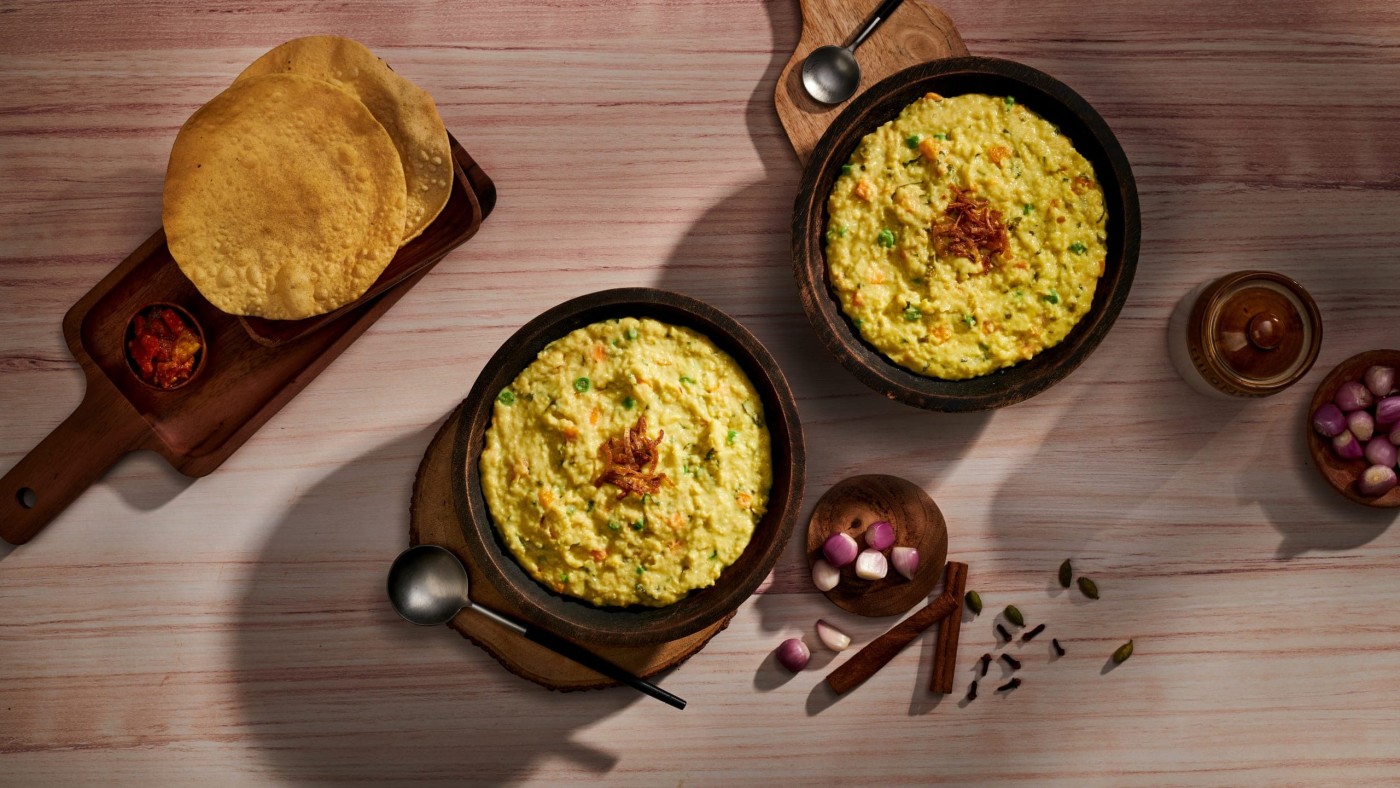 Vegetarian Nombu Kanji
Prep Time:
50 min
Cook Time:
35 min
About This Recipe
During Ramadan, across Tamil Nadu in South India, mosques serve nombu kanji to the faithful breaking their fast. This kanji is a warm, nourishing one-pot dish that is hydrating and soothing on the gut. While the traditional version is made with meat and vegetables, this is my vegan version with mixed vegetables and creamy coconut milk.
The Benefits
A hydrating dish for those who have been fasting, nombu kanji is a balanced meal with its blend of healthy carbs, fiber, and amino acids from rice and lentils. The coconut milk in the dish provides vital MCTs (medium chain triglycerides) and balances gut bacteria. Coconut milk also contains lauric acid, which has antimicrobial and anti-inflammatory properties. Spices like turmeric, clove, cardamom, and cinnamon give an antioxidant boost to the kanji. Mint leaves are high in vitamin A, manganese, and folate, important for healthy connective tissues and prenatal development. The vegetables add phytonutrients and fiber, making this a nourishing dish.
Note: You can also cook the kanji in a traditional pressure cooker. Add the rice, dal and vegetables and cook on medium heat for 15 minutes or to 5 whistles. Wait for 5 minutes for the residual pressure to release before opening the lid.
Ingredients
2 tsp ghee
1-inch-long cinnamon stick
3 cardamom pods
3 cloves
2 green chiles, chopped into small bits
10 (100 g) sambar shallots, peeled and halved
1 tsp ginger-garlic paste
2/3 cup (40 g) finely chopped carrots
2/3 cup (30 g) finely chopped cabbage
2/3 cup (40 g) finely chopped green beans
½ cup (10 g) finely chopped cilantro
½ cup (10 g) finely chopped mint leaves
½ tsp ground turmeric
1 tsp salt, or to taste
2/3 cup (125 g) seeraga samba rice, soaked for 30 min
1/4 cup (65 g) split yellow lentils, soaked for 30 min
6 cups (1½ L) of water
2 cups (500 ml) fresh or canned coconut milk
Directions
Step 1

In a medium stockpot, heat the ghee and add the whole cinnamon, cardamom, and cloves. Sauté until fragrant, for about a minute. Add the green chiles and sambar shallots and sauté for a minute. Add the ginger-garlic paste and cook until the shallots soften.

Step 2

Add all the vegetables, cilantro, mint, turmeric, and salt to the pot. Drain and add the rice and dal. Add 6 cups of water and cook over medium heat, stirring occasionally, for 30 minutes.

Step 3

Stir in the coconut milk and cook on medium-low heat for 2 minutes, stirring continuously, until hot. Serve the nombu kanji warm in soup bowls.
Substitutions: Use any non-sticky, short-grain rice instead of seeraga samba. If using long-grain rice, soak the grains for 10 minutes, drain and spread the rice to dry on a kitchen towel or a tray. Coarsely pulse rice to grits in a grinder or a food processor before using it in the recipe.
Try It With: Pickle and poppadom