Vegan Creamy Broccoli & Coconut Soup
Prep Time:
20 min
Cook Time:
1 hr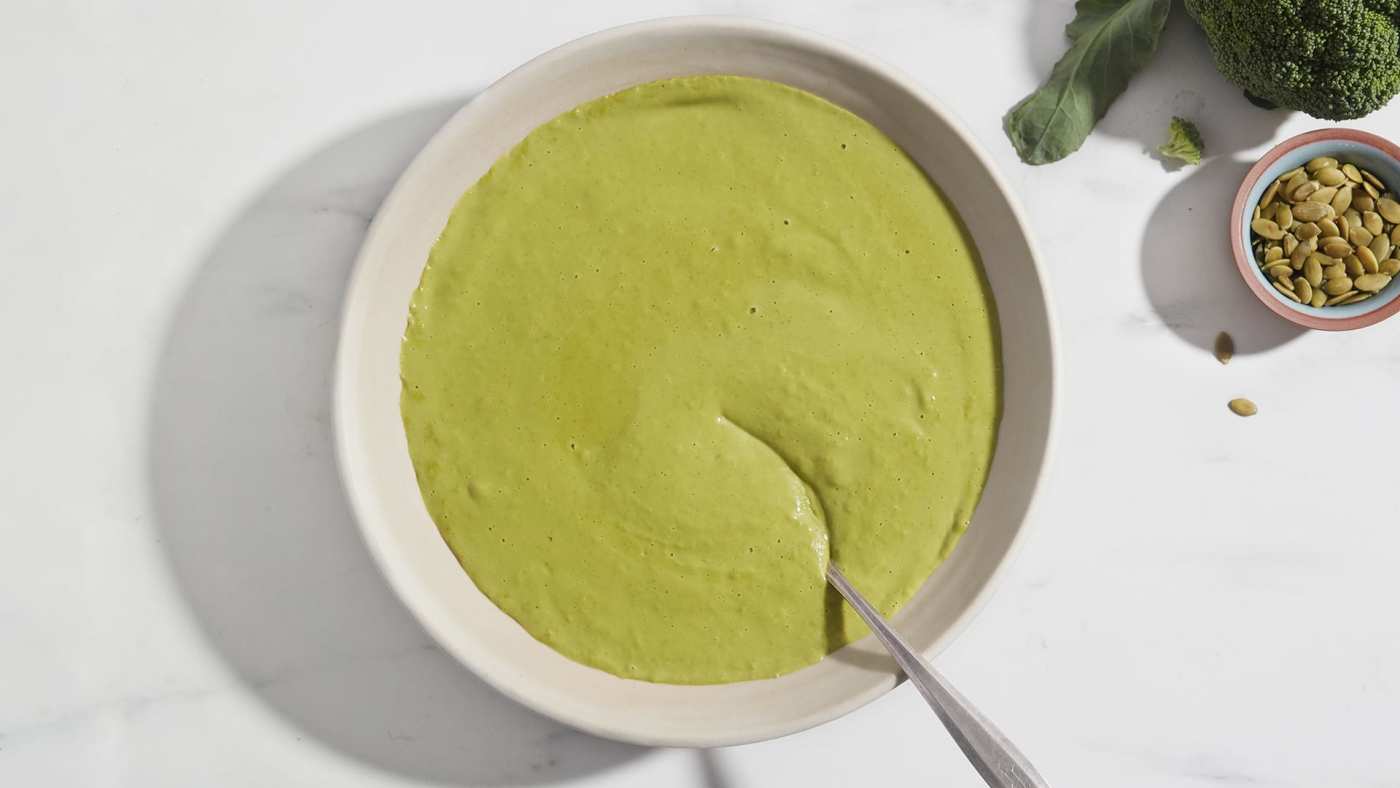 Vegan Creamy Broccoli & Coconut Soup
Prep Time:
20 min
Cook Time:
1 hr
About This Recipe
This broccoli soup gets its creaminess from coconut milk and a vegan version of a soubise sauce, made with softened onions. It's full-flavored, with dried herbs, seeds, and spices.
The Benefits
Broccoli is high in fiber and is packed with vitamins C, K, and iron, making it a low carb friend of the gut, and good for immunity building. The coconut milk in the soup helps to balance unstable gut bacteria, and has anti-inflammatory properties. And the pumpkin seeds add an antioxidant punch, plus the stress-reducing benefits of magnesium..
Ingredients
1/4 cup (60 ml) plus 1½ Tbsp (22 ml) extra virgin olive oil, divided
11 large garlic cloves, sliced
1 medium yellow onion, thinly sliced
2 Tbsp (28 g) Arborio rice
2 to 5 thyme sprigs tied with kitchen string
1/3 cup (45 g) pumpkin seeds
1¼ tsp hemp hearts (optional)
1 Tbsp (6 g) curry powder
1 (15 oz / 430 ml) can of coconut milk
2 cups (480 ml) almond milk
1/4 cup (60 ml) Vegan Soubise (see link below for recipe)
3½ cups (840 ml) water
2 heads of broccoli, cut into florets (cut somewhat evenly so that they cook evenly)
Juice of 1/4 lemon
1 Tbsp (15 ml) pumpkin seed oil
2 Tbsp (28 g) salt
Directions
Step 1

Pour 1/4 cup of the olive oil into a large stock pot over low to medium heat. Add the garlic, onion, Arborio rice, and thyme sachet, and sweat until the onion is soft but not colored (the rice will color a bit), 8 to 10 minutes.

Step 2

While the garlic and onion mixture is cooking, in a dry pan over medium heat, toast the pumpkin seeds, stirring frequently, until they start to color and pop, 2 to 3 minutes. Add the hemp hearts, if using, and cook, stirring for an additional 1 to 2 minutes.

Step 3

Add the curry powder, cooking for 1 to 2 minutes more; keep the seed and spice mixture constantly moving in the pan so it doesn't burn. Add the toasted seed mixture to the onions and garlic.

Step 4

Add the coconut milk, almond milk, soubise, and water. Simmer over low heat until it's reduced by a quarter, about 20 minutes. Next, add the broccoli florets, lower the heat even further so it's just barely a flame, and cover the pot so the florets steam. Be vigilant: Steam until they are soft and brightly colored, not mushy and dark green, which will ruin the soup. This will take 7 to 8 minutes, depending on the size of the florets. When the broccoli steams, combine the olive oil and lemon juice in a bowl. Add the olive oil-lemon juice pumpkin seed oil to the pot. Season with the salt.

Step 5

Transfer the soup to a blender and purée for 3 to 4 minutes, scraping down the sides of the blender several times to make sure all the ingredients are fully incorporated. Store leftovers in an airtight container in the refrigerator for 3 to 5 days, or freeze for up to 3 months.